Are you a newbie blogger who is not ready to apply for Google Adsense Account Or are you worried to get a rejection from Google Adsense or you already a Google Adsense Account holder & looking for some other alternative?
If yes, then this blog post is for you. As a blogger, I understand that most new bloggers depend on Google Adsense to generate revenue from their blog. At least during the initial few years right? And if Google rejects your application then that could be the worst thing that can happen to a newbie blogger.
I don't think you want to discourage yourself with this rejection?
Today I'm sharing information about another Ad Network which can help you to make money. Doesn't matter if you starting a blog today! You will still get the approval. How? Just by signing to the world's  leading Ads Solution after Google Adsense called AdsOptimal Ad Network.
Read Also = How to Sell Ebooks on PayPal in 2017?
---
What is AdsOptimal Ad Network?
AdsOptimal Ad Network(Social Nation Inc) was established in October 2012 and is located in San Francisco, California. AdsOptimal claims to be the best solution for monetizing your content on mobile platforms. The plan of action is simple yet realistic. It optimizes your traditional banner to look more suitable on the mobile platform and serve a great visual quality to the accelerating number of users.
They are partnered with so many well-known Ad networks like Google AdSense, DoubleClick (By Google), Criteo and numerous others. The income models of this advertisement system are CPC, CPM, and CPA. Commission has absolutely depended on impression basis and clicks.
---
Why AdsOptimal Ad Network Is The Best Alternative for You?
Adsoptimal Ad Network is the best CPM ads network in 2017. CPM is the click per thousand impressions. Here are few reasons why it could be the best choice for you –
It is very easy to get a publisher account at Adsoptimal. Usually, every publisher who signed up will be accepted in 1-2 days.
If you are a new blogger and do not have a website or blog with high traffic then also you will get the approval easily. For newbie's, Adsoptimal Ad Network is a perfect choice.
Adsoptimal ads are available for both Mobile and Desktop user.
You can request a payment every time you reach $50. Methods of payment can be Paypal or a check.
You can get a bonus $15 if your website is of high quality, however, $10 is guaranteed for all types other sites.
If your Google Adsense gets blocked then this is the best choice in 2017.
They also offer a referral program where you can invite other website owners to join their network. When they join Adsoptimal Ad Network then you will get 10% commission on your referral for one year.
They also have a WordPress plugin & Joomla plugin to make it easier for you to add your ads on your site. You can download the WordPress plugin here.
Join Adsoptimal Ad Network Today & Get $15 – Registration page of AdsOptimal
---
Adsoptimal Ad Network Rates
In terms of payment, Adsoptimal is surprisingly reasonable. It has a multilayered payment system which not only caters to the needs of the publishers who are providing an ad space for the advertisement to be displayed, it also offers website owners money on joining the ad network, on referrals as I mentioned above. In terms of the CPM rates being offered to publishers, they are one of the highest in the current market. This is largely due to the fact that Adsoptimal Ad Network rates are drafted keeping in mind the importance of the publishers.
As far as the rates by the ad network for its services are concerned, they are nominal. The rates being charged by Adsoptimal for providing publishers and advertisers a platform, giving them latest technology to work on and a chance to increase their brand value is reasonable. This is primarily because it is proportionate to the services that are being offered by the ad network. For example: in terms of customer support, it has dedicated staff to help publishers and advertisers understand the functioning of the system better.
You May Also Like To Read – How To Make Money Using Google Adsense
---
How To Get An Adsoptimal Ad Network Publisher Account?
1. First, visit this Link: adsoptimal.com
2. Click On Sign Up Button.
3.  Next enter your email address, password, name and accept T&C and then click submit.
4. After registration and wait for 1or 2 days for approval. After approval, add Ads code to your blog or website.
5. For WordPress User, download Adsoptimal WordPress Plugin 
6. For the blogger or another platform, you can use Adsoptimal Ads Code.To get ads code, click on Get Code button which looks like as shown below.

7. Next, copy the ads code and insert in your blog head.
---
Types of Adsoptimal Ads
There are two ad types provided by AdsOptimal – Page Level Ads & Inline Ads. You can select the type of ads you want to publish on your blog based on your requirements and interest.
Page Level Ads
Page level Ads are basically to monetize your Mobile traffic. There are total 4 types of Page level Ads. You can choose any of them. Once you paste the ad code on your site, AdsOptimal will automatically show Page level ads at optimal times when they're likely to perform better. You, as a publisher, do not need to worry about that.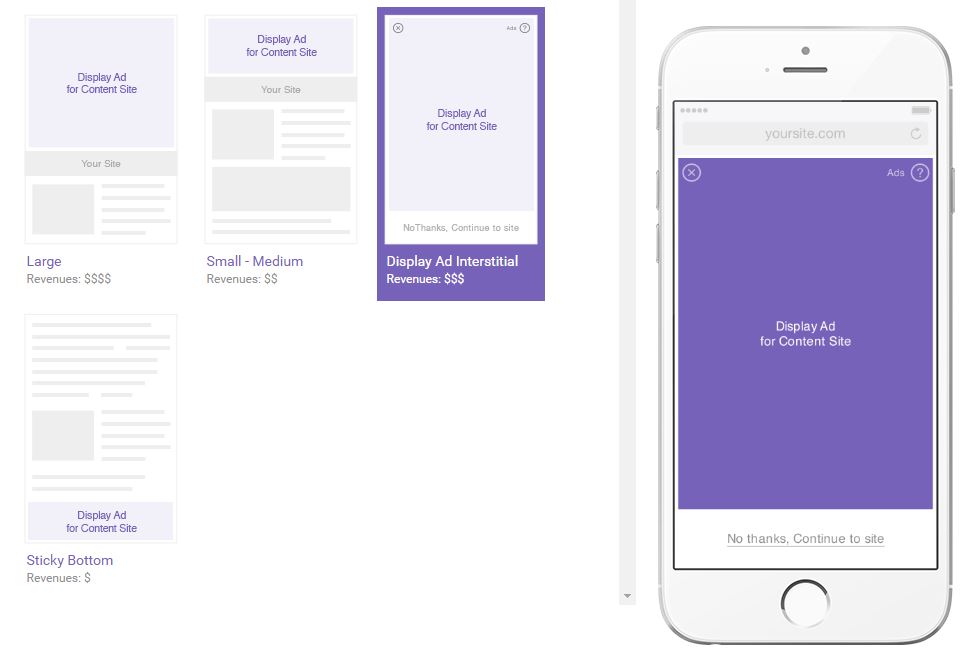 Inline Ads
You can choose any advertisement format from available Ad formats. To monetize your Mobile and Desktop traffic both Inline Ads are best option. Inline ads can run together with Page-Level ads.

Available Ad sizes:
300×250 (Medium Rectangle)
728×90 (Leaderboard)
300×100 (3:1 Rectangle)
160×600 (Wide Skyscraper)
320×50 (Small Leaderboard)
---
AdsOptimal Ad Network Account
Adsoptimal Ad Network Account is very clean and straightforward to use. Unlike Google Adsense, it does not provide you any information about how your ads are performing and other analytics that Google Adsense provide you. In AdsOptimal, you can select the type of ad and at what time you want to show it on your website. When you add the Ads Optimal code to your site header, they just show ads on your site based on the settings you make in your account.
Upon login, you will see these options in your AdsOptimal Account – 

Get Code
Insights
Payout
Referral
</> Get Code
Click on "Get Code" button and you will see the Ads setting page. Notice the red arrows in the image below. To increase your Ad Revenue at AdsOptimal you probably like to select highest revenue ads for your website. Whatever you choose, make sure that your ads setting should not negatively impact your visitor's experience.
Insights
Insights section provides information on your earning and monetizing capacity of your domain. You can see stats on per day, week and month basis. The Account Earning section on the right-hand side gives out additional pay details relating to pending earnings, issued payout, extra credit and the amount earned under referral bonus.
Payout
AdsOptimal pays to your PayPal account or sends you a check at your address. You can request any type of payout method at Payout Page. The minimum payment threshold is $50.00 which you can request from Payout screen as shown below.
Paypal Payout Screen 
Check Payout Screen

AdsOptimal Ad Network Referral Program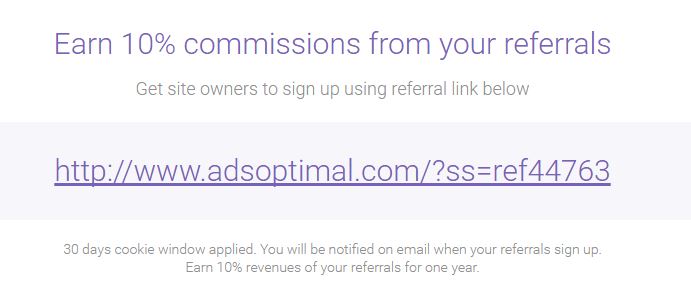 With AdsOptimal referral program you can invite other site owners to sign up with it by using your referral URL, and you will gain an additional worth of 10% commission.
Being a mutually profitable step, AdsOptimal also provides with important tips for letting the site owners discover your link. These include links to share on your social accounts, adding AdsOptimal links/banner to your forum signature, and sending private invitations to friends.
Join AdsOptimal Ad Network Now & Maximize Your Ad Revenues 

---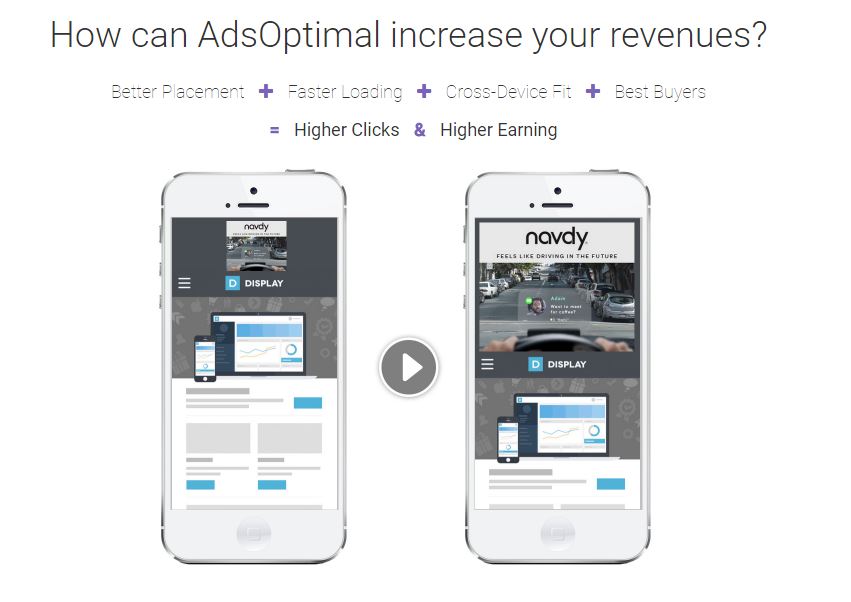 AdsOptimal is currently positioned as one the highest RPM paying Ad network for visitors coming from major mobile platforms, and it does so by keeping almost every option open to change. Whether you are a team of one or a company of many, there is a plenty of ad forms to meet your personal goals.
---
AdsOptimal Performance with Clients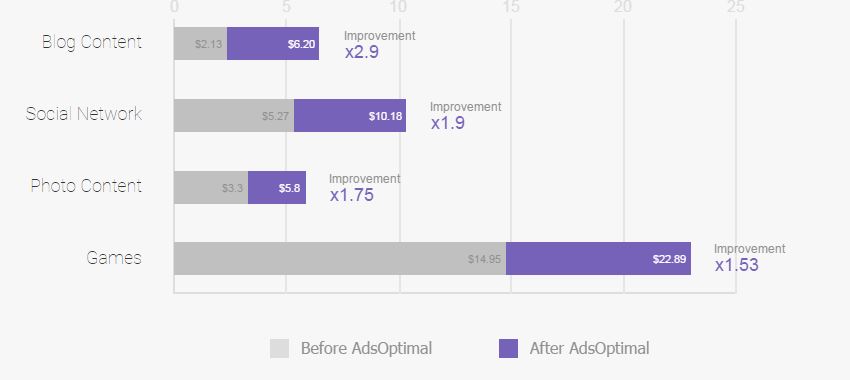 ---
Final Recommendation
If you are a newbie blogger, I would definitely recommend you to try this Ad Network. AdsOptimal Ad Network is a certified company and is one of the best CPM Ad Network. Since its pretty new (2012) monetizing platform, so there are high chances that you will get approved easily. It's highly likely that you may get the joining bonus also (around $15) if you sign up now. In my opinion, you must give it a try and then see your results.

If you like this article, do share this with your friends on Facebook, Twitter & Linkedin. If you are already using Adsoptimal Ad Network then share your experience with others in the comments section to help others why you like it or dislike it? Let people know why you are using it? & How it is helping you to generate revenue from your blog or website.
One Last Favor – Please Follow me on Twitter & Like "DigitalHarpreet" Facebook page for latest updates. Thanks!