Travel blogging doesn't mean only expressing your experiences as a globetrotter! It is much more than that. If you are a travel blogger, you know it very well. Although it is pretty tough to blog while being a digital nomad, to monetize the same is even an arduous task. But if you can partner with few "Travel Affiliate Programs" then blog while travel can be profitable and helpful. What do you think?
Many travel bloggers get various sponsorships for traveling, but not every blogger is lucky enough to avail one. In such a scenario, you should know multiple affiliate programs for travel blogging could be an effective approach to earning money through your blogs.
Fortunately, there are many such affiliate programs for travel bloggers which can actually quadruple your income. Here's a listicle of some of the most profitable ones:
Airbnb Referral Program
Airbnb has an amazing and very popular referral program which extend a helping hand to all the travel bloggers out there. If you are one among them, you can earn a decent money by referring other users to this website through your blogs. Surprisingly, you can earn up to $ 72 for every successful referral you make. Also, you can acquire a lucrative travel credit of $ 5,000 in your account with the right move.
What They Look For: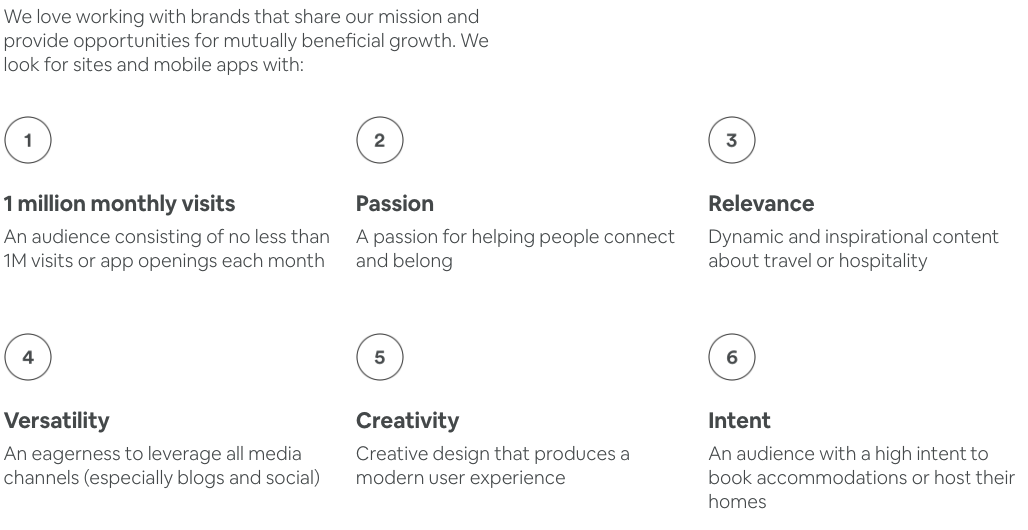 Enroll in Airbnb Partner Program
Booking.com Affiliate Program
Who doesn't know about Booking.com in the travel industry? Apart from offering easy booking, they also have an affiliate program which is open to all with either websites, apps or travel agencies.
The prominent highlights of this interesting affiliate program are:
Free and easy signing up a process,
Options for offers search box,
Banner integration,
And, deep linking.
Also, there is an offer-based commission split model available for you. Hence, with such a program, you can really earn well!
Enroll in Booking.Com Affiliate Partner Program
TripAdvisor Affiliate Program
While planning a trip, most of us look for TripAdvisor to get some recommendations, reviews, and bookings. Hence, if you stick to their affiliate program, it can be useful for you.
With such a program, it will be so easy for your to related content from their popular website. Also, you can let your readers get connected with the original content through your tracking link.
With the thrilling features like
50% commission,
Intense links to more than 50,000 popular cities and hotels,
Tiered commission structure
And, the monthly payout
TripAdvisor's affiliate program is fantastic!
TripAdvisor has partnered with CJ Affiliate to provide affiliates with a comprehensive and easy to use affiliate program.
Enroll In TripAdvisor Affiliate Program
It is such an amazing affiliate marketplace where you can find the top affiliate programs from almost all the niche.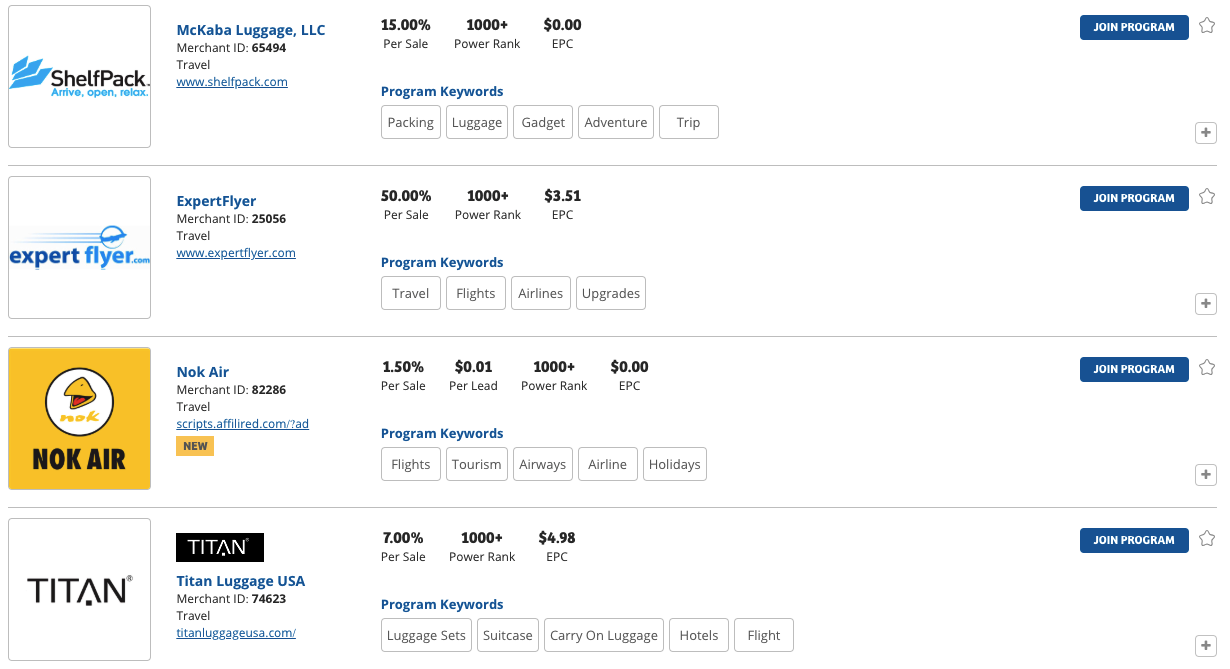 When it comes to travel, almost all the airlines, hotels, and services are associated with it. The major benefits of getting connected with ShareASale are:
Payment via bank deposit
Convenient minimum payout when compared to in-house affiliate programs.
Free to join and easy approval process.
Best Affiliate Programs specific to your niche.
Excellent interface for creating Links, Banners, getting deals and coupons of your merchants.
HotelsCombined
HotelsCombined is a yet another exciting affiliate program in which per lead gets paid with each attempted booking. All that the users need to do is just click through like they are making a booking.
Howbeit, in this case, they don't have to complete the transaction at all for you to receive the payment. Isn't it exciting?
Moreover, the commissions that you can receive for each collaboration can vary from $ 0.25 to $ 1.50 per lead.
Enroll in HotelsCombined Affiliate Program
Agoda Affiliate Program
The Priceline Group owns this amazing hotel booking portal- Agoda. With more than 40 languages of 3,500 professionals of this company who are working in 28 countries, Agoda is certainly a well-known name.
It has an excellent affiliate program for travel bloggers. The commission structure is based on many tiers starting from 35% commission for up to 50 referrals to 60% commission for referrals up to 1,000 confirmed bookings for each month. So, isn't it wonderful?
Enroll in Agoda Affiliate Program
Marriott
Whether you are looking for luxury or an affordable travel package, Marriott is the best option for you. It has 3,900 hotels which are present in 72 countries and 15 brands. So, thousands of people look for Marriott hotels while going for a vacation.
Interestingly, there is an associated Marriott affiliate program through which you can earn commissions on hotel stays. Whenever any visitor will click on a Marriott link and buy a Marriott hotel package, you can get the lucrative commission as a travel blogger. All that you need to do is just join the affiliate program and that's it!
Here are few benefits of joining Marriott Affiliate Program:
7-day action referral period.
Product Catalogs with deep links to any city or hotel
Fresh & Compelling Offers which can offer higher conversion rate.
Affiliate Newsletter for best offer deals for publishers.
Dedicated affiliate team of online marketers who are there for your help.
Enroll in Marriott Affiliate program
Skyscanner
Skyscanner doesn't need any introduction for itself! Aren't we all are aware of this popular name?
The affiliate program of this platform usually pays out on a cost-per-lead basis. Here, you just need to come up with a lot of outbound clicks and that's it! You will finally end up getting a huge revenue. You can earn up to $5,000 per year with some really commendable upward potential.
Enroll in Skyscanner Affiliate Program
Final Words
Aren't these travel affiliate programs totally enthralling? If you've not availed them yet, you are missing out something really stupendous. Just opt for one or a couple of them to earn huge while curating some unique travel blogs!
Are you are a travel blogger and currently enrolled in any lucrative affiliate program missing in this post?  Please share the name in the comment section below to help other fellow travel bloggers.