Get FREE Getresponse account and start building your email list from today. Don't know what is a GetResponse? Then read more here:
GetResponse is a great email marketing service for improving the effectiveness of your email campaigns. With their bulk email service, you can create email marketing pieces quickly that include embedded video, links, social networking buttons and more. You can import contact lists in the blink of an eye, and you can search the database for names should you need them.
GetResponse offers a great user experience and great third-party integration as well. And I especially appreciate that the free trial does not require a credit card. Yes, you can have a 30-day free trial without any credit card. Through that, you can test and try GetResponse for 30 days without paying a penny.
Try GetResponse free for 30 days – no credit card required
Why Sign Up For FREE GetResponse Account?
GetResponse is a comprehensive email marketing solution offering users –
Creating and sending newsletter campaigns to their audience base.
The platform enables running complete email marketing programs with advanced tools for every stage of a campaign like list building (web forms, imports and integrations with other platforms), email design (drag N drop editor, 500+ email templates, 1000+ free Photos), email automation (time- and action-based autoresponders), landing page creator, email reporting and extensive social media integration.
Recent innovations to the application include responsive email design, advanced analytics solution, and A/B testing tools.
The platform is also available on mobile devices: iPhone and Android, and offers a free iPad app for the on-site lead generation – Forms on the Go.
GetResponse Plans Snapshot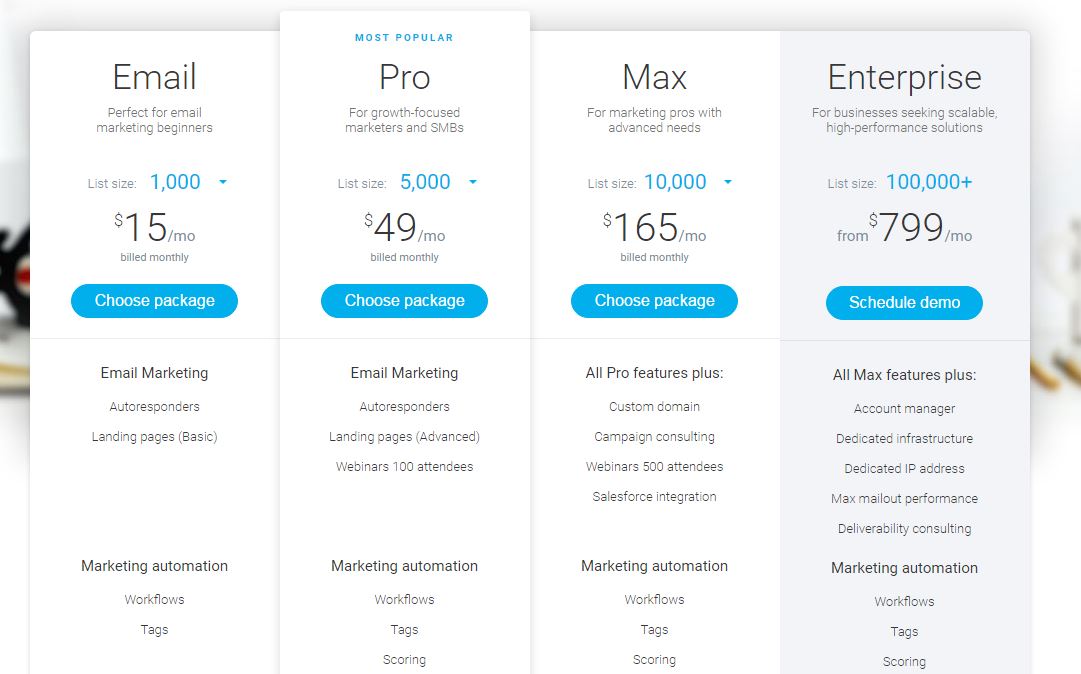 Getresponse offers one month completely free unlimited plans and after one month, if you are satisfied with their performance and effectiveness, you can opt for any paid subscription. Here is Getresponse pricing chart, which increases with a number of subscribers you get.
GetResponse Plans Pricing
GetResponse offers a 30-day free trial for a list of up to 250 subscribers, no credit card required. Be aware, however, that for the trial (and only the trial), if you add, delete, and then re-add a contact, it counts as two contacts. Once the trial has expired, there are a number of pricing plans available.
Customer Support: GetResponse has a comprehensive help section that will likely answer most questions you have when you get started. Beyond that, it also has live chat, email, and phone support.