InMotion Hosting is one of the largest independent web hosting companies in the world. They've been around since 2001, and have tried to develop a brand around being the "nerd's choice" that businesses also love. Get this InMotion hosting deal and get 56% off on your web hosting bill.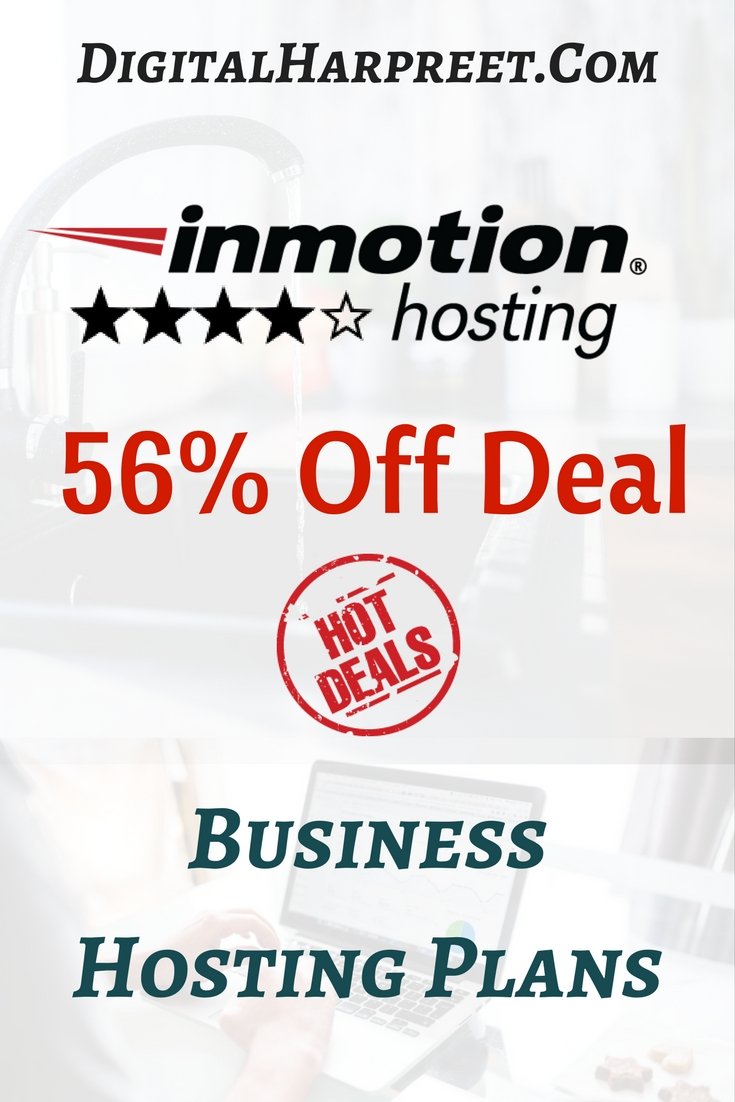 InMotion Hosting has positioned themselves as one of the few large, stable hosting companies that are not owned by Endurance International – a holding corporation for many well-known hosting brands (including a few that I use for sites like HostGator, Bluehost, and eHost).
Get InMotion's 25% off discount on plans here… (Inmotion Hosting Deal)
Why InMotion Hosting? 
Here are few great things that make InMotion Hosting outstanding among other web hosting companies out there in the market –
Inclusive Features
Hosting speeds
Uptime
& Support.
---
1# Plans & Features
Inmotion Hosting Business Hosting plans, of which there are 3, are great for start-ups and small personal or business sites. Each plan includes the same standard features like unlimited disk space, bandwidth, and email accounts. These plans offer services based on the number of sites, databases, and sub-domains.

Here's a quick overview of the features that are being offered by Inmotion Hosting: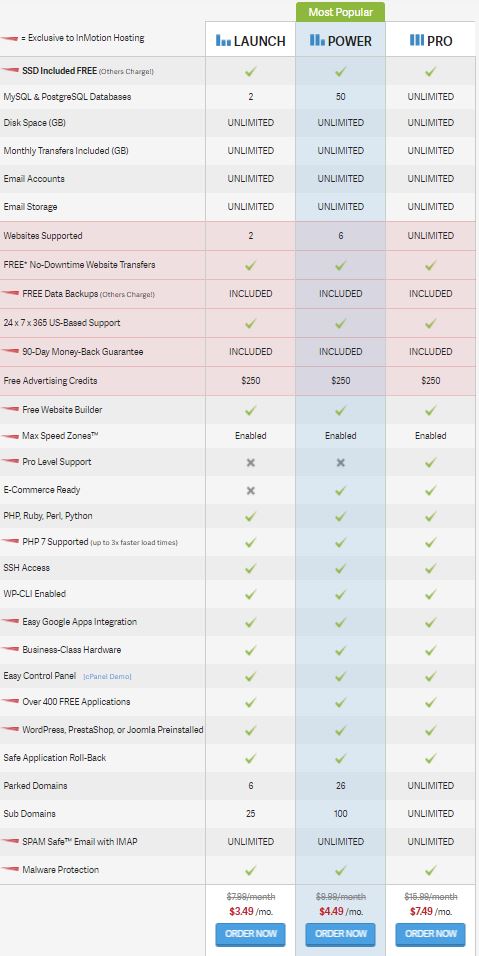 2# Speed
Inmotion Hosting's Shared Business Hosting plans utilizes "CloudLinux" to allocate a predetermined amount of resources to each user.  which promotes more stability & great website load speed in a shared environment at inmotion hosting.
This promotes more stability & great website load speed in a shared environment at inmotion hosting.
3# Uptime
InMotion's uptime clocked in at 99.97% based on the careful tracking and monitoring. That's
That's great, easily putting it in the top10 hosting providers.
Here are few uptime & response time stats of a test website hosted on inmotion hosting for around 12 months.
4# Support
InMotion Hosting prides itself on providing truly outstanding customer service.
And Based on my experience… that sounds true to me.
I personally investigated their support team, including a knowledge check with actual customers and received positive feedback.
During my own live interaction, an agent responded within two minutes and provided clear, concise answers to each of my questions. I asked some silly questions too, just to see how he would react? But the person was so good, he confidently answered my questions with great details & I couldn't ask for much more!
Their only con is account activation. If you're not from the US, this isn't usually instant.
InMotion Hosting's Extra Benefits – At No Additional Cost
InMotion Hosting is well known for its best uptime, speed, and support but a few people know that along with this they can get following things at no additional cost.
If you are planning to buy a new account or switching to their shared hosting plans from your current one then do remember to review the following things too!
Let's check them out:
#1: FREE Domain Worth $14.99
The free domain offer is dependent on your purchasing a subscription to a hosting plan.
If you buy any 12 months or 24-month "Business Class" plan then the Domain is free for the first year. Choose from any available .com, .net, .org, .us, .biz, or .info domain name. InMotion Hosting can register any available .com, .net, .org, .us, .biz, or .info domain name, and can support any domain on the net!
You have all the available domain options for your FREE domain name. For example –  .com, .net, .org, .us, .biz, or .info domain name.
InMotion Hosting can register any available .com, .net, .org, .us, .biz, or .info domain name, and can support any domain on the net!
Grab this Inmotion Hosting Deal & Start Today!
---
#2: $250 advertising credit
You will get this when you sign-in to any Inmotion shared hosting plan. Here is what you can do with this – The amount includes
$100 Google advertising voucher (The US only),
$75 Yahoo/Bing advertising voucher to grow traffic to your website.
$75 in free clicks from Amazon Product Ads, and a free business listing on YP.com.
They are like credits for pay per click campaigns.
---
#3: 90 Days Money Back Guarantee
Standard industry practice for money back guarantees typically falls around the 30-day mark. But not InMotion.
They're so confident in their service, that they provide up to 90 days business, VPS and reseller hosting plans.
(For shared hosting options, though, they only offer a 30-day money back guarantee.)
---
#4: Plenty of Integration & Apps
Another claim InMotion makes on their website is that they're a leader in supporting Open Source projects.
Again, those boasts are backed up with a portfolio of over 310 applications (!). You can find everything from popular content management systems like WordPress and Drupal to shopping carts or eCommerce systems like Prestashop and Magento.
---
#5: Free Site Transfer
Are you worried about moving your existing website? Don't worry then because InMotion Hosting offers FREE website transfers to make sure your site is moved to their servers without any downtime and without losing any of your important data.
Condition: This service is only applied to accounts consisting of 3 or fewer databases and/or websites. If you existing accounts wishing consist of more than 3 databases /items then they will be charge $10 per additional item to be transferred.
---
#6: Premium "Securi Plugin" for WordPress Users
InMotion's WordPress hosting comes with the Sucuri security plugin that regularly scans your sites for exploits and security risks, in addition to ongoing remote backups, anti-spam, and anti-virus protection.
---
#7: FREE data backup
It is critical for you to have backups. InMotion Hosting provides a backup tool that helps you to take your own backups periodically with our easy.
They also create a complete backup of your Shared environment. This will occur automatically unless otherwise requested.
The backup environment is as secure as the main Shared Web Hosting environment and the data is transmitted over an SSL encrypted connection.
The following limits apply to the backups with your hosting account:
Restoring your account is FREE, but limited to once every 4 months.
A fee of $49 will apply for any additional restores.
Sites larger than 10GB will not be backed up automatically.
---
#8: Google Apps Integration
Last but not least, InMotion also provides a handy little three step wizard for connecting with Google Apps.

---
Things You Should Be Aware of before you Buy InMotion Shared Hosting Plans-
Free Domain: Yes! Ask for how to claim it. You may get the domain registration charges waiver at the time of hosting purchase. (If you are registering a new domain)


---

Ease of Signup: Four-step sign-up process. A bit lengthy. Don't forget about the security verification too.


---

Payment Methods: Credit Card, Check, Purchase Order.


---

Hidden Fees and Clauses: Upon signing up with them, you agree to give them a non-exclusive, royalty-free, worldwide right to do almost anything they want with your content hosted on their servers. That's kinda egregious. There's a limit of 50,000 files per account for their users.


---

Upsells: A few upsells.


---

Account Activation: Account activation can take a while. Usually, they verify orders by phone before activating accounts.


---

Control Panel and Dashboard Experience: cPanel.


---

Installation of Apps and CMSs (WordPress, Joomla, etc.): Softaculous for one-click install of popular apps and CMSs.


---
Click To Get This Offer
Final Words
That's enough of my InMotion Hosting review. They are a solid, well-respected web hosting company. I've purchased their Launch Plan for one my website from them and so far haven't got any issues.
I think they are the best fit for someone who is only looking to host a couple websites on their account and is willing to pay a bit of a premium for great support and performance. You can check out InMotion Hosting here.
InMotion Hosting does do some discounting. You can get up to more than 56% off at the Plans page here.
If InMotion doesn't seem like a good fit for you then check out my Bluehost Hosting Offer here.
You can see other deals and offers on Hosting here.