DesignEvo is a web-based free logo maker that allows users to design logos for free. It is one of the best free tools for independent design professionals, small business owners, bloggers and startups that are looking to have their own logo but without having to pay expensive fees to professional graphic designers for the job.
DesignEvo Interface
DesignEvo comes with a user-friendly interface that makes creating logos a simple task.
On top of that, it offers a vast collection of icons, fonts, and pre-built logo templates, turning logo creation into a fun and exciting endeavor. DesignEvo is so easy to use that those without designing skills and expertise can build custom, professional-looking business logos in mere minutes.
DesignEvo comes with unlimited use of 5,000+ free templates. Millions of vector graphics, 100+ fonts, and various shapes to choose from
At DesignEvo you will get cloud-based logo saving option and multiple logo formats like JPG, PNG, PDF, and SVG. It also provides multi-languages support- English, Japanese, Spanish, Portuguese, Chinese and German
For easy access download the DesignEvo mobile app and make logo designs at your fingertips.
DesignEvo – Steps To Make A Professional Logo
Pick A Template
Go to the DesignEvo website, and click on "Make a Free Logo" to get started.

Then you will see the template gallery. There is a huge collection of templates in various categories. Choose the logo category or use some keywords to find a logo template that works for you.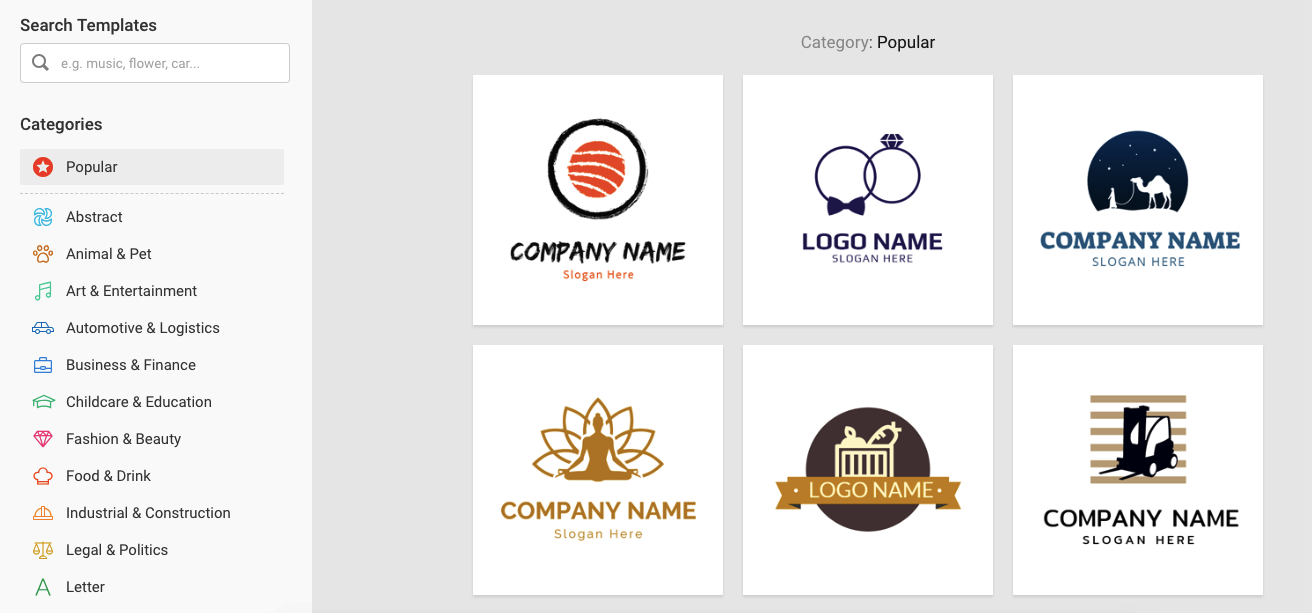 Customize Template Using Icons, Shapes, Color & Texts
Once you select a template, you will be taken to the editing page. The editor is very easy to use and you can quickly set the background color, resize graphics, change fonts, curve texts, and move layers with simple clicks. Better still, you have free access to millions of vector icons, 100+ fonts and a variety of shapes to choose from.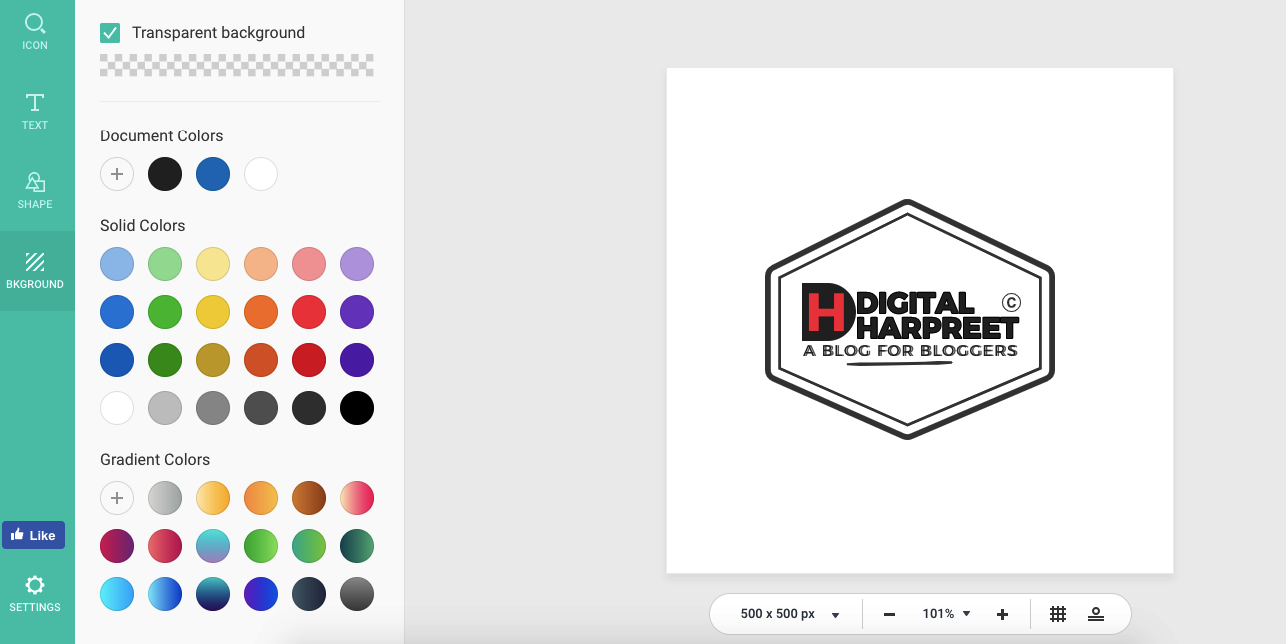 Review Your Final Logo
One great feature of DesignEvo is that it offers a preview mode which enables you to see how your logo looks like on various mockups like T-shirt, business card, wall, web page, letterhead, etc. It is great that helps you visualize your work. If you're not satisfied with the design, simply close the preview mode and continue tweaking it until it's perfect.
Lastly Save & Download
Before you download the finished logo, hit the save button to store the logo draft to your account, in case you need to make more changes in the future. Registered users can save 6 logo designs in the cloud for free.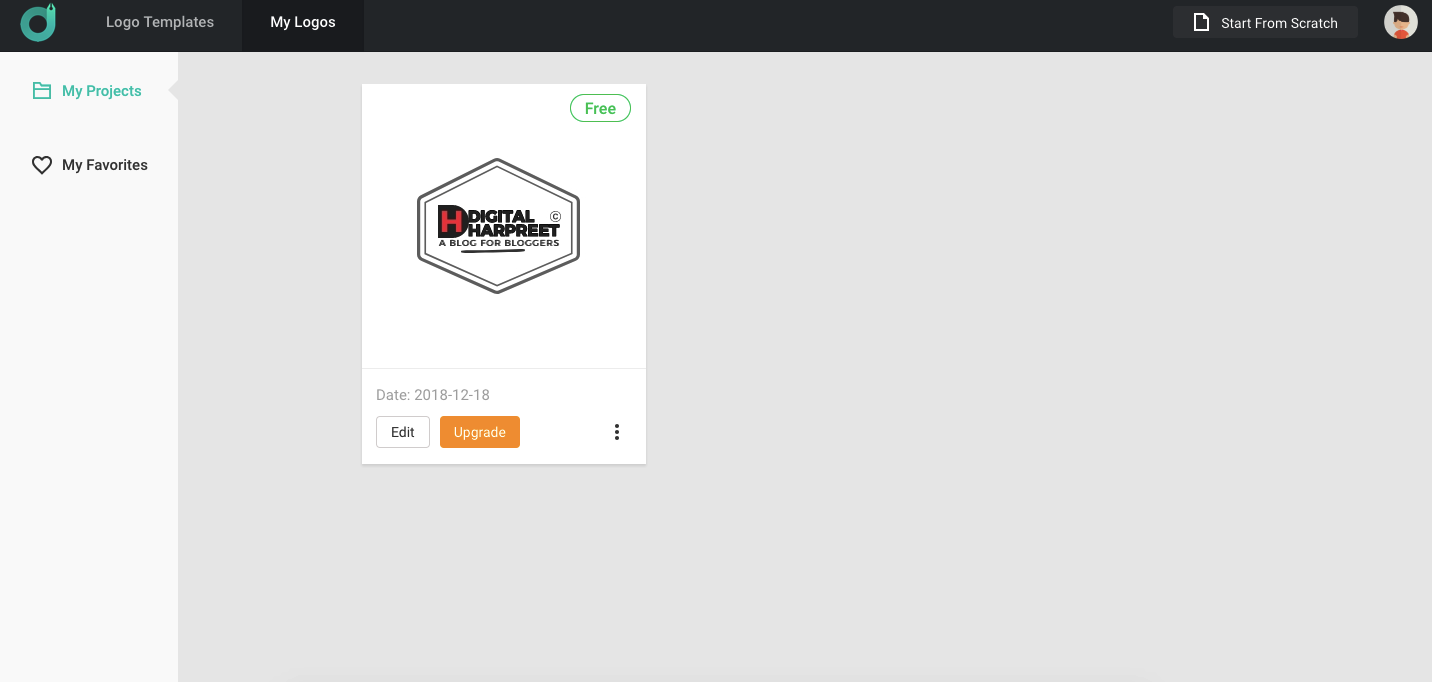 DesignEvo Paid Account
The best of DesignEvo is that it offers both free and paid options. With the free option, you can download logo in 500 x 500 pixels JPG and PNG format. It might not be ideal for printing, but will definitely clear enough for online uses.

If you need a logo for more professional purposes, you should consider paying a small amount of fee to upgrade your free account to premium. There are two pricing tiers ranging from $24.99 to $39.99. The price is pretty affordable, and you can make a choice based on your actual needs.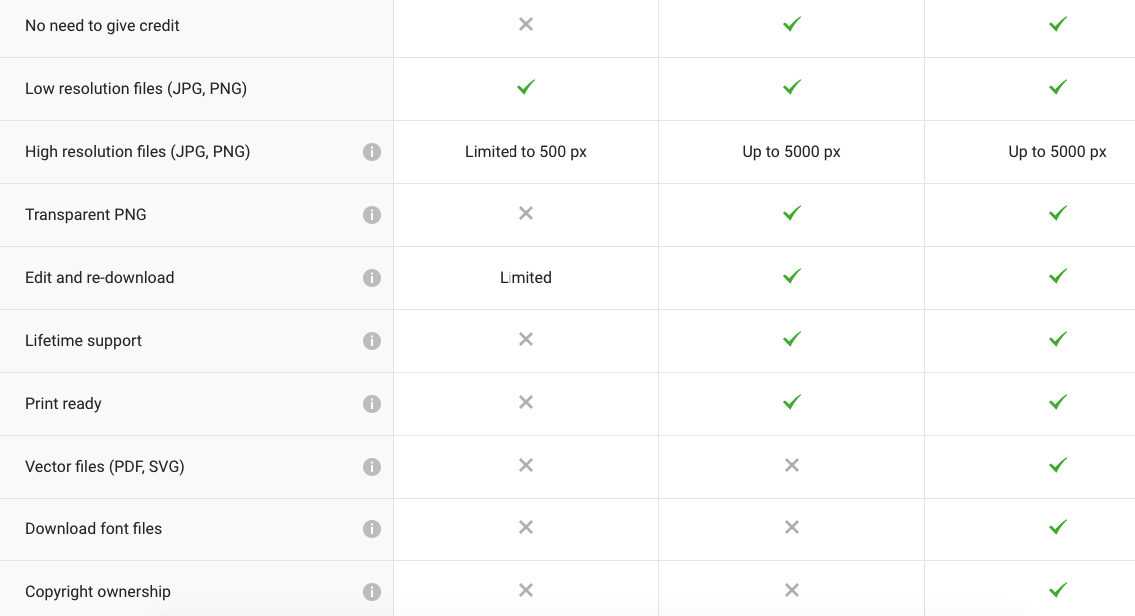 For DigitalHarpreet.Com readers, there is an exclusive discount of 30% is available. Use coupon code DIGITALHARPREET03 at checkout and save 30% on final price.
Final Words
DesignEvo is a handy logo design tool that includes a large number of resources and functions. It works perfectly in browsers and loads super-fast. Here is a list of blogging resources I use at digitalharpreet.com
If you are planning to make a logo for your website, blogs, presentations, or even an app, DesignEvo Online Logo Maker is a good choice that you should consider.
And if you are thinking to start your own professional logo making service on platforms like Fiverr, then purchase the DesignEvo Plus package. The plus package will give you all the premium features needed to create professional logos, vectors files, stationery items for your clients.
Share in comments your experience using this wonderful software or if you are using any other logo making software for your business then share in comments.