[Estimated Reading Time: 25 Minutes]
Have you ever hosted a website online? Do you know what you should look before choosing a web hosting company for your small business/blog etc?  If not then you should read this article because, at the end of it, you will have a solid understanding of things which are important while choosing a web hosting company for your business website/personal blog etc.
When I started my website (https://digitalharpreet.com), I had very little knowledge of how to choose a web hosting company and which web hosting company is best for me. So, to understand it I did some research.
My plan was to figure out:
Where most people host their WordPress websites?
What features or services should a person look for before choosing a web host company?
Is there a way to save money on a new web-hosting account and renewals?
How to make use of the promotional price for a long time?
For many people, selecting a web host is a little tough task if they are from a non-technical background. It is little difficult to understand the importance of things like server reliability, up-time scores, upgrade options, multiple domain addon support, renewal fees, security features, website response time and many others things.
As a newbie blogger, people sometimes don't realize the importance of these things, maybe because they are not aware and wanted to start their website as soon as possible.
In this blog post, I'm going to share valuable information for anyone planning to purchase web hosting for their upcoming website project.
So, Are you ready to learn about "11 Things People Should Consider Before Choosing a Web Host Company"? 
Note: This is article is not only for newbie bloggers but also for people who are looking to switch from existing web host to a new host. For better comparison, I have added hosting cost and order of ranking based on customers feedback.
Important Tip:
If you are a newbie blogger and reading this post first time, I wanted to give you a personal advice – "While making the web-host purchase decision, do not blindly follow everything that professional bloggers/marketers recommends you. You might end up investing more money compared to what you could save on hosting." This is just a personal recommendation and a lesson learned while I was buying hosting for my website digitalharpreet.com. You need to consider the pros and cons of everything before you make a final purchase. After making a purchase you may not be able to avail offers hosting companies provide to their new customers. The bottom line is that you need to make a calculated decision before choosing a web hosting because it is a backbone for any website and without that it can't stand on Google.
---
Exclusive Discount: Hostinger at $0.80/Month
Hostinger Single Shared Hosting $0.80/mo for new customers. You will get space to host a website, 1 Email Account, 100 GB Bandwidth, 1X Processing Power & Memory, 99.99% Uptime, 30-day money-back guarantee. If you're not 100% satisfied with Hostinger, we'll refund your payment. No hassle, no risk.
---
Now let's move on and check things you need to consider before choosing the hosting company.
First of all, let's see how much you already know? Ask following questions to yourself –
How do you decide if a web host is good or bad?
What are the features you are looking for?
Or, You are just confused and not sure about anything?
---
How to choosing Web Hosting Company?
If you are new in choosing web host then it might be difficult for you to answer these basic questions. To make it little simple for you, here are few questions that you can ask yourself before taking this big step:
What are your hosting needs? (Small, Medium, Large Business)
What is the uptime guarantee the web host is providing & is it reliable?
Upgrading Option available to you & cost of upgrading?
Hosting features available like multiple addon domains, free domains along with hosting, number of domain email addresses etc.
Most important – Cost at the time of sign-up and renewal?
If you want to go deeper, you may also want to know about what are the account suspension and server usage policy.
---
Identify Your Hosting Needs
Understanding you hosting needs is the crucial thing and without that, you cannot get the right web host. So it very important to identify what you actually need? I would suggest to keep everything aside including this and thoroughly think about what are you looking for in future? Some sample questions that you might want to ask yourself are –
What kind of website you are building?
What kind of platform will you use? eg. WordPress
Are you building a blogging website, an organizational website, portfolio website etc?
Whether you need a special software to code your website like php, java, .net etc?
What is the volume of traffic you are looking for?
Are you interested in building multiple websites?
You can ask these questions to yourself to get an idea of what you actually wanted to achieve?  And what is your plan for the next 12 months with it? It is very important to plan the future of your business right now.
---
A Personal Recommendation for Newbie Bloggers –
If you are a newbie blogger or an individual then without thinking much, go with shared hosting plans that web hosting companies provide. A shared hosting account is a cheap, easy to maintain and sufficient for almost all the new websites. One more tip is staying there (shared hosting) until your web host kicks you out because of high traffic volume and difficult for them to maintain your shared account. The important thing to consider here is that whatever host you are choosing, it should provide you upgrade options to VPS or dedicating hosting in the later stage when your website grows and your shared hosting account cannot provide support to your growing traffic needs.
---
Web Host

Features                                                    

Price

Host unlimited websites in one account
Free site-building tools (WordPress, Weebly, and more)

$1.99/Mo

Host unlimited websites in one account
Free Marketing Tools

$2.75/Mo

Shared hosting with FREE SSD
30 Days money back guarantee
WordPress comes pre-install and ready

 $5.99/Mo

Unlimited storage & transfer
FREE website migration
Easy to use C-panel

$5.00/Mo
---
11 Things To Consider Before Choosing A Web-Host
 Web Host Server Reliability & Server Uptime
This is the most important factor to consider before choosing the web hosting provider. It's really important for a web host server to operate 24×7 to support the website availability over the internet. You never want your  website to go down even for a very small period of time. So, it very important to have a web host which is operating on a powerful server with good hardware and stable network connections. It is highly recommended to choose a web host with 99.5% and more uptime score. Anything which is below 99% is not a reliable and unacceptable for web hosting.
Factors like RAID protected storage, Daily Back-Ups, and Bandwidth also plays the vital role for any web hosting company to be in the list of most reliable web hosting service providers.
24×7 customer support is another factor which provides the certificate of reliability to web-hosting companies. It's another important factor to consider before choosing the web host.
---
 Upgrade Options
When you start a new website/blog, it is highly recommended to purchase a shared web hosting plan. This way you can save a lot of money on hosting bill during the time you grow you website/blog. Shared hosting is Web hosting in which the service provider serves multiple Web sites, each having its own Internet domain name, from a single WebServer. Most Web hosting companies provide the shared hosting plan nowadays.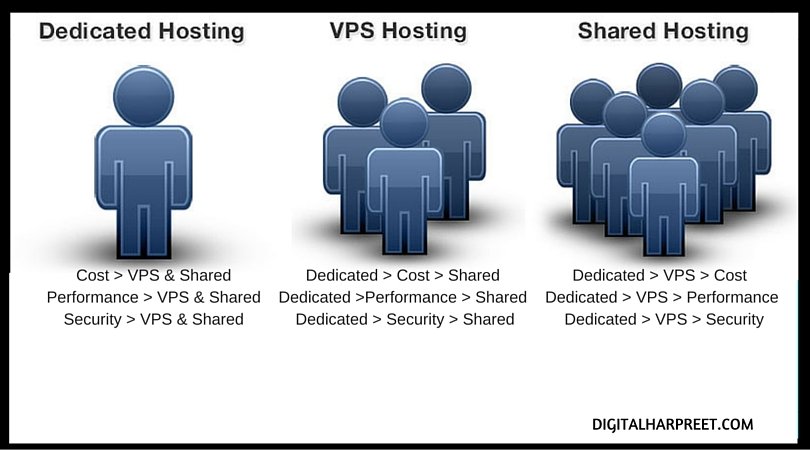 As a rough estimate, the shared web hosting account is sufficient to support a properly optimized WordPress website with 35,000 to 50,000 unique visitors. However, if you are expecting your website to grow into a real big in next two or three years then it's worth considering – what are the upgrade options web host provide you at the time of purchase. You may like to migrate from shared web hosting account to VPS or dedicated server for more disk storage, memory capacity and processing power with added security features. So, it's very important to inquire about these upgrades options at the time of setting up a web host account.

Tip: After some research, I recommend these web hosts for VPS & Dedicated hosting – inMotion Hosting & InterServer Hosting. 
---
 Addon Domain /Websites Options
If you are a newbie blogger or someone who is purchasing a web hosting service for the first time, then it is important for you to understand this feature.  With Addon domain option, you can run multiple websites under your single web hosting account. When you purchase a web host, they usually provide you with different plans. For example, if you are looking to purchase a shared hosting (which you might be if you are setting up a brand new website) then you see multiple shared web hosting options, like below one from Bluehost –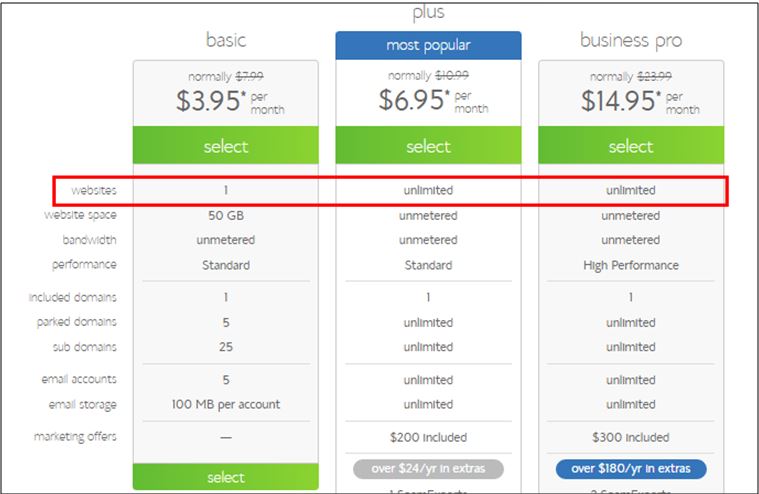 Highlighted above is the addon domains/website that you can have under different shared hosting plans that Bluehost provide. In general, most shared hosting companies provide at least 25 addon domains in their medium size plan (Bluehost Plus Plan).  When I started Digital Harpreet, I was so careless that I purchased a web hosting account with only one domain and later I regret that decision. To add multiple domains to my web host accounting, then I upgraded my plan with "unlimited" domains. I got what I wanted but I ended up paying extra money with no promotional discounts because I was not the new customer. So, please DO NOT repeat the same mistake what I made and make sure to check the domain capacity before you make a final purchase.
---
 Renewal Cost & Signup Cost
Out of all different types of hosting plans (Shared, VPS, Cloud, Dedicated), shared hosting is the most attractive to the new customers because shared hosting plans are cheapest than any other type of hosting account. But the question is – Are they really cheap when you renew them after your initial period?
Most hosting service providers sell shared hosting plan at very cheap rates to new customers but make lots of money at the time of renewal. And don't worry about the renewal cost because its industry norm these days to charge more on renewals. You can hop between different hosting providers in every two or three years to save some money but there is no way around to avoid the higher renewal fees. Below is the chart where you can compare the sign-up cost and renewal cost of various the web hosting companies:
---
 Customer Service
Customer service is another thing which is worth considering before signing up for a web host account. One thing you don't want is to wait for a long time in a queue. Everyone wants great customer service. If you are good in googling and solving your own problems then its well and good but if you rely solely on your web host for your problems then it's important to consider a web host with the highest quality of customer service.  Following are the Best Web-Hosting companies based on the highest customer satisfaction rating that I found out during my research –
| | |
| --- | --- |
| Rank | Web Host |
| 1. | |
| 2. | |
| 3. | |
| 4. | |
| 5. | |
| 6. | |
| 7. | |
| 8. | |
---
 Refund Policy
These days all web host companies have a refund policy or trial period and during which you can try the hosting services and decide whether you would like to continue or not. Remember that, if you forget to cancel your account before the last day of your trial period then you will be charged for the whole trial period. If you have this question in mind then it's worth asking beforehand. Some companies do not require credit card information during the trial period and later when you decide to continue with then you will need to upgrade to your chosen plan after the end of the trial period.
Another thing which is worth considering is to select web host which provides the longest trial period so that you will get sufficient time to try all the services they provide for the selected plan.
Questions that you must ask yourself while selecting could be –
Can I get the full refund if I cancel my web host account within the trial period?
How much money would I be charged if I cancel my web host account after the trial period?
Is there any cancellation charges if I cancel services before the trial period end or after the trial period?
Am I eligible to get the promotional price after the end of the trial period?
Is it allowed to upgrade to higher plan after the trial period and Can I still be eligible to get the promotional price?
Can I upgrade my plan from monthly to 24/36 months and still get the current promotional price?
These are some basic questions that are worth asking before you invest in signing up for the web host account because if you have any plans to move to another host then you can get your invested money back if you clarify your doubts beforehand.
---
WordPress Specific Services
If you are searching a web host for your WordPress website then you can select any web host company that offers shared Linus Hosting server with PHP as that can run WordPress. You do not need a wordpress hosting to run a wordpress website. In case you need some special WordPress related services like emergency wordpress patching, wordpress optimization, virus removal etc then you can consider WordPress specific hosting.
---
 E-Commerce Options
If you are planning to host an E-Commerce website with features like – Online Payment Options, Automatic Taxes, Automatic Shipping Support etc then it's important to choose a web host which support these e-commerce features. You will need an SSL certificate for your website to provide the same level of security that banks provide to their customers.
---
 Site Backups
When you are running a website, it's quite possible that your website crashes and inaccessible to the users. There could be multiple reasons for website crash, for example, a hacker might have damaged your index.php file or your entire database? Once you in this such problem then it's very important to have site backups so that you can restore your website again. Another reason for website crash could be when you are making code customizations and you mistakenly deleted or added code with errors and then you don't know how to correct it?
If your web host takes the site backup regularly and then you don't need to worry about all those things. So, it very important to consider this point before you choose a web host.
You can ask following questions to the web hosting provider before you finalize them –
Do you take automatic backups regularly?
Do you have site backup options in the admin control panel?
Is there any option for manual site backup?
Do you provide any plugin for site backup?
Do you provide assistance in restoring the site back up?
---
 Plugins Freedom
In WordPress, we have something called "plugins" which are the portion of software that provides additional features and functionality that isn't built into WordPress. However, some plugins conflict with how hosting companies servers and are banned by them. Some plugins are simply bad pieces of software, so they are banned as well. But some hosting companies allow you to install and experiment as much as you want. Remember that, wordpress plugins are something which boosts the functionality of your website and if any of them is banned by the web hosting company on your website then that is a very big loss for you. So, ask them about this and make sure that they allow you to install and experiment as many plugins you want on your website without any restriction.
---
 User-Friendly Account
Speaking for myself, I like clean, smooth, user-friendly backend. Some people don't care about the design – they just want everything to be there and to function. Some people really don't care about the backend – they want all technical options open for professionals (either a hired developer or customer support) to use as needed. You can experiment these things during the trial period and then decide what you want? Believe me, things are really important if you are serious about your project and really want to take it to another level.
 A Couple Other Things To Look
Website Security  
Web hosting security is essential for any website. Whether you have a personal site that you use simply to blog on occasion or a global, large-scale business, security is of utmost importance. Security is likely the aspect of web hosting that is most important to everyone.
When searching for a new web host or evaluating the security of your own host here are some things to consider:
SFTP – If you have ever uploaded files to your hosting account you are likely familiar with FTP (File Transfer Protocol). You use an FTP client to drag your files to where you want them uploaded and they will be published to your account. SFTP is the same concept but it is more secure. SFTP stands for Secure File Transfer Protocol and it provides an additional layer of protection. FTP, while fairly secure, is still vulnerable. Files can be intercepted and even modified with little to no indication. SFTP closes this vulnerability. Check to make sure this option is available to you via your web host.
SSL – SSL stands for Secure Sockets Layer. SSL provides an encrypted path between the browser and web server. You can tell if an SSL certificate is being utilized with the indication of a locked padlock symbol on the address bar along with the use of HTTPS:// in the address as opposed to HTTP://. If you run an E-commerce site an SSL certificate is a necessity. It will help prevent customer information from being stolen. Credit card or banking numbers, name, address, and other personal information will remain secure. Whenever you need to gather personal, sensitive information an SSL certificate is a must.
BACKUPS – Backups should be performed regularly in order to protect your site in case of a problem or disaster. Most hosts provide a tool in the control panel that allows you to back up your own site. This should be done and you should not rely on your host to do so. However, a host that has sound back up procedures is a plus. Check to see how often the host backs up their servers, what method they use and where backups are stored.
SERVER MAINTENANCE – The web host should make sure the server is adequately maintained to ensure attacks are limited. Check to see if the host has a published security protocol which is a good (though not guaranteed) indication that they are on top of upgrades and patches.
Website Response Time/Speed 
A quick website means more visitors, more customers, and more profit. If your results are slow, your online business could suffer. You could be losing thousands of potential sales and conversions.
Why? The answer is simple. Your website is too slow. It's clear that speed matters. We love speed. We can't get enough of it. We're looking for answers quickly, and we expect to find them.
A fast website means a better user experience. It means happy customers, more sign-ups to your mailing list, more page views and more people sharing your content and more trust in you and your company.
Bottom line: a fast website equals more sales. More profit. But it's not just your visitors that are hungry for quick load times. Google loves the fast website.
Most new website owners tend to pick the cheapest option, with no thought to speed or performance. For the best user experience, the ideal speed rating for your server speed result should be 180ms. At a minimum, it should be at least 280ms. Here is how different web hosting company servers are being ranked based on the response time: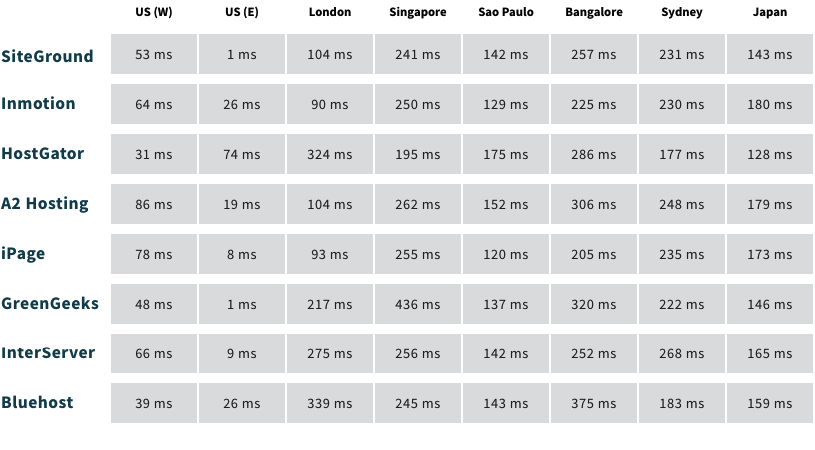 DigitalHarpreet.Com is hosted at Hostgator. Here are my website response time and rating –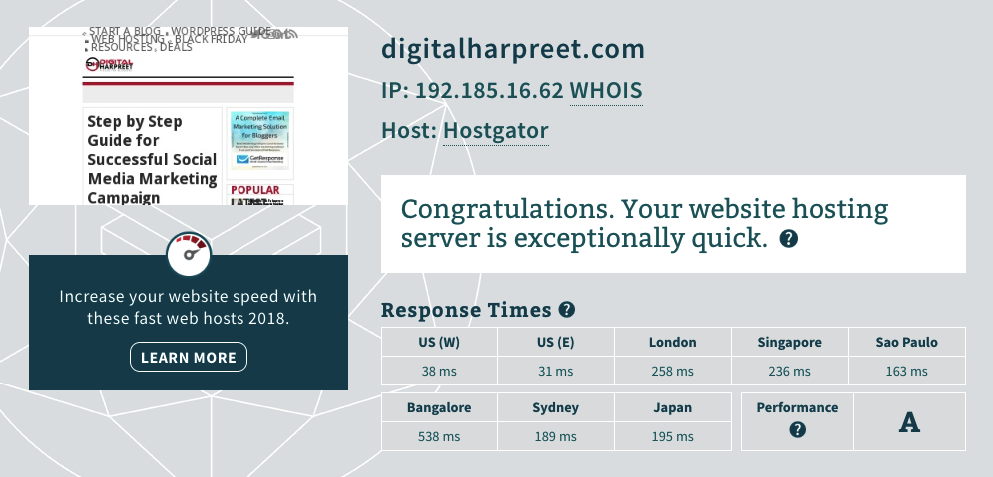 ---
 FINAL RECOMMENDATION
To be honest, the truth is that the things liked or enjoyed by one person may be distasteful to another. It's not necessary that everyone would consider all the points that I have mentioned above. It's possible that some of them are least important for you but for others, it's mandatory to have.
After considering all the aspects, I would recommendations following web hosting companies –
This is it. I hope this guide to the selected perfect web host for your website/blog will help you in making a correct decision based on your needs. If you think there are some other aspects that one should consider before selecting web host then share with us? Also, share which one you trusted most and what are the things you like most about your web host provider?
[/su_accordion]