[Estimated Read Time: 15 Minutes]
Welcome to this exclusive edition of DH blog where you will learn about "How to use Google AdSense and Make Money Online". Do you know you can make passive income from a blog/website? Do you want to pay your mobile bills and other utility bills working part-time online? If yes, then Google AdSense can change your life!
Today, working online is a lifestyle for many. Millions of people started working online now. The interesting fact is that countless of people are making living from online income. If you are wondering, how people are making money online then I'm sure you should continue reading this article.
Have you ever heard about AdSense in past? If not, then this is a complete guide on Google AdSense for a newbie. This guide is for someone who wants to work part time and earn money online using AdSense. By the end of this amazing guide, you will have all the required information along with things that you need to start making money online with the speed of light. So let's jump directly to what is Google AdSense and How can you make money using it. If you have any question, just tweet this to me and I will respond you as soon as possible or best bet is to comment down.
---
Recommended Web-Host By Experts – Run unlimited domains under one account.
---
What is Google AdSense?
So, what is Google AdSense? Google AdSense is a CPC (cost-per-click) advertising program that allows publishers (anyone who want to put ads on their websites) to insert a small amount of HTML into their sites and have ads appear that are targeted and relevant to the content of the site. Most importantly, it is the FREE service offered by Google to publishers who wanted to monetize their web content. 
The simple reason for AdSense popularity is that it is easy to use and require less maintenance. All you need is to configure your ads first time at strategic locations on your website and then just sit back and enjoy the passive income coming to your account directly. Another reason why it is popular among webmasters and publishers is the timely delivery of payments. You can decide when you want to a check, however, if your account balance is below minimum then you will need to wait until account balance reaches withdrawal minimum.
If you like the way Google AdSense works, then shout out –
How to Use Google AdSense & Start Making Money Online?
It's very easy to get started with Google AdSense. All you need to create a Google Account first and then create a blog or a YouTube channel to get an approval for AdSense account. Once you get the approval, you can start placing ads code (HTML) on your website or blog at locations where you can get more visits. If you have a WordPress Blog, then there are FREE AdSense Plugins available in WordPress Repo which you can use to place ads code on your website in few mouse clicks. After you are done placing your ads on the website, see how money grows in your AdSense account. Whenever a visitor on your website clicks on any ad, Google pays money to you as your share of the ad revenue. This type of revenue sharing is called CPC i.e. Cost Per Click. After you are done setting up Ads, the next biggest thing is to get traffic to your blog & more traffic you get, more income you will generate thru CPC.
---
Cautionary A

dvice:
If you think that this is very easy & you can ask your friends or family to click on the ads on your blog, then please DON'T. I am giving you a friendly advice, doing such foolish things could cause suspension of your AdSense Account and you won't be able to open another account again. Do Remember, Google AdSense is a quality ad network which is free to join but they have maintained a high level of quality & any such activities where a publisher is asking to click on ads or using illegal methods to get more clicks, will cost you a lot.
---
How much money you can earn from Google AdSense.
There is no limit to earning money from Google AdSense. Every newbie blogger/publisher ask this basic question. When I started AdSense, I had the same question too. I also read stories of people who made $50/Click or thousands of dollars using AdSense every month. I wondered, If I could also make the same amount of money. To be honest, there is no shortcut to legally make huge income in the short amount of time. Similarly, there is no easy way to calculate how much money you can make using AdSense. But there are some factors which can help you to forecast your AdSense income like –
The Blog Subject

Your traffic demographics

Types of Ads you use

Number of Ads

Ads placement in your website
So — the next time you find yourself wondering how much money you can earn from AdSense ads, ask yourself what is the niche that you have an interest, and what kind of traffic you are likely to get on the blog you intend to create. The more traffic you can get on your website the more income you will generate.
In order to be transparent, I can only offer you my proof of income from Google AdSense. Here is the current screenshot of my AdSense earning in the last six months working part time: $ 446.06 (approx. 30,000 INR). 

Getting Started with Google AdSense
If you want to start making money using Google AdSense, I have listed down few resources which would help you in setting and maintaining your Google AdSense Account. But, before you open a Google AdSense account, let me first help you to get a web property which you can use when applying for Google AdSense Account approval.
Creating A Web Property for Applying to Google AdSense
There many ways to create a web property. Some of them are free and some of them require a little investment. I am listing down three places where you can create your own web property. Based on the level of risk you wanted to take, you can either get a FREE web property or you can invest a little money. It's up to you.  But I prefer setting things up in the beginning even if it requires a little investment because this small investment will help you to grow your online business later on. And if you are planning to create a FREE one then also its well & good initially but once you have a grown up business, you may want to switch to paid options and then it will be little complex work to do this switch. There are other complex things that you will need to deal with like SEO. 
BlogSpot.com
If you have never worked online before then BlogSpot is the best option for you to create your own website for FREE. It is a FREE blogging platform by Google and it hardly takes 10 minutes to setup you online property. There are few things that you should consider before starting using it –
Domain Name:

BlogSpot domain name format is

yourdomain.blogspot.com

. So it is highly recommended to create a domain name which is easy to remember and google friendly. You can do keyword Research before choosing your domain name. You can also use these tools – Domainsbot.com or Domainit.com or Bustaname.com to choose a domain name for your website.
Blog Niche:

Decide your blog niche and start posting articles related to that niche in your blog. You can choose blog niche like finance, technology, medical, digital marketing, food, fashion etc. One thing that you need to make sure is to write articles more than 400+ works with lots of images.
Blog Template:

Whatever platform you choose, the another thing which is important is to have a professional design of your website. Every platform offers FREE blog templates. They are good to use but you can also look for 3

rd

party FREE templates to make your blog look more professional. Here are some resources for you – Elice Blogger, Copy Blogger , Minimum, Balance, Eleven40, Gordon.
About/Contact Page:

These are very important pages for any website. It's good to have blog post but at the same time, there are certain pages in your website that should be present from day one. About and Contact pages are few important ones that you should be created when you start your blog.
If you want to create a professional looking blog with lots of customization, you can always create one using WordPress.org. If you need a step-by-step guide to creating one for you using WordPress, then Download this Official WordPress Blog Setup Guide for Beginners right now.
The idea of having your hosting & domain name is interesting & seems challenging at first, but WordPress makes it easier for anyone with no experience to gets started with their blog online.
Also Read: How to Buy Web Hosting For WordPress blog.
Get Cheapest Domain Name from here: Namecheap.com (Grab a Great Domain for as cheap as $0.88)
DOWNLOAD TODAY & START MAKING MONEY ONLINE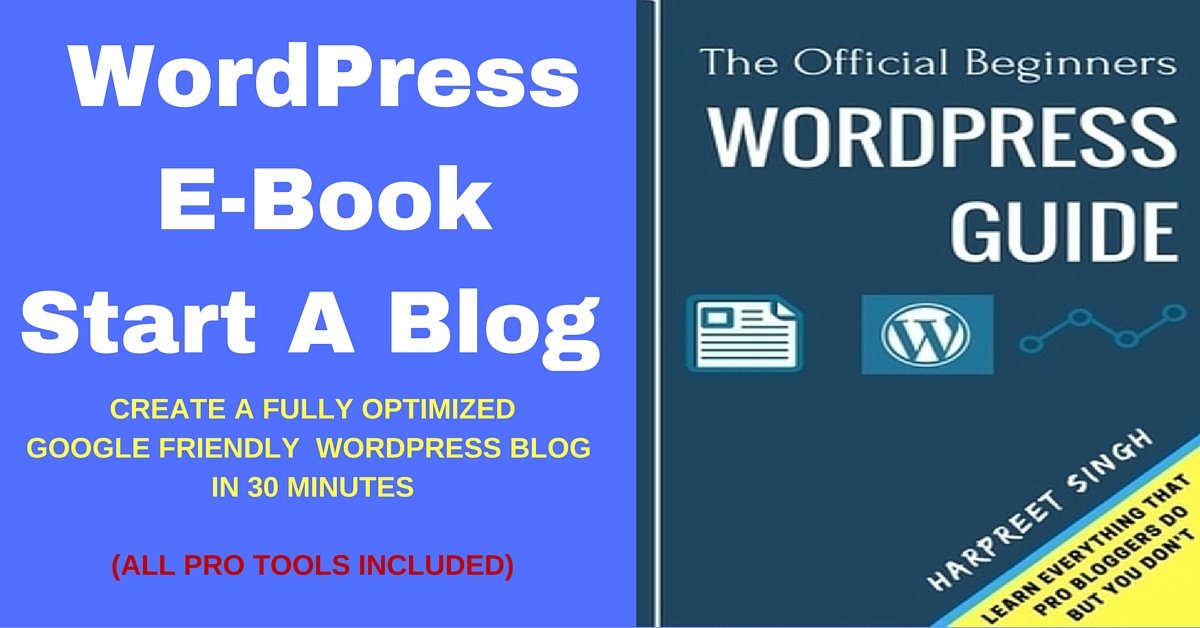 You should download this FREE Official WordPress Blog Setup guide to learn everything about creating a WordPress Blog. If you have any question, then please feel free to email me at support@digitalharpreet.com or ask your question in the comment section below.
If you need immediate response, then Click to Tweet using this –
YouTube Channel: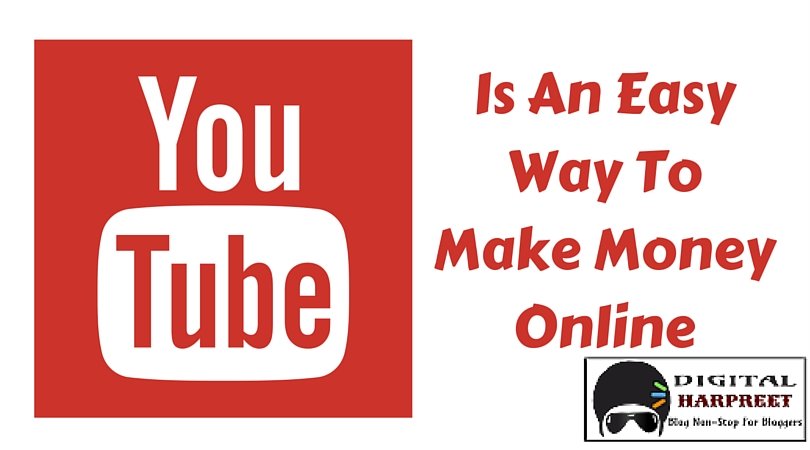 YouTube is the easiest method to get approval to AdSense account. Not Everyone likes to write content. Some people like to create and record videos too. If you are someone, who wants to make money using AdSense then you can upload your videos and monetize them under YouTube.  
To upload videos, you need to create a Gmail account, create a Channel (It's free) & start uploading original videos that you have created. You can use your mobile phone to record some original watchable videos, or you can use video recording & editing tools like Camtasia to create professional looking video in no time.
==================================================================
Bundle with TechSmith and Save! Offer Expires 12/31/17
==================================================================
Some ideas of YouTube channel which are fairly popular are Cooking Channels, Motivational Videos, Sports Channels, Girls Makeup Channels, Gym Instructors, Free Online Teaching, Tech Videos, Product Reviews etc.
 Once you have your YouTube Channel up and running then regularly add quality videos to your channel and monetize them. You can also check the benefits that you can get in running a YouTube Channel.
What's Next
After you have your web property, the next thing for you is to apply for AdSense Account. Getting AdSense approval for your website is the hardest part of making money online process. But if you have completed your initial activities with full commitment and dedication then its very simple to get the approval. Do remember, making money online is not a magic wand trick. It requires little dedication and patience. The wonderful part of this process is that once you start earning, you will get consistent income monthly with little to no work. That's why online business is so lucrative and everyone is doing it & living their life like a BOSS.
If you have any questions then feel free to ask any questions. If you need help in How to start your first blog & How to get AdSense approval in just 5 days, then tweet me using below link – 
If you are stuck anywhere and need any help then you can always tweet me using below link –
You can also post your question in the comment section below and I will respond you as soon as I see it. If you like this article then please share it on Facebook & Twitter.