Have you ever noticed a checkmark on celebrities social media sites like Facebook, Twitter, Instagram?
If not, the Twitter can help you to get one on your Twitter profile. You can apply to verify your profile at twitter and can receive a blue checkmark badge next to your name.
To get verified on Twitter, first of all, you need to update your full profile.  Add current information, verify your phone number, email address and then fill out a form requesting consideration as a verified user.
Getting verified on Twitter will not only boost your feel-good factor but it will significantly improve trust and brand value on Twitter. In this post, I will show you how to get your business or brand verified on Twitter.
Steps To Get Verified On Twitter
To verify your Twitter account on Twitter, you would need to follow these steps:
Complete your profile 100% i.e. add a profile picture, a cover photo, mobile number, email address, website, bio, and location information.
Verify your phone number and email address.
Add your date of birth.
Set your tweets to "Public".
Individual accounts that do not represent any business or organization will require a copy of the official government issued photo Id(eg. Passport, driving license) as additional documents for the verification.
Type of Accounts Verified By Twitter
An account which is meant for public interest may get verified by the Twitter. Especially, it includes accounts maintained by the users in the field of music, sports, acting, business, politics, government, journalism, media and some others.
Verification Request Form
You can submit a request to verify your Twitter account using this link – Twitter Verify 
Note: In order to access the form, you must be logged in to the Twitter account you would like verified. If you are not already logged in, you will be redirected to the Twitter login page.
Denied Request: You can submit another request for the same account 30 days after receiving the email from Twitter. If you received a response from Twitter requesting edits to your account and/or additional information, you can submit another request anytime.
Now, once you open the Twitter verification form and click continue, you will see something like this –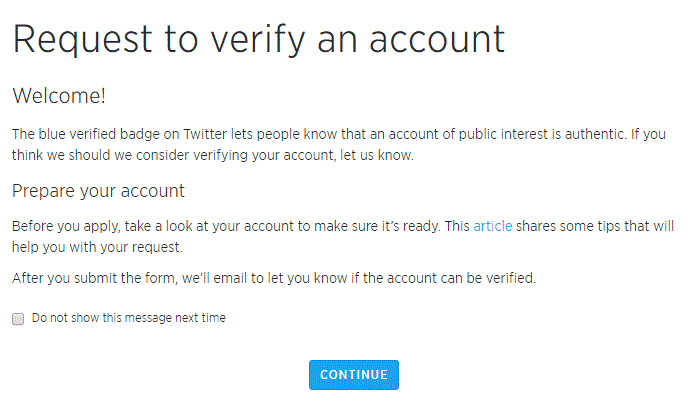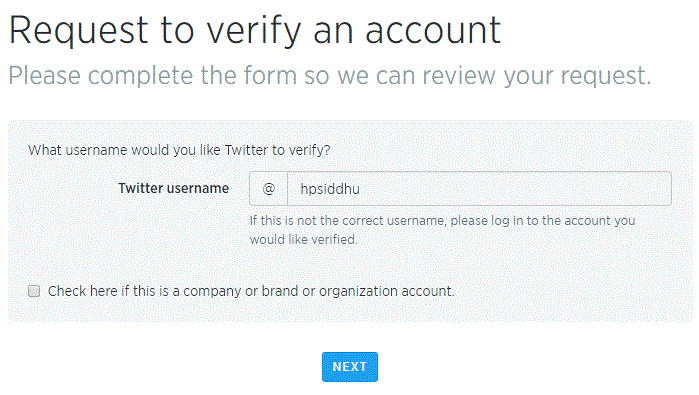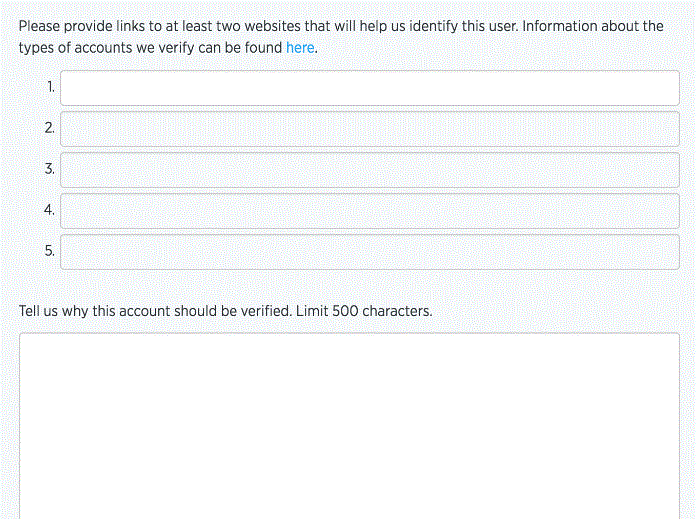 Also read: How to verify your website on Pinterest
Once you are done filling out the above form, you can submit the request to verify your account. Twitter will respond to your request via email. If you have not received any email from Twitter then read this article.