Affordable Web Hosting Service For Beginners
Welcome to a quick guide on "Shared Web Hosting – An Affordable Web Hosting For Beginners", also know as Budget Hosting.
I wrote this post to help you to educate about what is a shared web hosting & how you can save some big bucks in the long run. Here's what this guide covers:
Hosting Glossary – Meaning of some important terms.
Types: Differences between shared, VPS & Dedicated hosting packages.
How to choose proper web hosting package?
The Most important features in shared web hosting.
Share web hosting free bonus.
To make the most out of this article, I recommend you to bookmark it. Also, be sure to keep a notepad and a pen with you, because there will be some stuff that you may want to write down.
Learn More: 
And Now, I hope you will enjoy reading this guide as much as I had enjoyed writing it. Feel free to ask me anything. I'll be very happy to answer your questions at https://Facebook.com/DigitalHarpreet. Please consider sharing your hosting experience with me in our community, at DigitalHarpreet.
"Web Hosting is basically keeping all your website data on a server instead of the local disk so that it can be accessible via the Internet." The Server can be shared by many or a dedicated one for your website.
Introduction: Hosting Glossary
---
The world of modern web technology is growing incredibly fast. Getting around basic terminology seems to be one of the biggest challenges.
The same thing happened when I try to understand hosting services. New words and terms can be intimidating. I have prepared a brief glossary to guide you in those first steps towards building your confidence and understanding of web hosting.
Web hosting – a complex of different services and functions that allow you to allocate a website and all related files on the web.
---
Shared Web Hosting – the cheapest and the most popular type of web hosting. When purchasing a shared plan, you get a part of a server that can be used for allocating a relatively small website. Shared plans are great for startups.
---
VPS hosting – the golden mean. VPS hosting awards you with a bigger part of a server. In fact, this gives you better performance and the smaller risk of getting your website(s) blocked because of bad server neighborhood.
---
Dedicated hosting – the most advanced solution. You get a whole server—or even a number of servers—for allocating your website. Dedicated servers are strictly advised if your website works with big databases or hosts a lot of media files.
---
Cloud Hosting – a network of servers that host the same information which can be used for increasing the performance of your websites or for adjusting servers without getting your website offline.
---
Server – a combination of hardware and software that is used for allocating your website on the web. Every server has a basic set of characteristics: hardware capacity, bandwidth, operating system, RAM, etc.
---
Datacenter – a room where your web hosting company keeps all (or a big part) of their servers. Good data centers are secure, fire-protected, and have good ventilation.
---
SEO – an abbreviation of Search Engine Optimization, which is a combination of services used for raising the rank of your website in the lists of search results. SEO quality often depends on hosting, e.g. on the geographical location of your servers.
---
Live chat – the easiest way to contact the support agents of your web host. Most reliable hosting companies offer live chat; with live chat, you can resolve immediate problems that may arise.
---
Disk space – hard drives volume that can be used for allocating your website and all related files.
---
Bandwidth / Traffic capacity – the characteristics that define traffic speed and the amount of incoming and outgoing information that can be processed by your hosting plan.
---
CPU / Core – a piece of hardware that processes large amounts of information and tasks. Normally, CPU only matters when you purchase a dedicated or a cloud plan. In such cases, the more productive cores you get, the better they are.
---
Control panel (cPanel) – software used for managing your hosting software and hardware (if possible). A control panel lets you create a website from scratch or host an existing website with higher efficiency.
---
Operating system — an environment used for installing multiple developer tools that allow you to administer your hosting and its features.
---
RAID – a security system used for protecting the data on your hard drives by means of complicated multi-layer storage.
---
Server uptime – the amount of time when your server is running well and without any failures. The better the uptime rate, the more users will be able to browse your website without any problems.
---
vServer – a term mostly used by cloud hosts for identifying a virtual server. A vServer functions like a dedicated server due to special technologies that split a real server into a number of virtual racks.
---
Public cloud – a cloud that uses real servers and can share a series of web projects. Public clouds are cheaper, but cannot be finely adjusted to the needs of your web project.
---
Private cloud – a cloud built with servers that do not share any other web projects but yours. Private clouds are expensive, but they can be set specially to meet your personal needs.
---
eCommerce – a segment of the web that works with the online trade. E-commerce projects include eShops, online auctions, etc. Many web hosts include different services for eCommerce projects.
---
These are the most popular terms. Hopefully, they can make the beginning of your web hosting journey life easier and help you understand the principles of website functioning better.
---
In the modern world, if your project doesn't have a website, it simply doesn't exist. One of the basic issues you face when working on starting a website is good web hosting. You might find yourself overwhelmed by the tremendous amount of web hosting choices in the market, which makes deciding difficult. In order to avoid making a mistake, it's always good to turn to an expert.
---
Bluehost Shared Web Hosting – Plans Starts At $2.65/Month 

HostGator Shared Web Hosting – Plans Starts at $0.01(Offer Price)
---
The three most popular hosting packages offered by web host companies globally are Shared, VPS and Dedicated. All of them have their advantages and disadvantages, so in this article, I have prepared a detailed description of each web hosting type so you can have a clear understanding of how it all works.

Shared Hosting — Pros and Cons
Most likely, Shared Web Hosting is what you need if you have a startup project. Shared plans normally have low prices and some basic features included. In fact, if you purchase this type of web hosting, you will share one server with many other websites. That may cause some problems as you never know who your "neighbors are". However, the possibility of the bad neighborhood is probably the biggest disadvantage of shared plans.
The rest is perfect if you have a startup project and do not have an incredible amount of data going through your website. In other words, Shared plans are perfect for:
Promo websites
Professional portfolio
Startup project
Blog or writer's website
Early stages of photo gallery
Simple eCommerce websites
---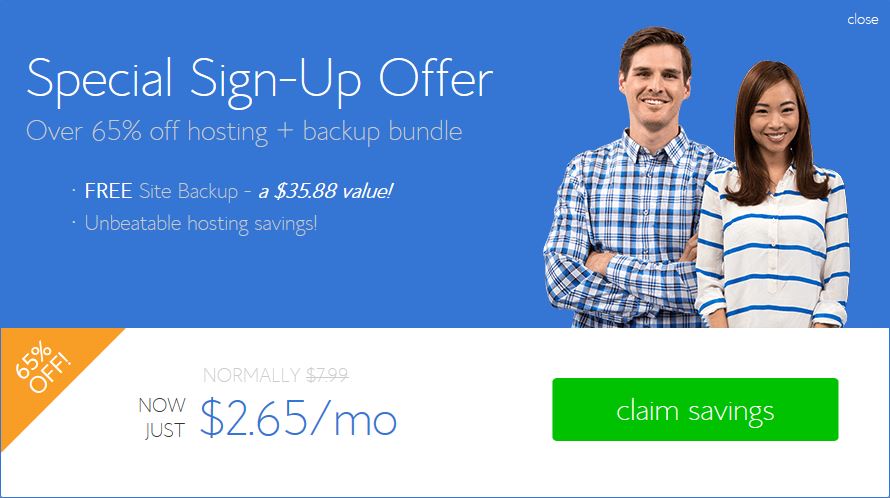 If you see a higher price at Bluehost, Contact To Get This Price
---
Usually, web hosts offer some unlimited features in their Shared packages. Be aware that some of them have underwater stones, so you make sure you read the Terms and Conditions carefully.
You will also find a bunch of hosting companies suggesting many additional features included in the package, like eCommerce tools, CMS platforms, plugins for developers. These features are fine but pay attention only to the features you will really need. Consult a webmaster before choosing a particular web host company.

Key Facts about VPS Hosting
VPS plans are the golden mean of web hosting services. Such offers will normally have good neighborhood security and strong customers support services. VPS also means you get a higher capacity (compared to Shared plans).
The biggest disadvantage of VPS is that you have no control over many important server functions, (which is available in Dedicated plans). As your project grows, your webmasters will need more and more options for managing the website(s) effectively. This is where you see the limits of VPS: everything is predetermined by the web host, because, again, you get only a part of server — even though that part of the server is rather big.
So, what is VPS hosting well for? Well, VPS is great for average web projects that don't require fine, personalized server adjustments. This may be a large photo stock, a media-rich website, an eCommerce project, or even a number of simple websites hosted under the same hosting plan.
Follow the load of your current Shared web hosting, and if it's close to the limit, you may consider moving to a VPS or Dedicated package. Why VPS or Dedicated? Because the market of VPS hosting is rather big, so some VPS plans will cost you even more that a basic Dedicated server. Be aware of that, and know your priorities when choosing between VPS and Dedicated.

All You Need to Know about Dedicated Hosting
When the time comes that your online business grows to truly huge dimensions and the world is not enough, welcome Dedicated Hosting. This kind of plan will award you control over the whole server. This, of course, has both pros and cons. On one hand, you can adjust your servers according to your needs; on the other hand, purchasing a dedicated server means you'll have extra costs for managing it.
When ordering a dedicated plan, examine all features well and consult your webmasters. Many hosting companies provide managed dedicated solutions, which means you will pay the company's workers to manage the server for you. However, web host teams offer a fairly standardized approach, so you won't have a chance to make customized adjustments.
Certainly, Dedicated servers are all about huge capacity. You get impressive bandwidth and disk space, as well as lots of FTPs, email accounts, and databases. Most web host companies will let you choose the operating system that will be installed on your rack. Add to this the special attention of customer support and high-security standards, and you will get the best kind of hosting solutions available on the market.
As you can see, each type of web hosting plan has its advantages and disadvantages. When you're wondering which one to choose, you have to look at your needs. Don't forget research before purchasing any hosting plan, and you will find the solution that meets all of your requirements.
---
Shared web hosting is the most popular hosting solution purchased from hundreds of web host companies all over the world. The sheer size of the huge market of shared solutions often causes problems to customers since most people purchasing shared plans are new to web technologies, and usually, do not know what to pay look for when choosing a good hosting package.

How to Choose Proper Web Hosting Package
---
Web hosting is a complex of functions and hardware features; thus, you need to understand some technical processes in order to find a proper solution. The system is not complicated at all—you just have to keep in mind that the abundance of unlimited features awarded by a certain web host does not mean that their shared plan is exactly what you need.
---
Read More: 11 Factors To Consider Before You Choose Web Hosting Company
---
Of course, it would be great if you could just consult a webmaster who would explain what features you will need for this or that online project. If you don't have that option, read on to understand some key facts about shared web hosting plans and choose a proper solution.
---
Here are five most relevant features included into shared Web Hosting packages:
The Essentials: Disk Space & Traffic
Let's start with the basics. When you want to host a website on the web, you need some disk space that will be used for things like different code files, databases, and media. That's when you need a certain amount of disk space. Logically, the smaller your website is, the less importance this feature has.
Now that you have hosted some files and made them into a website, you will want users to access that data. That's when bandwidth comes in. Imagine a tunnel: the wider the tunnel is, the more information can pass through it. Bandwidth works the same way. Many web hosts offer unlimited bandwidth but restrict traffic speed, which can also influence the performance of your website
Pay attention to bandwidth and traffic speed when searching for a good shared plan. Again, the bigger your website will be, the more disk space you will need. Additional hard drive security is very good, but typically shared web hosting package does not include this feature.
Uptime is the time when your website works online and when users can access the site without any problems. It is usually measured in percentages from the total expected uptime (twenty-four hours a day, seven days a week). Of course, it depends if your website has to be online one hundred percent of the time. Normally, if you purchase shared web hosting, your project is not too big, so you don't really need 100% uptime. In such cases, the level of 98% is common.
When choosing a hosting plan, do not pay much attention to what companies say about their uptime– they only use best servers for their company website while you may get a worse one. Still, if you want to know the actual online rate, use some independent web projects to measure this number for you; likewise, you can check out some forums or ask you friends for advice.
You also have to pay attention to different security features included in the plan, which will ensure better safety for your server. Be aware that most web host companies do not include pricey security options into cheap shared plans (for example, your server will be more secure if the package includes RAID, server backup, manual server restart, advanced network architecture, or other similar services).
Support is extremely important. If you are new to web hosting, support will be your eyes, hands, and everything else. That's why we advise that you browse the web and check different reviews for information about support of your web host candidates. Also, browse through forums where users discuss web hosting to give you an insider's review.
Why is support so important? When making your first steps in hosting management,
you will have many questions, and many of them will require immediate answers– that's why the working speed of customer support is so crucial.
Many web host companies include so many additional features into their shared plans that it's becoming a giant mess. They will offer some unlimited options, pre-installed apps, extra-fee services, and the like. Concentrate on the pre-installed apps, which are special widgets that help you create a website quickly and manage it more efficiently.
One of the most basic apps is the control panel. If your shared plan includes a control panel, you can breathe a sigh of relief. Life gets much easier with one, as you will be able to control the most complicated server processes through a very convenient interface. The most popular control panel is cPanel, but some web hosts of will offer you an alternative — Zpanel, Webmin, Virtualmin, or even their own customized control panel (which is not always so good as it sounds).
Now, most control panels have some apps and add-ons pre-installed, so you can switch some important functions on with only one click, like eCommerce tools such as payment instruments or shopping carts. You can also have a CMS like WordPress or Joomla available for quick automatic installation. Note that all those extras are only reasonable if you need them. If you have someone make you a promo website or a portfolio, most of those features are not necessary.
Finally, we get to the sweetest thing about shared plans. Since the market of shared web hosting is so big, different companies try to attract more clients by offering free bonuses. Some of them will offer a free domain name, website transfer, site-building tools, or some other nice features. Of course, this great and convenient, so the more free bonuses you get, the better the deal.
When it comes to free bonuses, the main item that needs your attention is the so-called "renewal fees." What happens here is that the company will grant you the first year of domain usage free, but later on you will have to pay yearly fees. As always, examine the user agreement thoroughly if a company offers you free features.
Choosing a shared package is very subjective. You have to spend some time considering the requirements for your website so that you know what features are priorities and what features are non-essentials.

Conclusion: My Personal Recommendation
As far as hosting is concerned for the startup projects, my recommendation is to always go with Shared Web Hosting Packages. Now the questions are "Which company to choose to get shared web hosting &  what package to buy from them like Basic, Plus or Prime that Bluehost offers.
Well, I have been doing this (buying web hosting for my projects) from a long time now. (First time I buy one about 10 Years ago when I was in college). That time, there were not so many companies but now because of the presence of 100's of hosting solutions for your business, it's really confusing (not tough) to choose a best one based on your needs.
Here are some reliable sources that I can trust and recommends to anyone. I have never faced any major issues using them for my projects till now. Cost wise all are very reasonable and provide lots of good features. Personally, I always rank hosting solutions based on the quality of customer service. Here is my own top five list for you based on the quality of service:
[table id=1 responsive=collapse /]
I would never buy a very basic shared web hosting package from any of the above-mentioned companies.
You know Why? Because,
The very basic package don't offer flexibility to add more domains on the same hosting account. Usually, they allow you to host just one domain name.
Most companies do not give the FREE domain with very basic packages.
Hosting provides you limited server space.
Above All, If you can't host multiple domains on a single hosting account then I believe it's not worth to invest money in such a plan. Won't you go and buy another one for your second project right?
---
Start A Blog: Download FREE WordPress Blog Setup Guide 
If you like this article and find it useful, please share it on Facebook and Twitter.
If you have any question or need help in deciding the best service for your project, please contact me here.