Are you a newbie blogger? A first time WordPress website owner? Or maybe you're considering starting up your own online business? Then one of the things that you will need to get started is a web hosting company for your website.
SiteGround Hosting is one of the best independent hosting company today that offers great hosting solutions with services such as shared Linux hosting to Dedicated and Cloud server hosting. It also offers apps hosting such as WordPress hosting, Joomla hosting, eCommerce hosting and etc.
Based on the user research and review available online, you can't go wrong with the hosting company. However, before you sign up with SiteGround, there are a few things that you should know about them!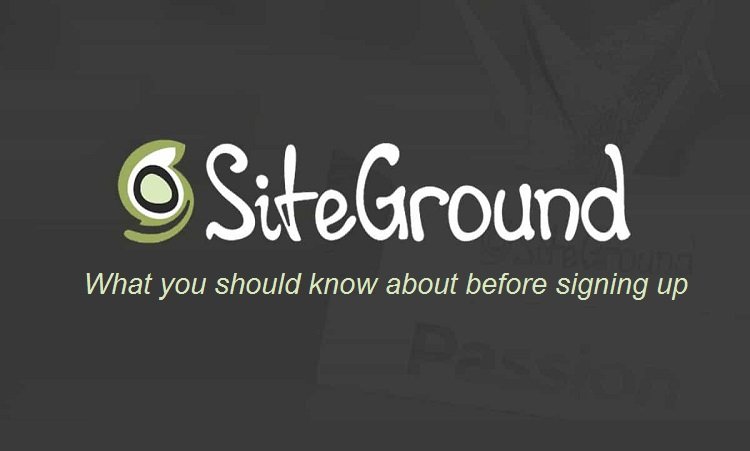 The 99.9% Uptime Rate
In the world of blogging or online stores, being offline or facing "down" time can have disastrous effects on your site's metrics and overall performance. Uptime is an important factor for a hosting company and the better the percentage, the less likely you'll be suffering from downtime.
Now, it's impossible for web host providers to promise 100% uptime, due to factors that can't be controlled, but you can still get the next best thing which is 99.99% uptime. SiteGround claims that they can maintain that 99.99% uptime for all of their clients and that's pretty impressive.
Just to give you an idea of how impressive that is, it's basically akin to having as little as over four hours of downtime within a period of six months. So, if you're an online store or a blogger whose success is dependent on being online and accessible at all times, then SiteGround has got you covered!
The Global Multiple Data Centers
Today's technology has made data delivery much more efficient and faster, however, having data centers that are physically closer to your users will still give better loading times.
With SiteGround, you have the option of choosing which data centers you would want your site's data to be stored on. The key locations that SiteGround keeps their data centers are in Amsterdam, Chicago, Milan, Singapore, and London.
For bloggers or business who have a specific target audience, the ability to choose which location to house your site will definitely help improve the overall site performance.
Focusing on the Asian market? Place your site in the Singapore data center. European bloggers can have their website housed in either London, Milan, or Amsterdam for better loading times.
The Speed And Performance
When you're choosing a web hosting company, their speed and performance are something that you need to be aware. Why? Because if you have a slow loading website, you're more likely to lose the attention of your visitors or even miss out on potential customers and sales.
For SiteGround, having high speed and performance is a priority for them and for their clients.
They guarantee such high responsiveness, speed, and performance by using certain technologies such as:
Using Solid State Drives for their databases instead of regular drives for faster loading times
Increasing the loading time speed for static content using NGINX web server technology
SuperCacher, SiteGround proprietary Web Caching mechanism that's used to optimize websites and load dynamic content faster
Using CDN (Content Delivery Network) and HTTP/2 and PHP7 to speed up global loading times by making your site's data more accessible
However, WHSR SiteGround review shows mixed results when tested using different tools. Several speed tests were ran using different tools on sites hosted in different SiteGround data centers. The results – The TTFB (Time-To-First-Byte) was more than 700ms at Webpage Test but Rated A at Bitcatcha Speed Test.
The (multiple) Daily Backups
Do you worry that one day you might accidentally delete a page from your website? Or maybe your website unable to load because of an error? Or having to shut down your entire website because of a wrongly placed code?
Like it or not, there will be times when your website faces some kind of disaster, forcing you to shut down. When that happens, you'll be glad that SiteGround offers daily and multiple backups for websites on their servers. And getting your website's backup is quite easy with SiteGround. All you have to do is contact the support team and inform them that you want them to restore your website. That's it!
One thing to note, different hosting plans offer different backup plans. For example, Startup only gives you one site backup per day, Grow and GoGeek, on the other hand, has 30 backups per day plus 1-click site restoration service.
The Big Discounts For Their Plans
Price is an important factor in deciding a hosting company. SiteGround falls on the pricier side, but, it is on par with the quality of their hosting service.
Take their shared hosting plans at $9.95, $5.95, and $29.95 for their StartUp, GrowBig, and GoGeek plans respectively (rate without any discount), it is quite expensive compared to other web hosting services. Add to the fact that you get limited features, such as being limited to one domain for StartUp and limited Disk Space, it's hard to justify paying for their plans.
Thankfully, SiteGround often runs discounts on their website and the discounted rate can go up to 60% off for their hosting plans. You can grab their StartUp plan for as low as $3.95/mo if you sign up during their discount periods.
The FREE Site Migration Service
If you have a website already and decided to make a move to SiteGround, then you probably have to take care of the migration process for your website, which can take a lot of time and effort on your part.
Lucky for you, SiteGround offers a free site migration service when you sign up with any of their plans, which is done by their professional in-house team.
The free website transfer service lets you migrate one website (regardless of size), transfer your email account, your FTP account, any addon domains on your cPanel accounts, and transfer any CMS platforms (WordPress, Drupal, Joomla, etc.) that you're using.
Transfer To SiteGround – Free of Cost
Wrap-Up
It's no secret that SiteGround is often the choice for businesses or bloggers who are looking to create a professional website and need a professional hosting company. With this article, you should now know more about SiteGround and what they can and can't do for your website.
Are you done waiting for your website to improve its Google ranking? Then check out our 8 actionable tips that will help improve your blog's Google search ranking.