If you want to be a writer, you need two things.
Words, and
A Way to express those words.
This might sound simple. But it is not so.
Being a writer requires the RIGHT words and the RIGHT way of expressing them.
Now, we will leave it up to you to find the right words.
As for the right way to express those words, blogging is the simplest, easiest, and most effective way.
No matter what you write about, or what your genre or style of writing is, a blog is the best form of self-expression over the Internet.
The web has opened a wide array of options for budding writers, authors, poets, and journalists to express their opinion, gather an audience base, and even earn money online.
Starting a blog, however, isn't an easy proposition. The actual task of writing for blogs and posting it might be easy for you. Given that there is no shortage of blogging guides online.
But,
Finding the right blogging platform or the right website builder for starting a blog can be overwhelming.
You are most likely to be baffled by the choices.
And to make the choice a little less complicated, here we have mentioned the top 10 blogging platforms and website builders that you can consider.
Top 10 Blogging Platforms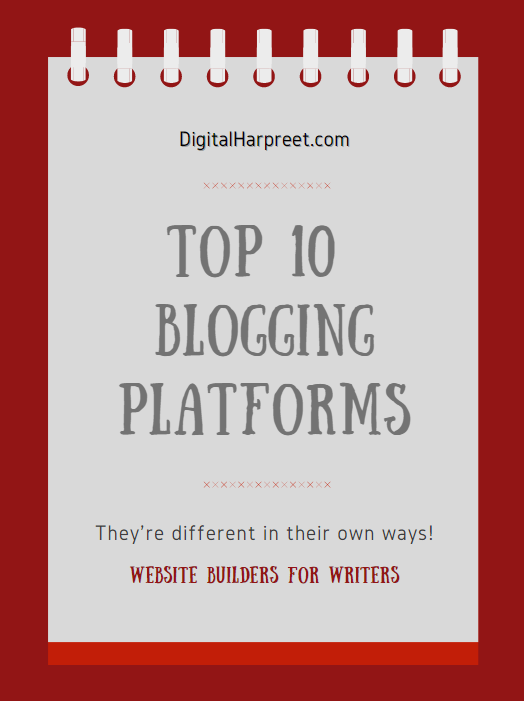 1. Wix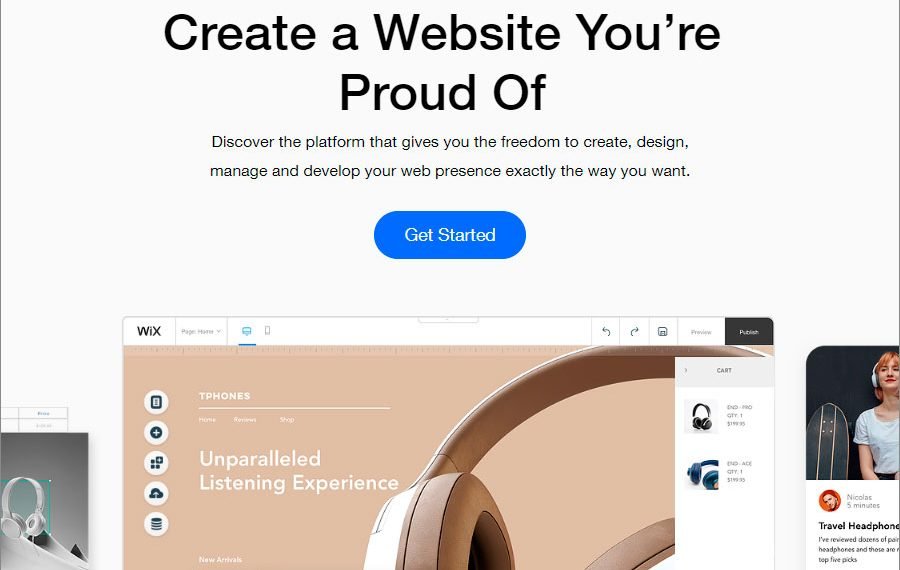 Wix is a reliable and well-known free website builder that was established in 2006. It is the best free website builder software for most small businesses and currently has 110 million users across the globe.
So, what's in it for the writers?
Wix offers an easy-breezy blog running experience. You can create beautiful blogs with cool themes on Wix. And you need no technical know-how to get your blog up and running in minutes. You can also easily add a dedicated blog section to your website using the Wix Blog App.
The pros:
No technical know-how needed
Wide range of easily customizable themes and design options
Intuitive and interactive interface
Drag and drop editor
Free web hosting and domain services
Reliable on call and chat customer support
The cons:
Low storage space with lower plans
Fewer features as compared to other counterparts
Wix branding and ads in the free version
Cannot change the template once chosen.
Ideal for: Combining the features of a blog and a website
2. WordPress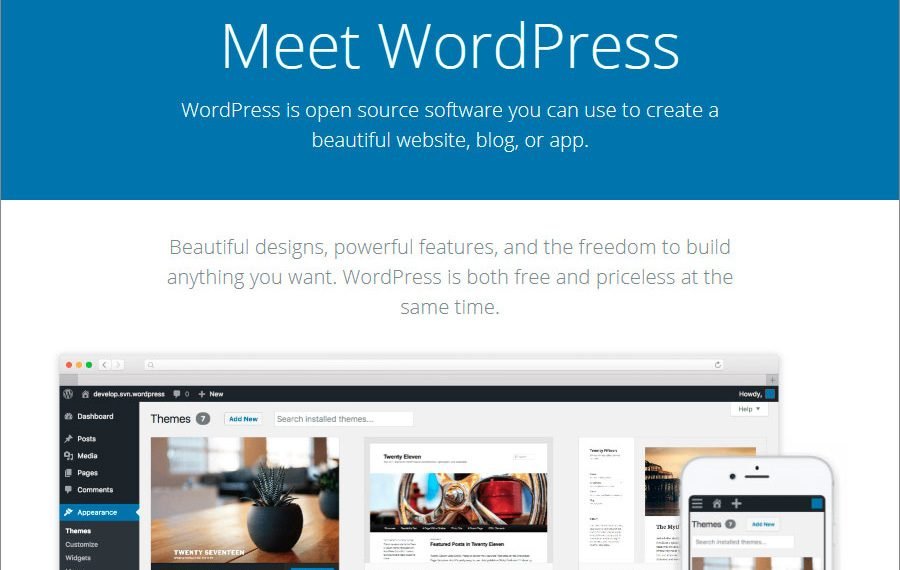 WordPress has kind of become synonymous with blogging and website building in recent days. It is the best free blogging platform that is adaptive to the needs of the budding writers. Also, it is easily the most scalable option out there, powering almost 30% of the Internet.
Established in 2003, WordPress is a self-hosted solution. This means you need to sign up with a WordPress hosting provider to use the platform. It is considered the best platform that can offer you complete control of the future of your blog or website.
The Pros
No-nonsense interface offering complete freedom of customization
Compatible with Windows, iOS, Mac and Android devices
Simple, easy and flexible
Possible to build Mobile-friendly websites
Complete content management system
Variety of free themes and plugins, and free backup
The cons
You cannot host advertisements on the free version, and monetization options are limited.
WordPress can advertise on your blog
Cannot use a custom theme
Cannot use Google Analytics
Not the quickest option to begin with due to steep learning curve
Ideal for: Tech-savvy writers
3. Weebly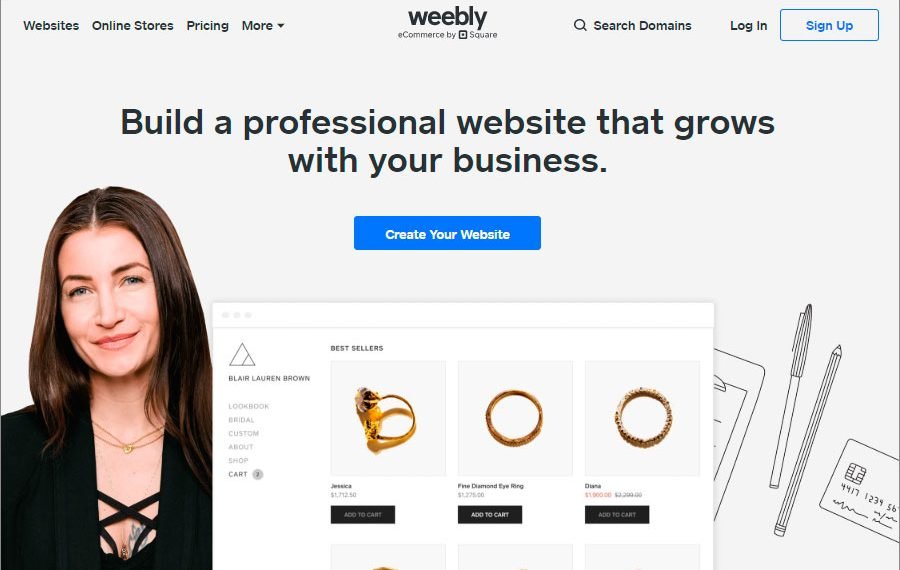 Weebly is another popular free website builder and blogging platform. The intuitive, drag, and drop interface makes everything easy and quick.
It is a very popular platform and has more than 12 million registered users. Being free and extremely easy to use, it is a favorite amongst builders. Unlike other builders, Weebly can also be used to create larger sites with minimum efforts.
The pros:
Free and user-friendly platform
Drag and drop editing offers excellent scope for customization
Easy integration with third-party tools like Mailchimp to enhance productivity and reach.
No knowledge of HTML needed
Setting up Google Analytics and tracking the traffic is possible
Active Weebly community for problem-solving
The cons:
Weebly branded pages in the free version. You need to pay to remove the branding.
Limited 500 MB storage in free plans
Weebly can post ads on your blog/website
Fewer customization options
Limited long term growth due to lack of SEO tools
Ideal for: Building a blog fast and easy
4. Blogger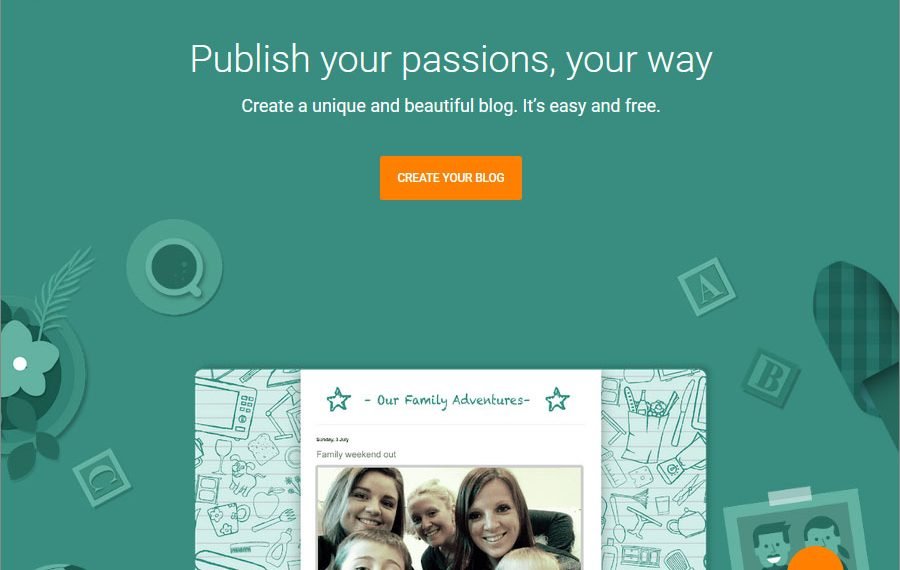 Blogger is the most trusted online blogging platform. This is because Google bought it in 2003. Blogger was originally launched in 1999 by Pyra Labs, but Blogger, as we see it today, is the result of the redesign efforts of Google.
This makes it a reliable and free platform that can help you start and run a blog with complete ease. All you need to start a blog using Blogger is a Google account.
The pros:
Extremely simple to use
Advantages of Google's robust security and reliability
Can be easily synced and backed up in Google Drive
Can be used from mobile phones as well
Integrated dashboard with Analytics features
Easy monetization with AdSense
The cons:
Limited customization options
Complete lack of plugins
Caps on character count and number of blogs
No frequent updates
Google's history of abandoning products (Feedburner, Google Reader, and many others) adds a risk factor
Ideal for: Bare to the bones basic blogging
5. Squarespace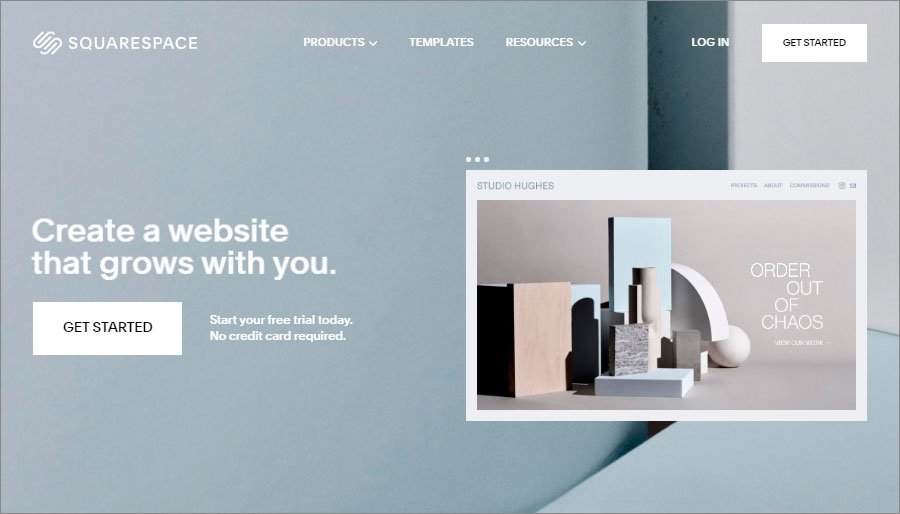 Squarespace is a conventional portfolio builder with a lot to offer for business people looking for eCommerce website options. The free tools for customization, however, offer a lot of scopes to build stellar websites that budding writers can use for blogging.
Started in 2003, Squarespace currently helps millions of website and blog owners run their portals with ease. It has two paid options for users to choose from. One pricing plan is for websites, and the other is a dedicated tariff for online stores.
The pros:
A full and advanced range of customization and editing options
Beautiful themes
Inbuilt analytics panel
Customer support through mail and chat
A responsive in-house editor offers scope for adding and rearranging multiple elements
Free hosting and free domain registration
SEO tools, CMS Solutions, and Mailchimp integration
The cons:
Both personal and professional plans are paid (you do get two weeks of the free trial though)
Difficult to use as compared to paid plans
Complicated SEO options are not beginner-friendly
Ideal for: Aesthetic blog designs and images
6. Tumblr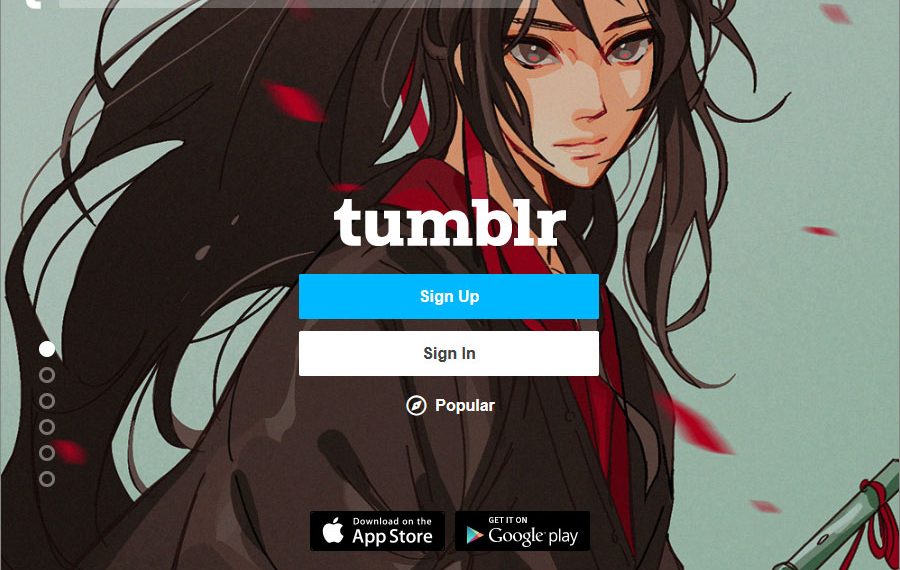 Tumblr is a fast-growing social media platform that amateur writers can use. It is a microblogging site, often compared to Twitter. It is excellent for clickable and short-form content. If web presence and aesthetics are your jam, Tumblr is your perfect match.
Though it is unlike other website builders and platforms, it offers all that it needs to get your blog up and running in no time. For amateurs looking to showcase their visual or graphic skills through the blog, Tumblr becomes the most recommended option.
The pros:
Options for sharing content, reblogging other's content and following other bloggers
Robust networking opportunities
Quick and easy
Popular and shareable platform
Customizable themes and responsible editor
Powerful CMS and SEO tools
Free web hosting and domain registration
The Cons:
Limited customization options
Integrating newsletters, sidebars and widgets become tough without HTML5 or CSS know-how
More image-driven format not very ideal for long drawn essays
Difficult to backup your blog
Ideal for: Clear and concise clickable content
7. Medium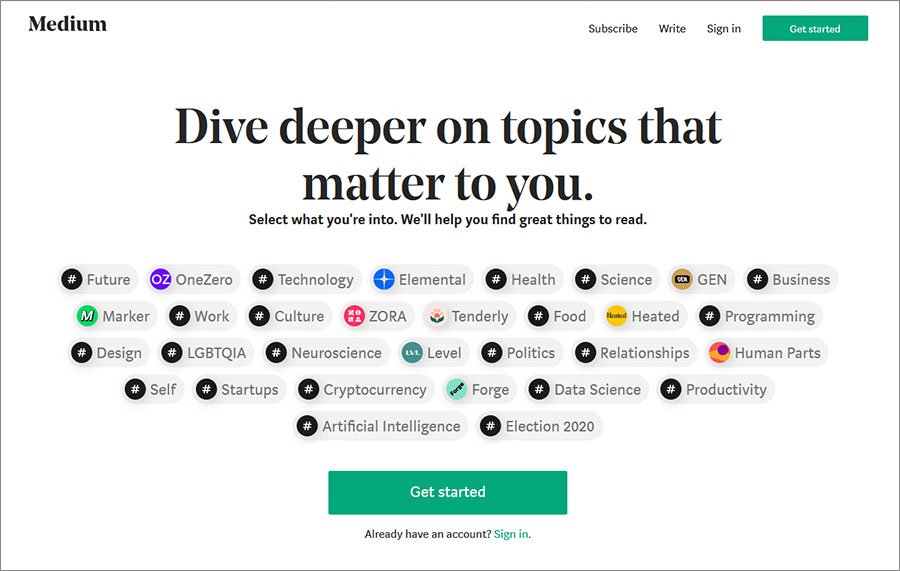 Medium is a community-owned website that was launched in 2012. When you sign up and log in to Medium and start a blog, you get a dedicated profile address that looks something like – https://medium.com/@yourname. This means there is no way you can own your unique blog on medium.
But, what you can do is publish your articles on Medium and make a beeline towards gathering quick readership. One of the reasons why it is popular among bloggers is that it has a lot of features (due to huge fundings) and the fact that it is a hybrid of a social media and journalism platform.
The pros:
Everything from backup and bandwidth to storage and security is sorted out for you
A highly optimized site, offering great scope for attracting several eyeballs
Extremely easy to use platform
Completely free
You can reach an existing online community of readers
The cons:
Limited social networking features
No monetization options
Cannot use your own domain name
Your audience is basically Medium's. You lose the blog, you the readers and followers too.
Ideal for: No hassle community-based blogging
8. Contently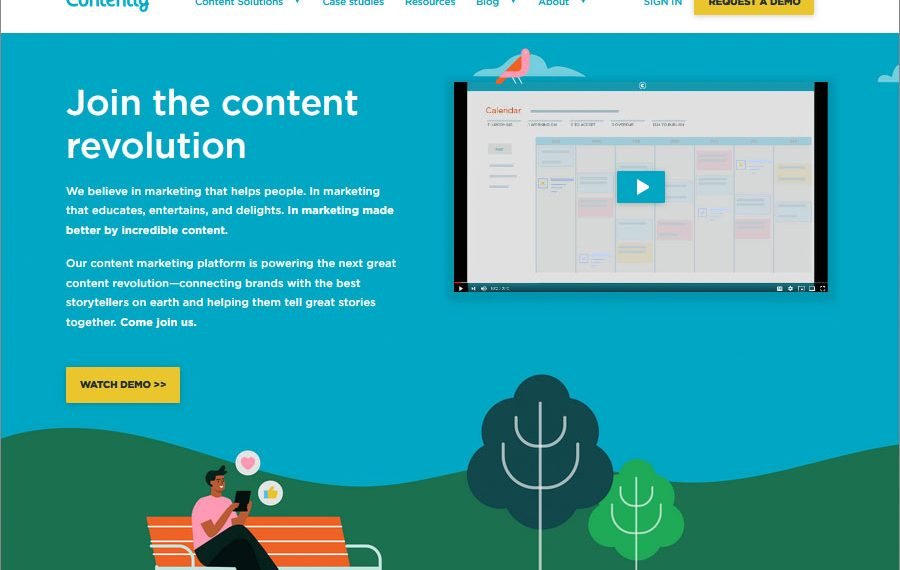 Contently, as the name suggests, it is a site builder for writers, journalists, and bloggers. It is built by journalists and nerds, with the motto "We are a bunch of journalists and nerds trying to make something awesome." It is undoubtedly the best among the dedicated website builders for writers.
Other than helping your build a prolific portfolio of your writing work, Contently can also help your network and find clients if you are looking for ways to monetize your passion for writing.
The pros:
Sleek, simple and straightforward
An in-house editor that lets you add themes, images and tweak things for customization
A connecting link between journalists and media houses
Everything is arranged in one place and easily accessible
Free portfolio builder with no limits on how many projects you can host
The cons:
Not much to offer as compared to other counterparts
Limited scope and functionality
Ideal for: Writers who just want to write their heart out
9. SITE123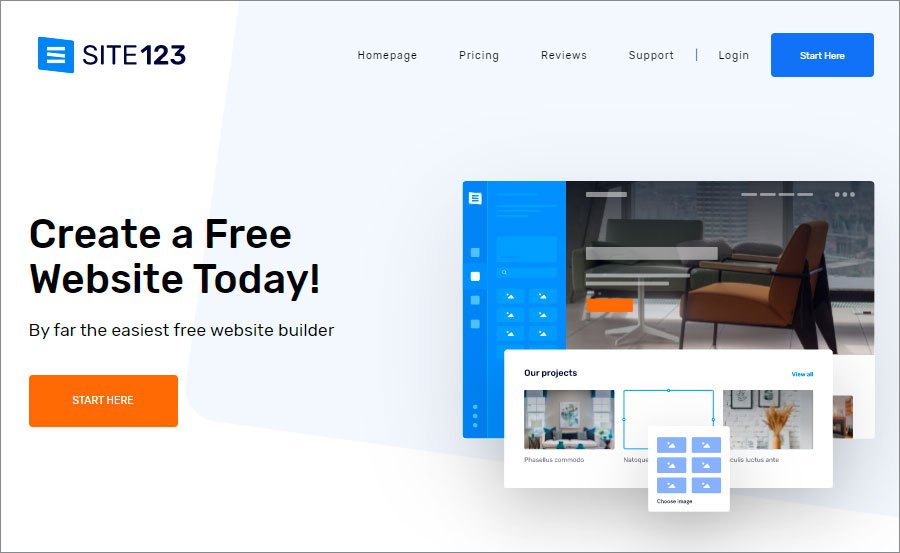 SITE123 is a basic builder, and it is easy to get the hang of it. It is a very supportive platform, and if you are just starting up, it can make for great beginnings.
It is especially very useful for those who are looking for a website that has almost everything already done. If you need little customization liberty and want to go online in a breeze, choose SITE123.
The pros:
Live chat support
Beautiful and mobile responsive design templates
Social media integration
Comment reply tool
Access to the SITE123 apps market. Here you can choose from a wide range of free and paid apps, including Google Analytics and live chat
The cons:
Suitable for only very basic blogs
Limited options for long term growth
Cannot switch design templates once the blog is posted
Ideal for: Beginners who need technical support for blog-building
10. Strikingly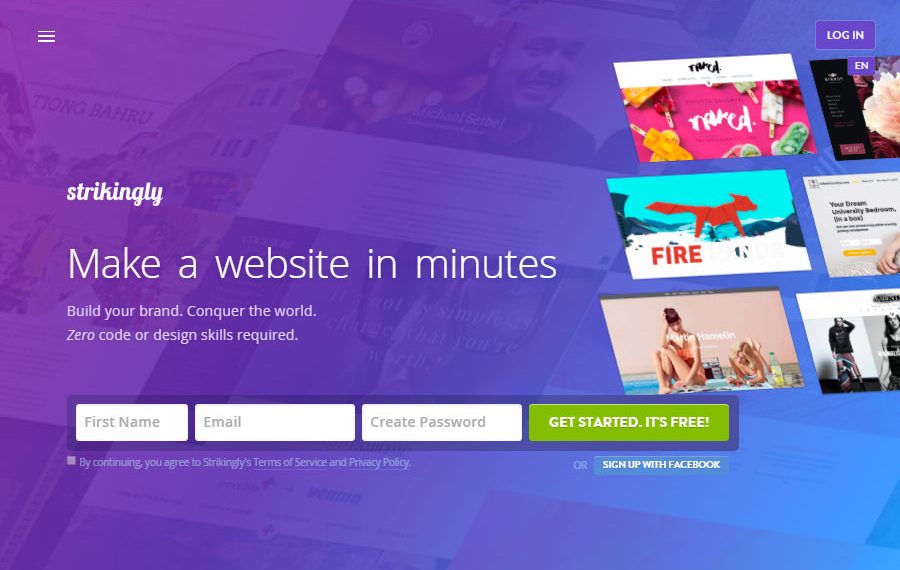 Strikingly is a free and simple website builder. It integrates simplicity with a plethora of blogging tools. You can single page websites with blog headings mentioned on the home page. Each of your blogs opens on a new page.
Though the template options available at Strikingly might be less than others, all the options look good even on mobile devices and are mobile responsive as well.
The pros:
Easiest option to get started with
Analytics and social bookmarking options
Easy and basic customization
The cons:
You need to upgrade to paid plans for unique domains
Limited customization options
The free plan doesn't really have much to offer
Ideal for: Single page, stylish and simple blogs
Some other platforms that you can use depending on specific goals that you set for your blogs
GoDaddy: If you want a very fast setup (It lacks real quality, though)
LinkedIn: If you want to start a business blog
Instagram: If you are more inclined towards the socially creative side
Facebook: If you need the widest audience base
Journo Portfolio: If you want to build a perfect portfolio at one place with all your past blogs included
Clippings.me: If you want to create crisp, unique and engaging content
The Best Option
It is difficult to say which blogging platform is best for writers, but our overall analysis has some clear winners.
All-in-all, WordPress stands out as a prolific website builder and the best blogging platform that gives you professional features along with the ease of operation.
Wix comes a close second. With multiple features that you can use and the scope of expanding, it is the next best alternative to WordPress.
No matter what platform you chose, your content still remains the king. You need to write the right way before you can go public with it. SEO will help you along the way in reaching your target audience.
So, what are you waiting for? Get ready to give wings to the budding writer in you. Pick a platform and start blogging right away.