XML SITEMAP
XML Sitemap which I think is the very important block of your website/blog. If you go and check any popular website (just take any and visit) you will notice that they have this page(Sitemap) and if you click on it then you will notice something like this.

So let's see what exactly is this file and why you should have one for your website.
What Is  A Sitemap – 
XML Sitemap is a document which helps google, Bing and other major search engines to better understand your website during crawling. An XML sitemap creates a hierarchy of your site for bots and search engines to follow. It ensures that the spiders can easily reach all parts of your website and indexes your pages quickly. Think of it as the roadmap for your site. It's very important part of your website SEO.
Why XML Sitemap Is Important? & Why do I need XML sitemaps on my WordPress site?
Using sitemaps has many benefits, not only easier navigation but better visibility by search engines too.
Sitemaps are important  because they make it easier for Google to find your site's pages—this is important because Google ranks web pages, not just websites. There is no downside of having a Sitemap and having one can improve your SEO, so it is highly recommended to have a Sitemap and you should submit your sitemap to all the major search engines like Google, Bing etc for better visibility.
Note that you can have a robots.txt file for your websites where you can tell search engines crawlers which parts of your site to be excluded from indexing and in your sitemap you tell them where you'd like them to go.
Sitemaps offers the opportunity to inform the search engines immediately about the new updates on your website and tell them to index your new pages/content. It doesn't mean that  search engines will index your pages as soon as you have new updates but those pages will be indexed by the search engines much faster compared to not having a sitemap on your website. Another important benefit of sitemap is that now you are less relying on external links that send search engines to your website because search engine already knows your website and it has already indexed your pages.
The XML sitemap also allows you to specify additional information about each URL such as:
When it was last updated
How often the site changes
How important the page is in relation to other pages on the site
Sitemaps can even help with messy internal links – for instance if you by accident have broken internal links or orphaned pages that cannot be reached in another way.
If your site is new, or if you have a significant number of new (or recently updated pages), then using a sitemap can be vital to your success. Although you can still go without a sitemap, it is likely that soon sitemaps will become the standard way of submitting a site to search engines. Though it is certain that spiders will continue to index the Web and sitemaps will not make the standard crawling procedures obsolete, it is logical to say that the importance of sitemaps will continue to increase.
How Do I Generate XML Sitemap
Generating XML sitemap for your website is a fairly simple process and there are many websites which can help to generate one for you. One of the best Google recommended XML Sitemap generator is XML-Sitemaps.com .

Is a Google recommended XML sitemap generator. This website helps you to create your XML sitemap in just 4 simple steps. It also guides you through to submit your XML Sitemap to Google using Google webmaster account. To create one for your website you can access this fabulous tool here –  Free Online Sitemap Generator
Steps To Follow

Click Here to Access Your – Google Webmaster Account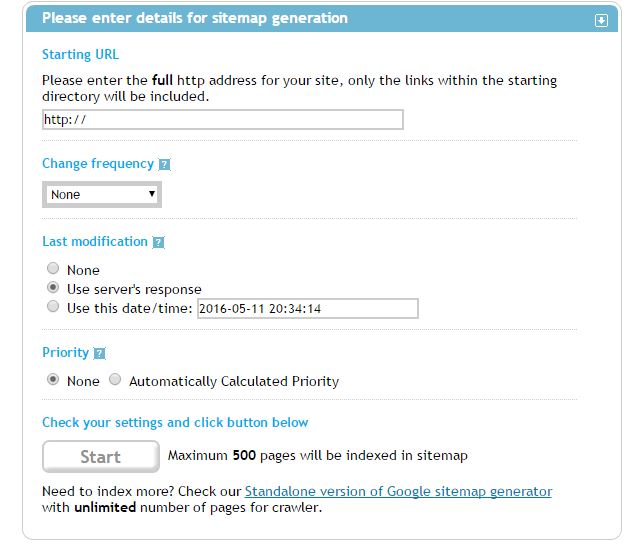 If you have a big website with the unlimited number of pages then it's worth to try Standalone Version of Google Sitemap Generator. This tool support of LARGE websites and it creates a Sitemap Index file according to the Google sitemap protocol.
---
Better Know Your Competitors! Check Yourself Below:
Develop perfect content and advertising strategies.
---
Hot Deal: Purchase Domain just for $0.88
---