Are you a blogger who is looking for a guest post opportunities to grow yourself and your blog? If yes, then you are in the right place. I, here at DigitalHarpreet.com welcome newbie bloggers to join me. I am here to help you to create a brand for yourselves by contributing on the fastest growing blog on the internet.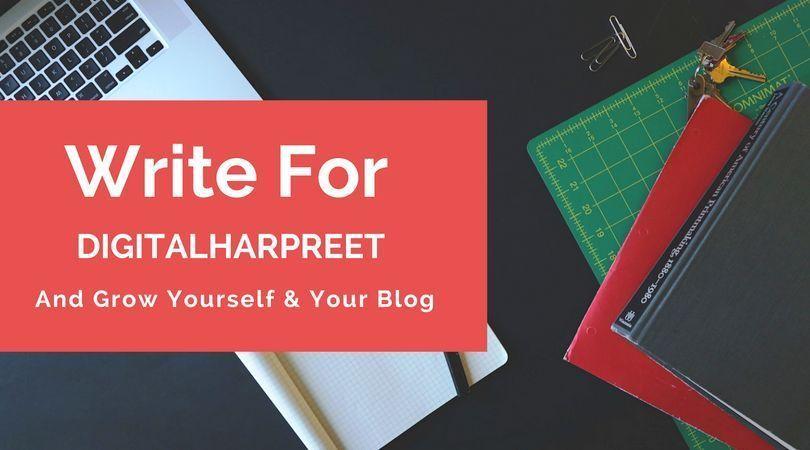 Why should you join DigitalHarpreet?
DigitalHarpreet.com is a blog for bloggers. At DigitalHarpreet I, share useful tips, tricks, tutorial, tools related to blogging, Web hosting, Social Media, Digital Marketing, Affiliate Marketing, Make Money Online from a blog, Tools, and resources that help bloggers to grow their online business.
You can find DigitalHarpreet on all the major social networking websites like Facebook, Twitter, Instagram, Pinterest, Google+ with a fan base of around 10K+ people. DigitalHarpreet has its presence on 10+ major Facebook groups with 1 million users which will help you to advertise yourself & your blog.
As a blogger, I always look for new authors who can contribute here. If you have an extended experience in Blogging, Affiliate Marketing, SEO, Amazon, Blogger, Passive Income and a passion for teaching then you could be the perfect fit to be a contributor here.  I'd love to have you as a part of my team.
How can you become a contributor at DigitalHarpreet?
Becoming a part of the DigitalHarpreet blogging community is very simple and easy. There are a few things that I would suggest you remember before you submit your request –
Go over the Categories and check out what kind of subjects you can write on. If you think that you are blogging about any of these, then you are ready to submit your request.
The article that you will submit should at least consist of 800+ words with images, video, screenshot etc.
The copy should be original work of yours. The information that you will share should be complete and provide value to our readers. Your post should showcase you as a leader or expert on the topic you are writing the article.
As a blogger, you need to give proper credit to people if you use their work or idea to create a work for yourself.  Try to add a link back to their blog or specify their name/website link etc. in order to give credit to them.
Respond to comments on your article. This will also help you to showcase yourself as an expert and also help our reader to solve their problems.
Join As A Contributor At DigitalHarpreet
If you would like to become a contributor and understood all the above-mentioned guidelines, then just send me an email here:  hpsiddhu@gmail.com
Send me your article idea and I will help you to get it live on digitalharpreet.com as soon as possible.
The benefit of writing at DigitalHarpreet:  You can add your website link in author bio to increase engagement and traffic to your blog. Adding a link in author bio is a great way to navigate readers to your blog and showcase how you can also help them through your blog posts.
By writing and sharing great content you can grow your own following. If you have any questions about guest posting at DigitalHarpreet, please feel free to email me hpsiddhu@gmail.com.
Hoping to work with you soon. Thanks for your time.