W
P Engine is great for WordPress sites.
   Lots of happy site owners use them. This WP Engine hosting review will show you why.

WP ENGINE HOSTING SERVICES
WP Engine is a premium managed WordPress hosting company that promises stunning speed, powerful security, and best-in-class customer service.
WP Engine delivers innovation-driven technology that secures your WordPress site, optimizes server settings for faster load times, performs daily backups, and automatically updates your WP plugins.
You'll get free site migration and daily backups, CDN integration, a staging environment, built-in or third party supported SSL certificate plus heaps more. Plus they offer a generous 60-day money back guarantee. WP Engine's cheapest managed WordPress hosting plan is 29.00 per month.
ZERO DOLLAR FOR YOUR FIRST 3 MONTHS
Do you know these: 11 Factors To Consider Before Choosing Web Hosting Company?
ABOUT WP ENGINE
WP Engine was founded by Jason Cohen, Ben Metcalfe and Cullen Wilson in 2010. and their headquarters is located in Austin, in Texas, in the United States.
WP Engine is a privately held company and runs a world-class network infrastructure. The company also has three data centers; in London, Tokyo, and in Midwest USA.
WP Engine is a premium managed hosting service for websites built with WordPress. The company specializes exclusively in WordPress and WP Engine is a large-scale, highly-managed hosting service with more than 30,000 customers in 120 countries.
TRY WP ENGINE! GET STARTED NOW.
Are you on Budget? Get 3 Years Shared Hosting in Just $95.00
WP ENGINE FEATURES
When running a business or project of any kind, sometimes it's better to let someone else do all the heavy lifting for you so you can leverage your time on more important tasks.
That's the principle behind WP Engine, a managed WordPress host that secures your WordPress site, optimizes server settings for faster load times, performs daily backups, and automatically updates plug-ins.
WP Engine offers many other features for handling more technical tasks, thus leaving you with plenty of time to focus on providing quality content and enhancing targeted promotions.
TRY WP ENGINE! 60 DAY MONEY BACK GUARANTEE.
Looking For Premium Themes? Get 50 Premium Theme in Just $49.50
MAIN FEATURES
WP Engine has five hosting plans. The number of allowed WordPress installations, storage, and traffic capacity varies across all the available hosting plans.
For instance, the most basic plan (Personal) supports only one WordPress installation, comes with 10GB of storage, and can handle 25,000 monthly visitors.
You can install up to 10 WordPress sites on the Professional managed hosting plan, which includes 20GB of storage and support for 100,000 monthly visitors.
The Business plan can manage 25 WordPress installations all at once plus you'll get 30GB of storage. It's perfect if your site receives less than 400,000 hits every month.
For high traffic sites, WP Engine offers the Premium and Enterprise plans. These hosting plans run on a dedicated server environment. They can handle anywhere between 1 and 5 million monthly visitors without crashing and you can use them to manage over 150 WordPress installations. Storage ranges between 100-300GB and 400GB-1TB for the Premium and Enterprise plans respectively.
Other exclusive services on the higher tier WP Engine managed WordPress hosting plans include launch readiness assessment and strategic account management.
In addition to the features mentioned above, all WP Engine managed WordPress hosting plans come with a number of standard features. For example, unlimited data transfers come as a standard feature.
The same applies to WP Engine's proprietary EverCache technology, which eliminates the need for third-party cache plug-ins.Unlike Pagely and SiteGround that provide site staging only in higher tier accounts, WP Engine offers this feature with every hosting plan. Site staging allows you to create a clone of your live site so you can tweak the layout, test new themes, and plug-ins before applying them to your website.
WP Engine does not offer traditional web hosting like In-Motion, so it's not possible to upload your Windows-based or Linux non-WordPress site. The upside is that WordPress comes already pre-installed so you won't have to install anything other than additional plug-ins.
If you have a pre-existing WordPress website, you can easily move it to WP Engine servers at no additional cost. WP Engine has an entire section on their website that takes you through the migration process step-by-step with videos, simple instructions and snapshots. They even have a Migration Plug-in that automates the entire process.
Once you're inside the WP Engine portal, there's a Migration Checklist as well, which provides a guided navigation through the entire process. The best part is that you can contact support in case you need one-on-one assistance to have your WordPress site moved.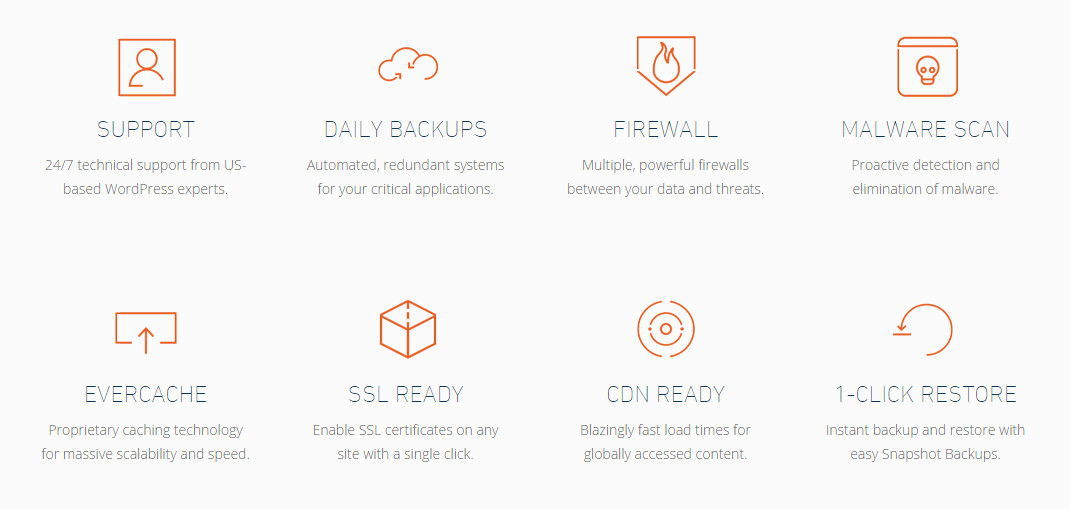 Do you How To Activate Free WordPress SSL Certificate (Bluehost)
PERFORMANCE AND UP-TIME
Whether you're hosting a blog, online store, or professional website, WP Engine will serve your content very quickly to your end users. To ensure the best performance when it comes to site speed, the company optimizes page load with their proprietary WordPress specific EverCache system.
What's more, you can set up a content delivery network (CDN) plug-in of your choice when using a Personal, Professional, or Business hosting account. WP Engine also provides CDN integration with Premium and Enterprise plans at no added cost.
WP Engine achieves over 99% uptime thanks to their world-class network infrastructure. The company also has three data centers in London, Tokyo, and Midwest USA. As a result, you can get better site speeds by choosing to host your website on servers that are closest to your target audience.
OnGoing Deal: Claim Your Auto SSL And WordPress Setup [Limited Time Deal]
SECURITY AND BACKUPS
Securing websites is one of the strong suits of WP Engine's managed WordPress hosting service. The company takes several measures to safeguard WordPress sites. For instance, WPE runs daily malware/virus scans and monitors an updated firewall to block the latest threats.
Website owners can also opt to install a WPE SSL certificate for a low-cost annual fee. Additionally, all sites are backed up daily and there is a one-click restore function that can help you recover your website in case of an attack. If your site gets hacked, WPE will clean it for free.
Try WP Engine. Free trial & 60-day money back guarantee.
HELP AND SUPPORT
WP Engine's online help center has plenty of support documentation that can help you learn more about the platform.
The knowledge base articles will teach you how to launch your first site, troubleshoot common problems, make improvements, and manage your hosting account with greater efficiency. Both beginners and experienced WordPress website owners will find the support documentation invaluable.
Live chat service is available from 6 am to 8 pm CT for those who want instant access to support. WP Engine operates a toll-free phone number as well, which remains operational during business hours from 9 am to 6 pm CST. On the plus side, email ticketing support is available 24 hours a day.
PROS AND CONS
Is WP Engine any good for managed WordPress hosting?
PROS
60-day money back guarantees.
Site staging included as a standard feature.
Automated site migration plug-in makes it easy to move your WordPress site over to WP Engine servers.
Automatic daily backups and plug-in updates.
Malware scanning and firewall protection included in every hosting plan.
Unlimited monthly data transfers.
CONS
WP Engine does not offer traditional hosting services, so you can't register a domain name or upload your Linux or Windows-based non-WordPress site.
Traffic and storage are capped on every hosting plan.
CDN integration only included in Enterprise and Premium plans. However, this gives you the freedom of choosing your own content delivery network when using WP Engine's lower tier hosting plans.
CONCLUSION
WP Engine offers basic level managed WordPress Hosting and a few extra features like site staging, loading content based on GeoIP, and strategic account management. The company's visitor and data caps, as well as the lack of traditional hosting services like domains and emails, keep it focused solely on WordPress, which is what they're experts in.
This makes WP Engine a better option than another shared hosting. If you're on the hunt for a more robust WordPress hosting experience, WP Engine is worth considering.
TRY WP ENGINE & GET 3 MONTHS FREE HOSTING