Are you planning to start a self-hosted blog anytime soon and worried about the cost it will incur? Well, if you are, then I recommend reading this blog post and learn how to get 65% discount at Bluehost web hosting and save up to $40.00 or INR 2,500.
Please read through and learn how to get Bluehost Web Hosting for your blog in just $106 only. (That's around 65% savings compared to the original cost).
Normally, you get 50% discount at Bluehost if you search phrase "Bluehost Web Hosting plans" or "Bluehost Web Hosting Deals"  on Google. In addition, the 50% discount offers runs at Bluehost whole year. So basically no savings if you get Bluehost web hosting plan at this rate.
What do you think?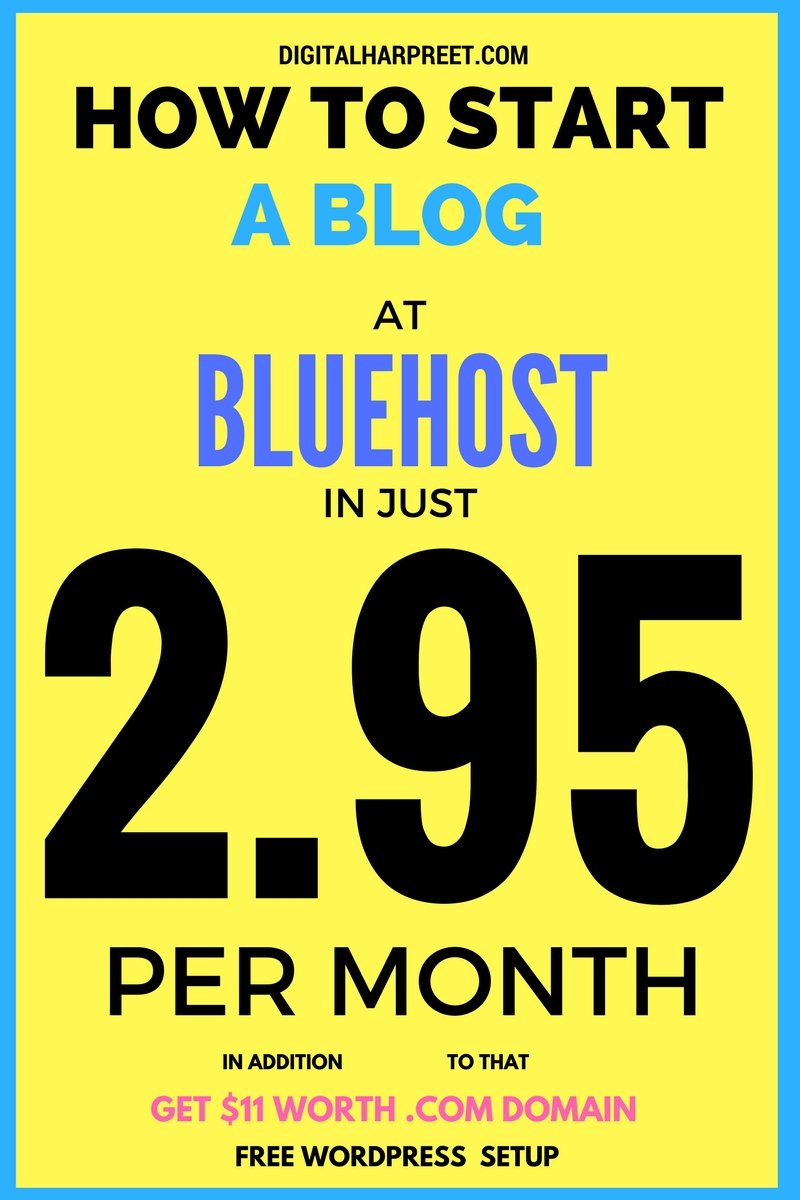 Available Bluehost Web Hosting Plans
How to get Bluehost Web Hosting Basic Plan At 65% Discounted Price
To get 65% discount at Bluehost web hosting, you need to follow the below steps:
Step: 1 Domain Name Selection
Before you purchase web hosting, you first need a domain name. If you already own a domain name then move ahead to Step: 2
Tip: If you are buying Bluehost web hosting then claim your FREE Domain name (worth $11.99) instead of purchasing a new one from outside or using a domain name which you already own. In case, you want to use your existing domain name then you can claim your FREE domain later on too. If you ask me, I would get my FREE domain now rather than later.
Get You FREE Domain Address At Bluehost Below
 
Step: 2 Enter Your Domain Name
Once you have finalized a domain name then just type in your domain name in the tool below and click on check availability.
Enter You Chosen Domain Name Below
 
Step 3: Choose Your Plan
This will be your next screen when you click on "Check Availability". At this point, just scroll down and read the information present on the page and stay on the page for few seconds.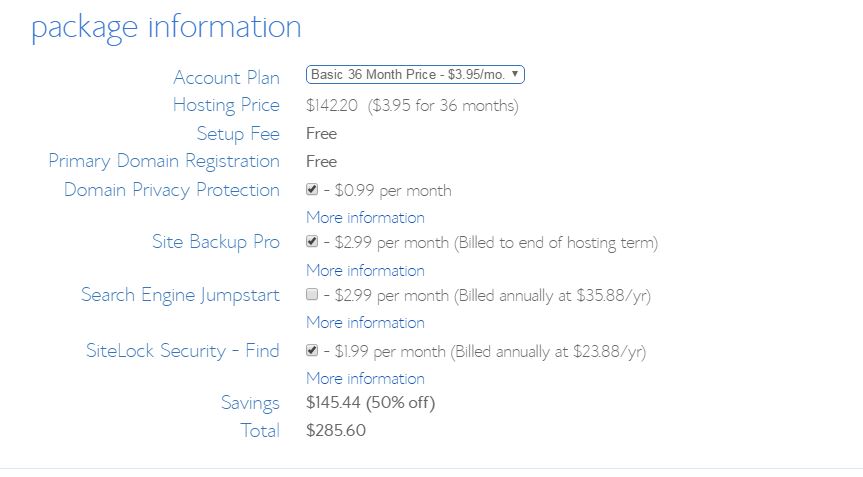 By default, the package selected for you is the Bluehost Basic Plan for 36 months. ($3.95/Month for 36 Months)
The total cost of the package with current discount is $285.60 for 36 months (Savings = $144.44)
Notice that this 65% Discount at Bluehost is only available for Bluehost Basic Plan. Bluehost has two other hosting packages i.e. Plus & Prime packages. To purchase Bluehost web hosting plus or prime package, click below and get 50% Discount.
Step: 4 Get 65% OFF Price Use Links Below
Use this link for 65% OFF and purchase your Bluehost web hosting basic package in just $2.95/Month. If you buy this for 36 months then your saving comes around $40 or INR 2500 approximately. 
Read More - Bluehost User Reviews - Full research with PROS & CONS for a Newbie Bloggers
Click Here And Activate The $2.95/Month Offer
-------------------------------------------------------------
Special Sign up Offer (NOT GUARANTEED)
-------------------------------------------------------------
(NOTE: THIS IS A SPECIAL OFFER DIRECTLY FROM BLUEHOST. THERE IS NO GUARANTEE THAT YOU WILL GET THIS DURING YOUR PURCHASE.  BUT CAN TRY THIS TIP AND CHECK IF IT'S WORKING FOR YOU.
BUT, I CAN GUARANTEE $2.95/MONTH PRICE THAT YOU WILL GET BY USING THIS LINK - Bluehost Shared Web Hosting in $2.95/Month)
Follow this - 
When you scroll the page up & down or try to abandon the sign-up or try to close the above page after few seconds, Bluehost will offer you the cheapest web hosting offer at a price which no one can offer you.
You will see a pop-up something like this -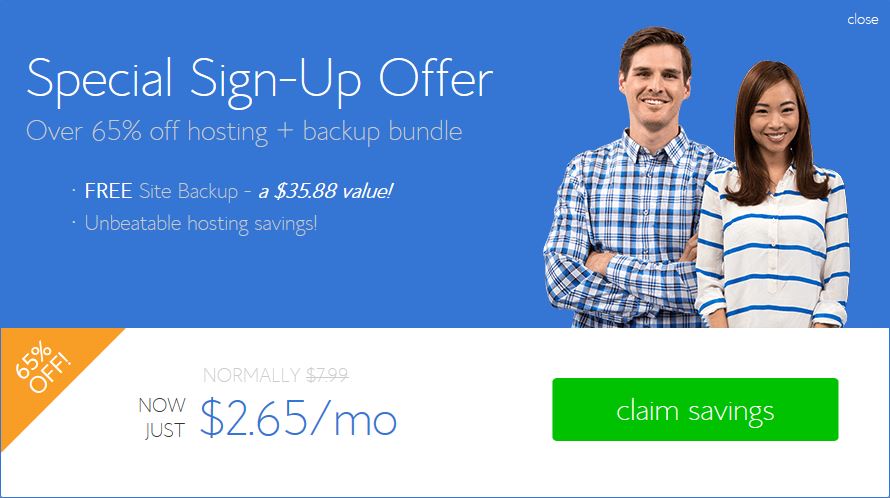 (This is a special offer at Bluehost Web Hosting only available for new customers. Not valid for renewals)
Click on "Claim Savings" button to get the special signup offer from Bluehost web hosting at the lowest price of $2.65/Month.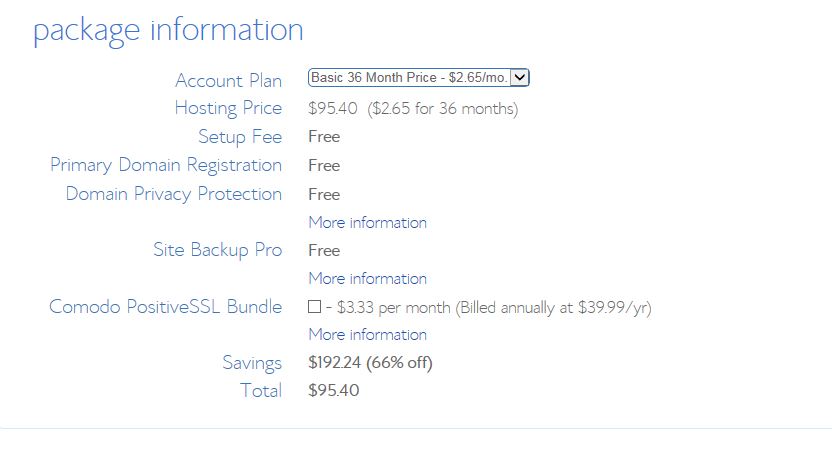 The total cost of the Bluehost web hosting basic plan for 36 months after special discount will come around $95.40 for 36 months (Savings = $193 or  INR 13,000). 
And if you get this for the long term - the most important thing is that you don't need to worry about web hosting fees for next 36 Months? Isn't that cool?
With this offer, you will also get following services FREE of cost -
A Free WordPress Blog Setup service from Bluehost on your hosting account.
A Free Domain registration worth $11.99 for the first year.
Free domain privacy protection which is very important these days. This will allow you to hide your PII (personally identifiable information) on Internet from spammers, hackers etc.
A Free subscription to SiteBackup Pro.
"Everything for 36 Months At Bluehost Web Hosting  in just $95 Dollars."
-------------------------------------------------------------
Even you get the $2.95/Month plan, I'm sure you will make more than $106 in 36 months from your blog. I can guarantee that. If you fail to make this amount from your blog in 36 months then I will write a check of $ 100.00 and give it to you. I am that confident. And I'm serious about my statement.
Learn how to make money from a blog here.
If you are new to WordPress and not sure how to start a blog then read my post here where I have outlined steps to Start A WordPress Blog on Bluehost Web Hosting.
If you like to set up a professional looking WordPress Blog on WordPress then download my FREE Ultimate WordPress Guide For Beginners.
Please let me know in comments below if you have started a blog at Bluehost web hosting services using this offer at the special discounted price. And if you need any help what so ever, contact me here.
Please share your experience or if you have any questions, please ask me in the comments section below. Thanks for reading.