Are you planning to start a self-hosted blog anytime soon and worried about the cost it will incur? Well, if you are, then I recommend reading this blog post and learn how to get 65% discount at Bluehost web hosting and save up to $40.00 or INR 2,500.
Please read through and learn how to get Bluehost Web Hosting for your blog in just $106 only. (That's around 65% savings compared to the original cost).
Normally, you get a 50% discount at Bluehost if you search the phrase "Bluehost Web Hosting plans" or "Bluehost Web Hosting Deals"  on Google. In addition, the 50% discount offers runs at Bluehost whole year. So basically no savings if you get Bluehost web hosting plan at this rate.
What do you think?
How to get Bluehost Web Hosting Basic Plan At 65% Discounted Price
To get a 65% discount at Bluehost web hosting, you need to follow the below steps:
Step: 1 Domain Name Selection
Before you purchase web hosting, you first need a domain name. If you already own a domain name then move ahead to Step: 2
Tip: If you are buying Bluehost web hosting then claim your FREE Domain name (worth $11.99) instead of purchasing a new one from outside or using a domain name which you already own. In case, you want to use your existing domain name then you can claim your FREE domain later on too. If you ask me, I would get my FREE domain now rather than later.
Get You FREE Domain Address At Bluehost Below

Step: 2 Enter Your Domain Name
Once you have finalized a domain name then just type in your domain name in the tool below and click on check availability.
Enter You Chosen Domain Name Below

Step 3: Choose Your Plan
This will be your next screen when you click on "Check Availability". At this point, just scroll down and read the information present on the page and stay on the page for a few seconds.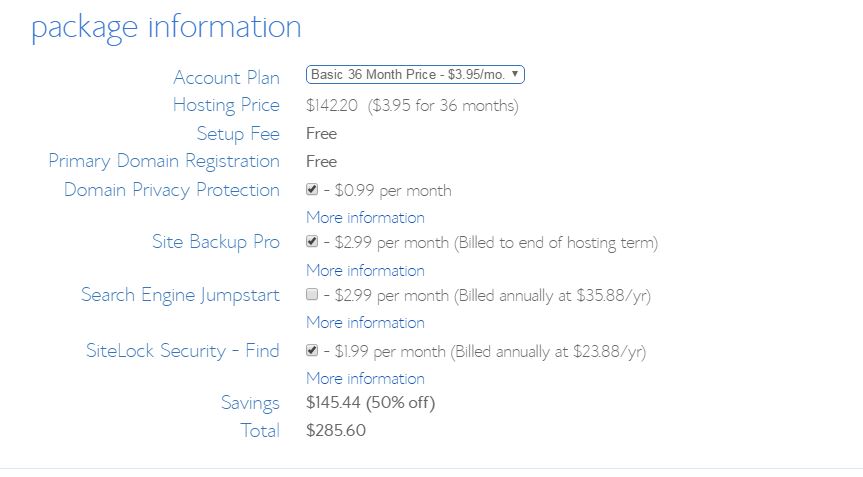 By default, the package selected for you is the Bluehost Basic Plan for 36 months. ($3.95/Month for 36 Months)
The total cost of the package with the current discount is $285.60 for 36 months (Savings = $144.44)
Notice that this 65% Discount at Bluehost is only available for Bluehost Basic Plan. Bluehost has two other hosting packages i.e. Plus & Prime packages. To purchase Bluehost web hosting plus or prime package, click below and get 50% Discount.