If you have been planning to start a blog in 2018 but didn't know where to start you are in the right place.
Hey, Guys, my name is Harpreet. Before I go ahead and teach you how to start a blog, I just wanted to tell you about my blogging journey.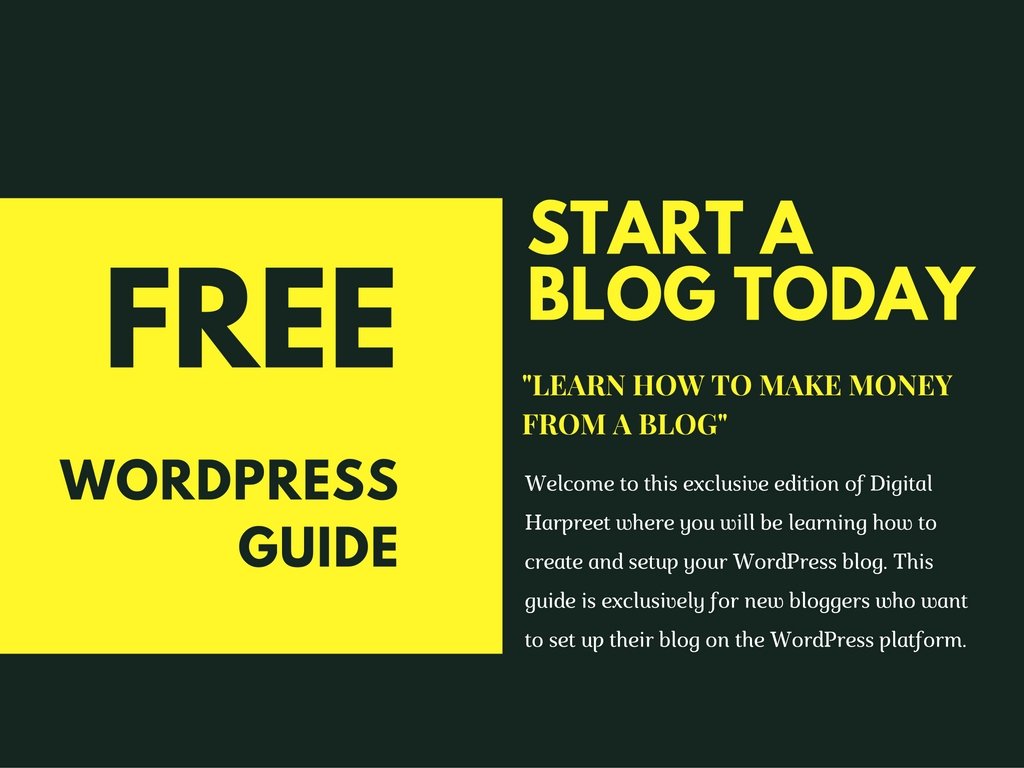 I have been blogging a couple of years now. I started this out of my own passion for making a self-hosted website/blog where I wanted to share my knowledge with others like many other people are doing. Another intention was to earn few extra bucks while working part-time.
Today, my blog is making good income which not only helping me to run it free of cost but also helping me to earn little extra other than my monthly fixed income. During these 2 years, I have learned enough about starting & running a blog successfully which means that I am in a great position to guide you to start a blog for yourself. I am not an expert but I have learned a lot from my mistakes during the past few years.
I launched DigitalHarpreet.com to teach people like you about how you can start a blog online in less than 20 minutes even if you're completely new to blogging and a blog. Just give me 20 minutes of your busy life and I'm sure you will never regret the time you are spending on this page right now. Just go through the below steps and let me know in comments if you have any specific question for me.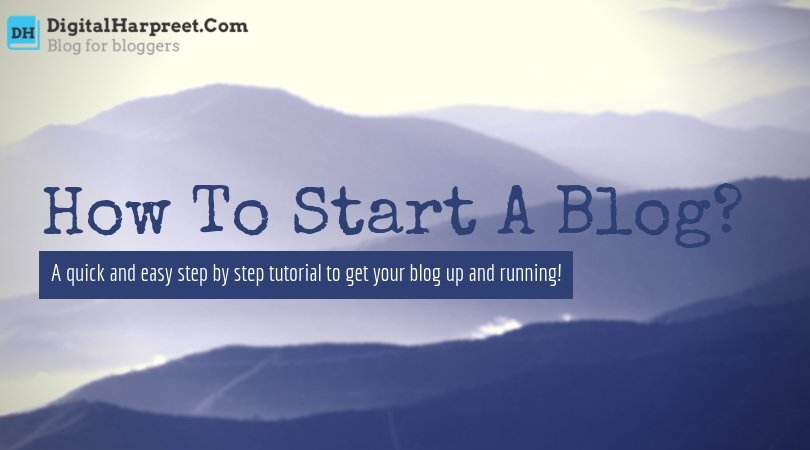 WHY SHOULD YOU START A BLOG?
In this article, I'm going to walk you through exactly what you need to do to start your own blog. However, before we start, I just want to say about WHY I think you should start a blog.
In 2017 blogging is now one of the most popular ways of communicating and spreading information and news online. There are millions of blogs online today. Every day you delay in getting started with a blog is like another day wasted. Blogging is a great way to express yourself and share your ideas, creativity, and knowledge. Blogging will help you to connect with other people who share your interests and also become a better writer. And, ultimately, you can make some money doing it.
So, before we get started – building your first blog can take up to 30 minutes. It might make sense to bookmark this page if you are planning to start a blog when you have some extra time. If are still not sure right now but like to read this article in your free time then download this – How to Start A Blog Guide FREE of cost from here – FREE Guide to Start A Blog (Official WordPress Guide).
If you need any help while you are setting up your blog then you can email me here and I'll help you as best I can.
THINGS YOU NEED TO START A BLOG IN 2017
To start a blog in 2017, you will need to have the following things ready. If you are unsure about any of the following item then I would encourage you to spend a quality amount of time to finalize these things. They are –
Your Blogging Niche
Blogging Platform WordPress, Drupal Or Joomla.
Blog domain name
Web Hosting for the blog
Install WordPress on your hosting
Niche Selection: It could be anything you like to read, write, share or knowledgeable in. No need to read long articles online to find out what you like. Just ask one simple question to yourself – What is the thing which makes you feel happy when you do that? If you can't answer this simple question then it will be little hard for you to figure a niche for your blog. If you can't think of anything at this moment then just bookmark this page, sit back, relax and just think about what you like to do. Keep asking the same question again and again until you finally think – yes this is what I like.
WHY WORDPRESS?
I will never recommend someone who wants to start a blog to use a free platform such as Blogger or WordPress.com. While there is zero barrier to entry and no upfront financial cost to you, there are lots of concerns which could cost you more in the long run. If you can, always start a self-hosted blog on WordPress.org. If you are still not convinced then here are few strong reason why I personally oppose starting a blog on blogger or WordPress.com –
When using something FREE then YOU are not the OWNER. It means that they can shut you down anytime. No warning and no means no, to recover your content. A minor mistake like using someone else image without taking the consent from the owner can put your website at a risk of cancellation. This is the biggest disadvantage of using FREE services.
Availability of Professional Tools. They don't allow you to make the custom setting, allow you to install thousands of FREE plugins on your own website. You will never feel like you own a website. Blogger and WordPress.com platform is not for someone who likes to design and manage their blog as per their needs.
It's hard to make money from your blog when you don't own the domain or hosting. Personally, I give time to my blog so that in return I can make some money from it. If you can't make any money because of FREE services then I don't feel they are worth using.
Now that you know that the free blogging platforms are not a great option for your blog you need to decide upon the type of platform you will use.
There are many open source platforms which most web hosting companies will support when you are creating your blog. The main blogging platforms are:
WordPress – Best tool to start a blog as of today. It is easy to use and highly customizable content management system (CMS) in the world. Best tool to start with if you like to make lots of money online from a blog.
Ghost – is a new blogging platform. Some of the bloggers are using it but still, it is far away from the number one choice of most pro bloggers.
Drupal – is quite popular but is very difficult for novice or beginner bloggers. I don't recommend this to anyone who likes to start a blog for money.
Joomla – another fairly popular CMS but need a quite amount of learning before you can start on it. Not recommended if you want to make money from a blog.
Why I use WordPress?: I have worked on both WordPress & Joomla in past. But after working on them, I found out that WordPress as a blogging platform is great beginners because of great community support, ease of use, great collection of free themes and plugins, availability of wordpress at major hosting providers shop, one-click installation, free backup tools. All these things make your blog run smoothly and make it easy to manage.
2 EASY STEPS TO CREATE A WORDPRESS BLOG
To start a blog on WordPress.org you will need the following two things:
A Domain name – It's your website address like digitalharpreet.com is my website address. Your domain name should be short and simple and easy to remember. I recommend sticking with".com" domains as they are the most popular and easy to remember.
A Web Hosting – This is the place where your website data will be stored online. From here, your website will be accessible to anyone on the Internet. There are 100's of hosting companies in the market these days which offer different types of hosting for a variety of different types of websites. If you are a new blogger then I recommend you to stick with shared hosting plans of any web host company of your choice as they are cheaper than dedicated hosting plans. This way you can get started with the lowest initial cost.
If you are looking at what all web host are there in the marketplace then here is the comparison –  WordPress Hosting providers.
Must Read  – 11 Things you need to know before you choose a web host. 
Also, Read: Bluehost Web Hosting Review – Pros & Cons of Using Bluehost Web Hosting
Once you have decided on which web hosting company to work with you will need to install WordPress on your account. I have created a guide on how to install WordPress on a variety of different web hosts.
Assuming that you are starting a blog for the first time, I recommend you to register your domain & hosting account with the same company to keep things simple.
WHERE TO GET YOUR DOMAIN NAME AND HOSTING
Without any doubt go with BlueHost.com to set up a blog because of their simple installation process, great customer service & reliability.
Read this step by step tutorial on "How to Start A Blog on Bluehost"
Also, Read – Bluehost User Reviews – Pros and Cons of Using Bluehost
Note: Bluehost offers an excellent money back guarantee with no contract if you don't like their service.
When you sign up for hosting with BlueHost there are some additional services they offer.
Domain Privacy Protection which means that people won't be able to see your personal information like the name, address and contact details. These details are mandatory while you purchase a domain name.  And it is required for you to provide accurate personal information when you buy a domain name.  If you're happy for people to know your name, address, phone number etc. then you can deselect this and save yourself about $12 per year. But if you ask my personal opinion then I will select it. Because in today's world PII is something which you should not leave open on the internet for hackers, phishing agents or for anyone who can misuse it.
Sitelock – You do not need Sitelock or the search engine Jumpstart for running your blog. There are other free options to get these features in WordPress. Read more here about features. 
Site Backup Pro – It is $2.99 per month (Billed to the end of hosting term). You can deselect as you do not need a site backup plan as of know. And in case you need it later then, there are many free wordpress plugins you can use to backup your WordPress site. This feature basically offers automatic online backups, recovery of lost files, version controlling etc. If you choose this option then they provide automatic restore of your lost files or site refresh to older versions.
START A BLOG ON BLUEHOST – CHEAPEST & BEST OPTION
Bluehost is perfect for getting yourself some high-quality hosting. The one which is cheapest at Bluehost is $2.95 per month (36 months sign up) + FREE DOMAIN NAME worth $15.
Normally this hosting package would cost you $7.99 per month!
Jump on this deal now while it's still here!
GET BLUEHOST FOR JUST $2.95 PER MONTH PLUS A FREE DOMAIN NAME
Here's what you get for just $2.95 per month.
FREE domain name worth $15
Fast, high quality & reliable web hosting
Free Site Builder
One-click WordPress Install and 24/7 support.
Click on the "Get Started Now" button to start the process of creating your very own blog.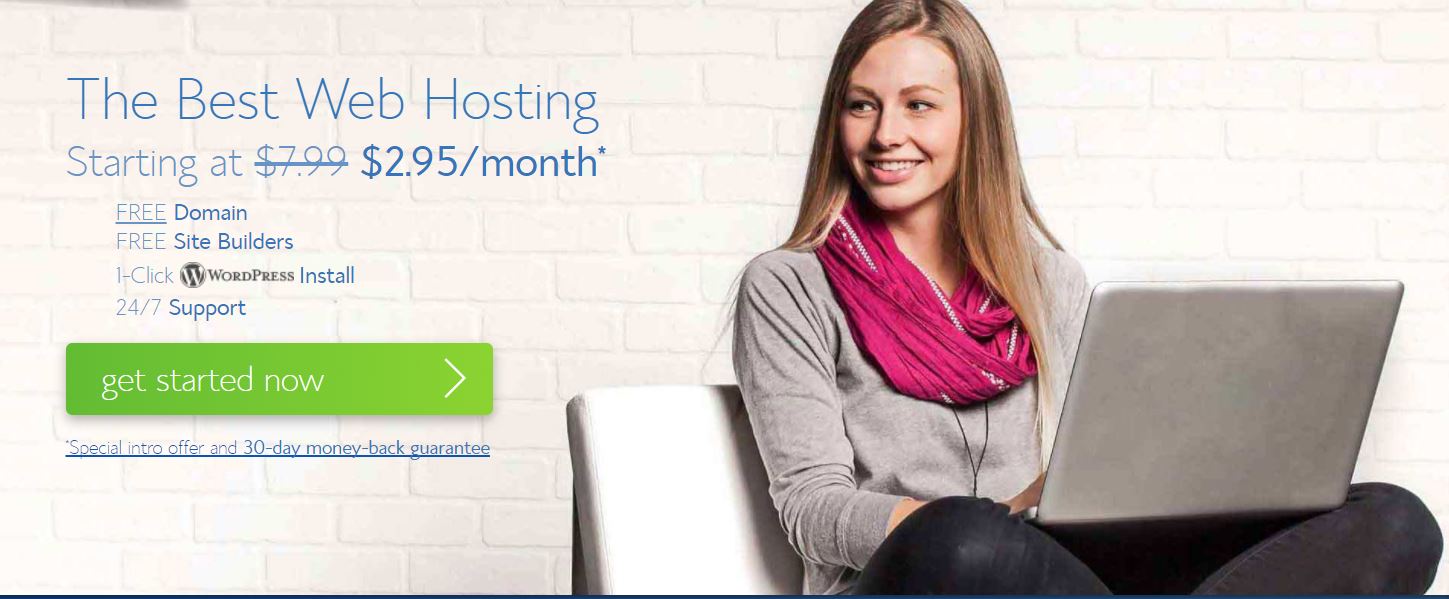 The second step is to select the right plan for you and your blog. For newbie blog and website owners, you only really need the basics, so I would recommend the "Basic Plan".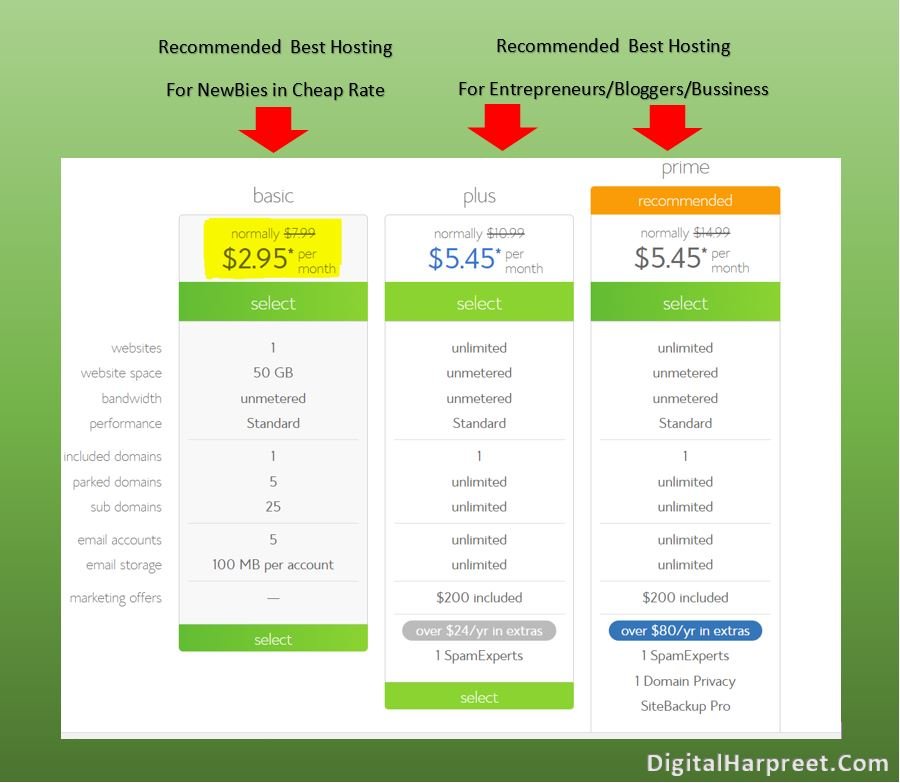 Once you've selected the plan, you will see this page –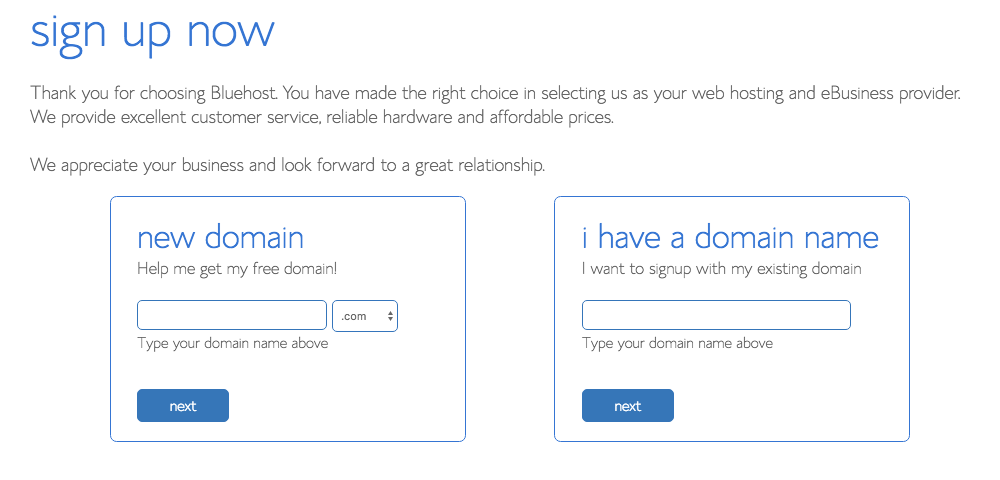 Do remember that – If you choose new domain name then that will be FREE to you for next 12 months. I highly recommend making use of FREE domain from Bluehost instead of investing another 10 to 15 dollars or 100INR to 300INR in just purchasing a domain name from someone else.
Claim Your FREE Domain Name Today!
But If you already have a domain name that you want to use, then just enter it in the right-hand box and then click next to assign your domain name to your new hosting.
Note: If the new domain name is already registered then BlueHost will cleverly show you some similar domain names that you might want to consider. Or you can just type out another domain name idea to see if it's available.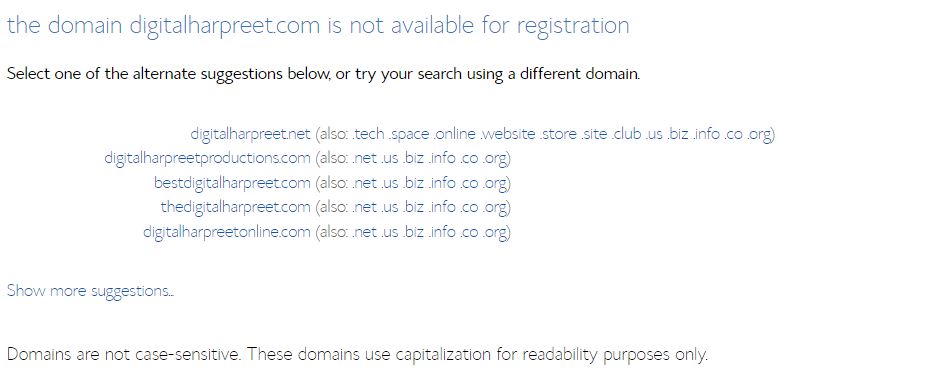 Once you found your dream domain name, you will come to this page. This is the most boring account information page. Make sure you enter correct name, address, and phone number as it is very important for you and hosting company to have the right information on your account to avoid future cancellation. You can protect your personally identifiable information from other on the web by purchasing Whoisguard subscription for your domain name. This is something which you can set up later on so I will not go into much detail here in this post. If you have any questions regarding this, you can contact me anytime using the contact page.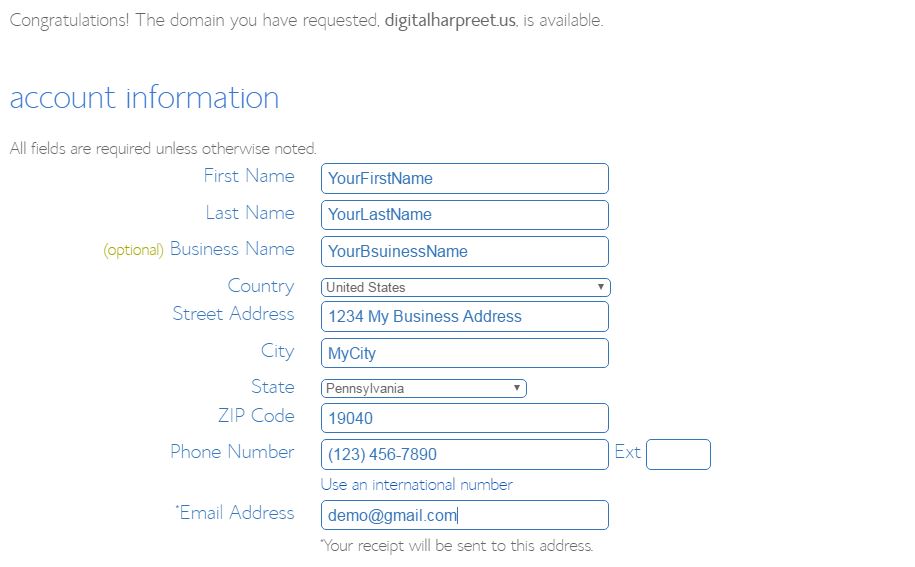 Once you've filled out the domain registration form, it's the time to select your hosting plan. You'll find this section directly below the account information section.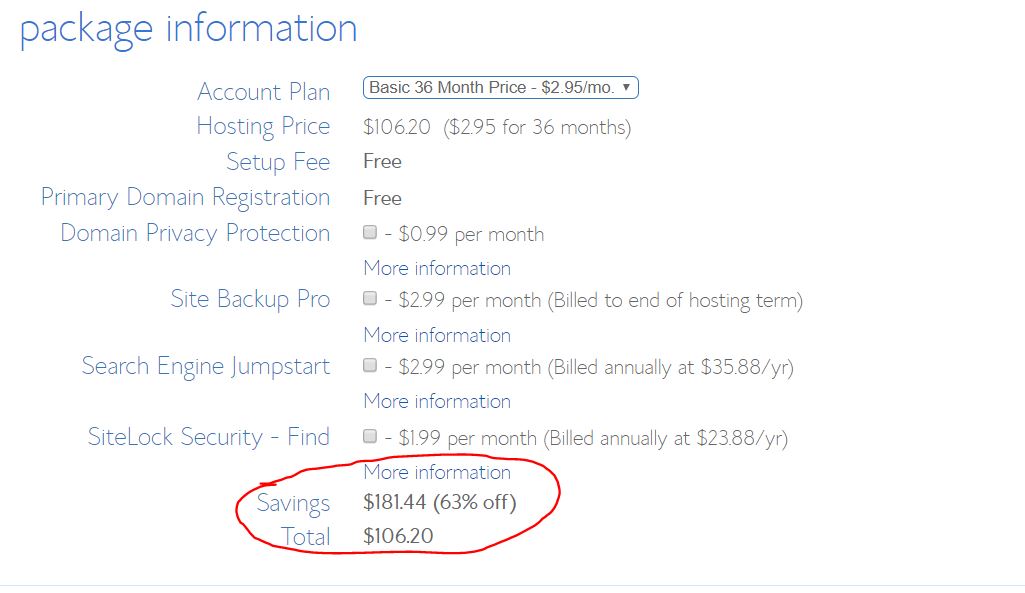 I prefer to select the basic plan for 36 months in order to get the best hosting rate for the maximum duration. But if you want to choose it for 12 months for 24 months then that is fine too. I like to take maximum advantage of discounted rate for as long as I can. Ignore the checkmarks in the package information as are not needed and will cost you extra each month.
Then scroll down and fill out the billing information, click submit and you are done!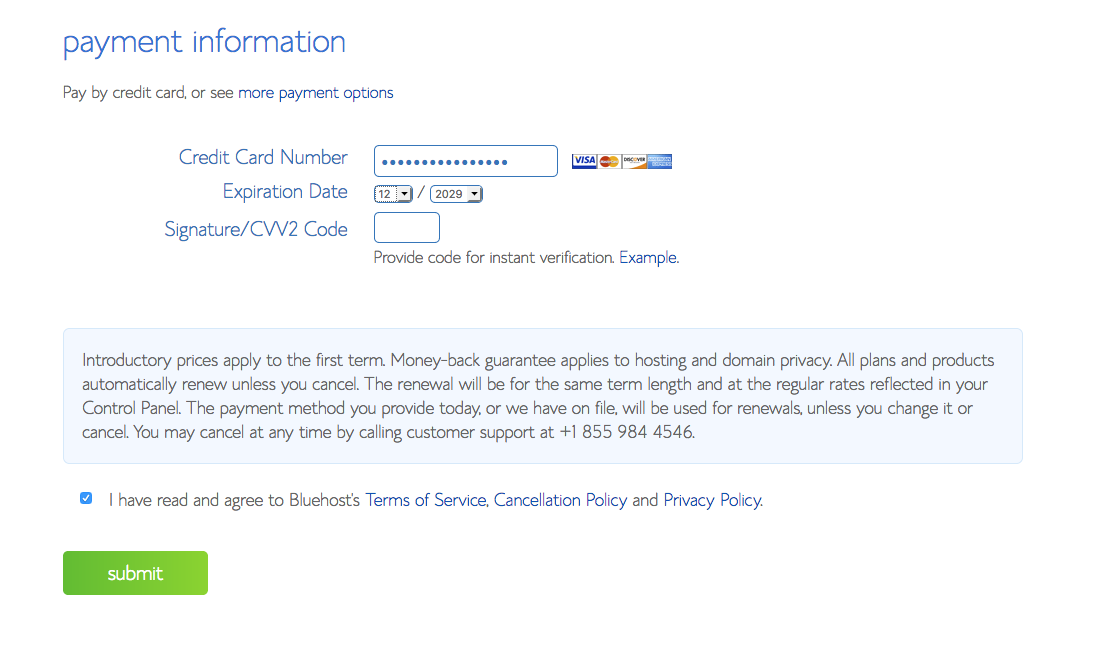 Please make sure you check your email and confirm all the details as soon as possible. Make sure to check your spam folder as sometimes the email ended up there. If you come across any issue, please contact Bluehost Support.
Make sure you choose the password for your account and store it at the safe place for future reference. 
So now you've signed up and paid for your Bluehost hosting. Great! You are nearly there.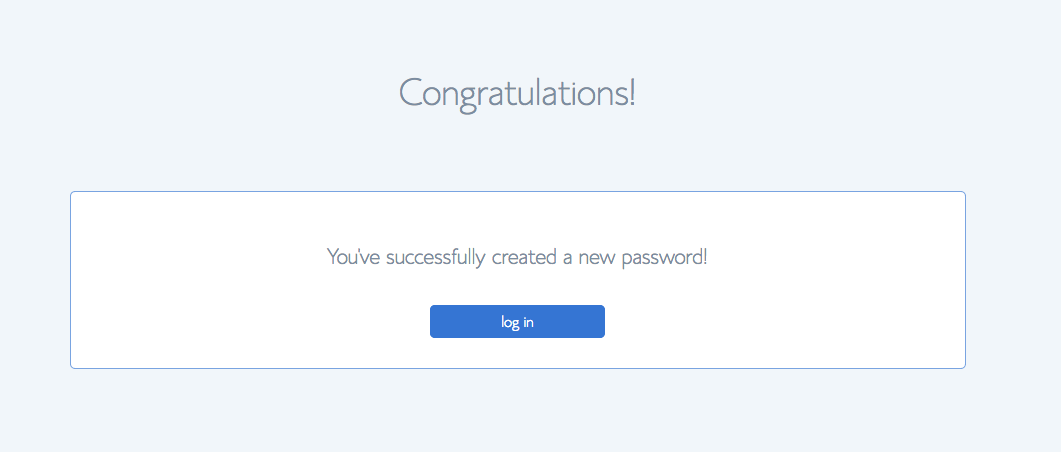 Bluehost has made your life simple. Now you don't need to install WordPress on your hosting account. They will take care that for your and will automatically install the WordPress.
Next, you need is picking up a theme for your WordPress Website and then you are all set to launch your blogging journey.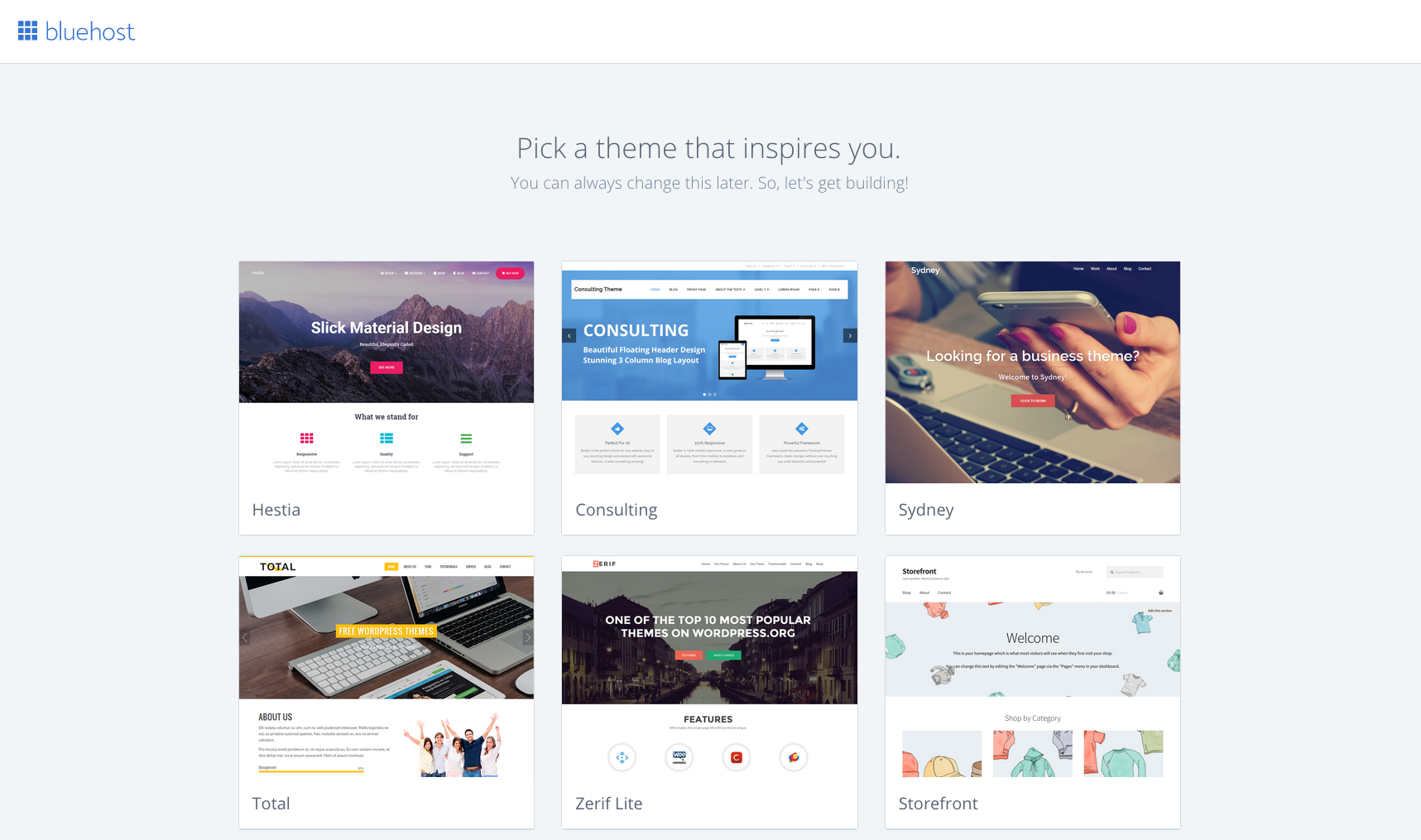 Click on the "Start Building" that that will take care of your WordPress installation on your registered domain.

That is it! Welcome to WordPress Dashboard. Now you see the admin area of your website and start customizing it as per your need.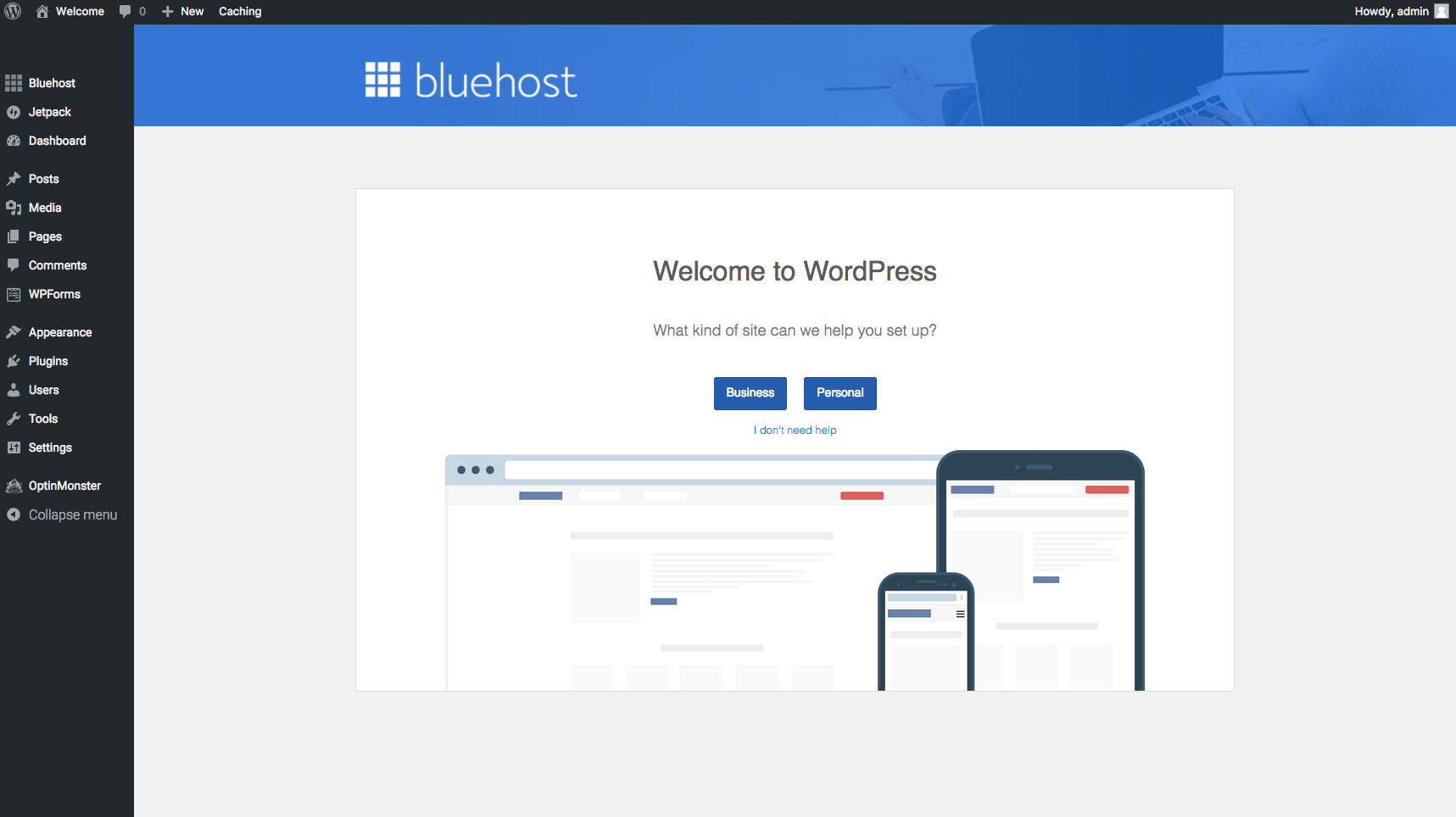 Bluehost Tools For Your Blog
In your WordPress Dashboard, you have the option to writing content for your website, designing, traffic etc. You can explore more Bluehost tools/options in your WordPress Dashboard now.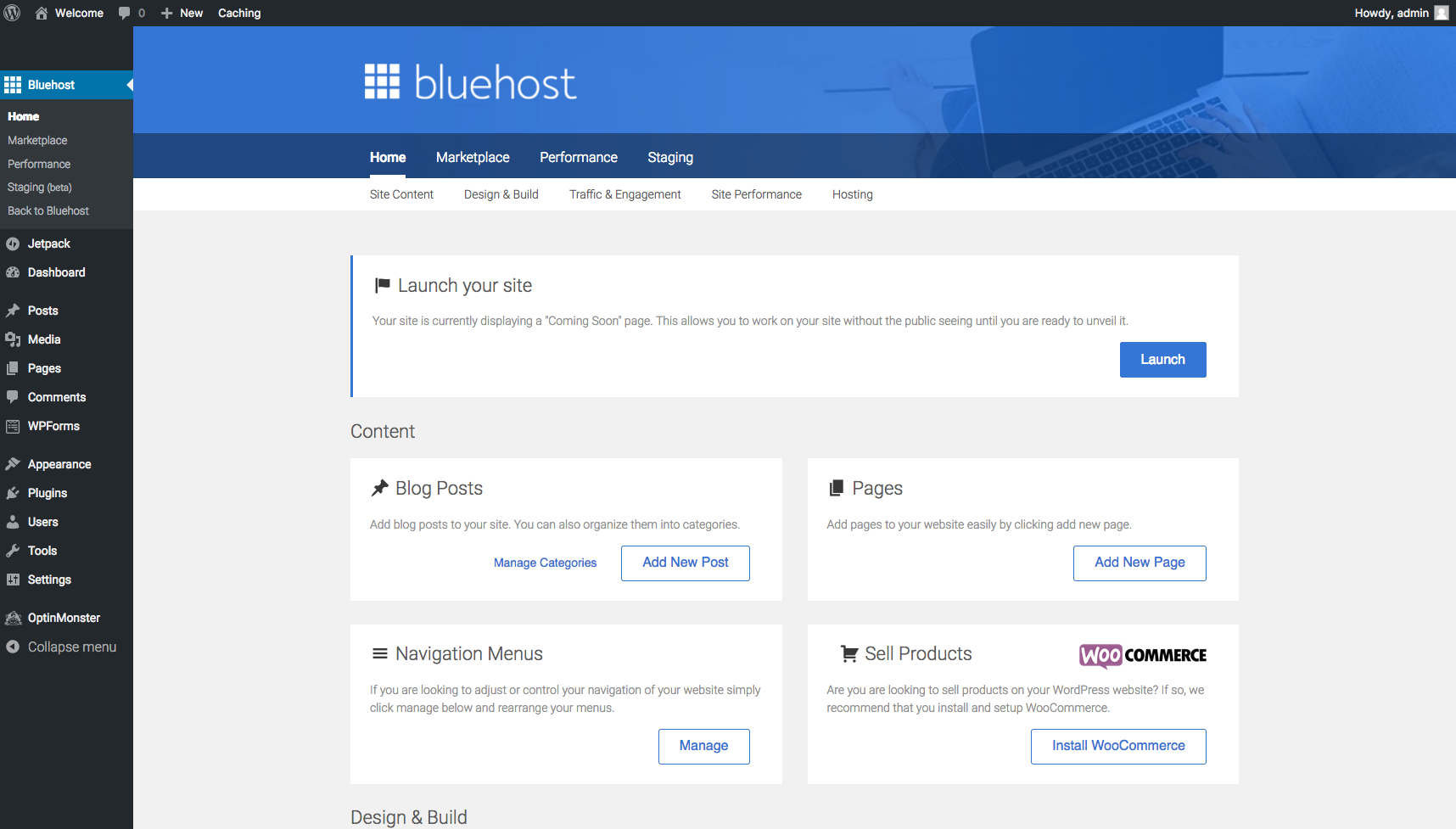 Next step is to Launch your website. So, click on Launch button and bring it LIVE.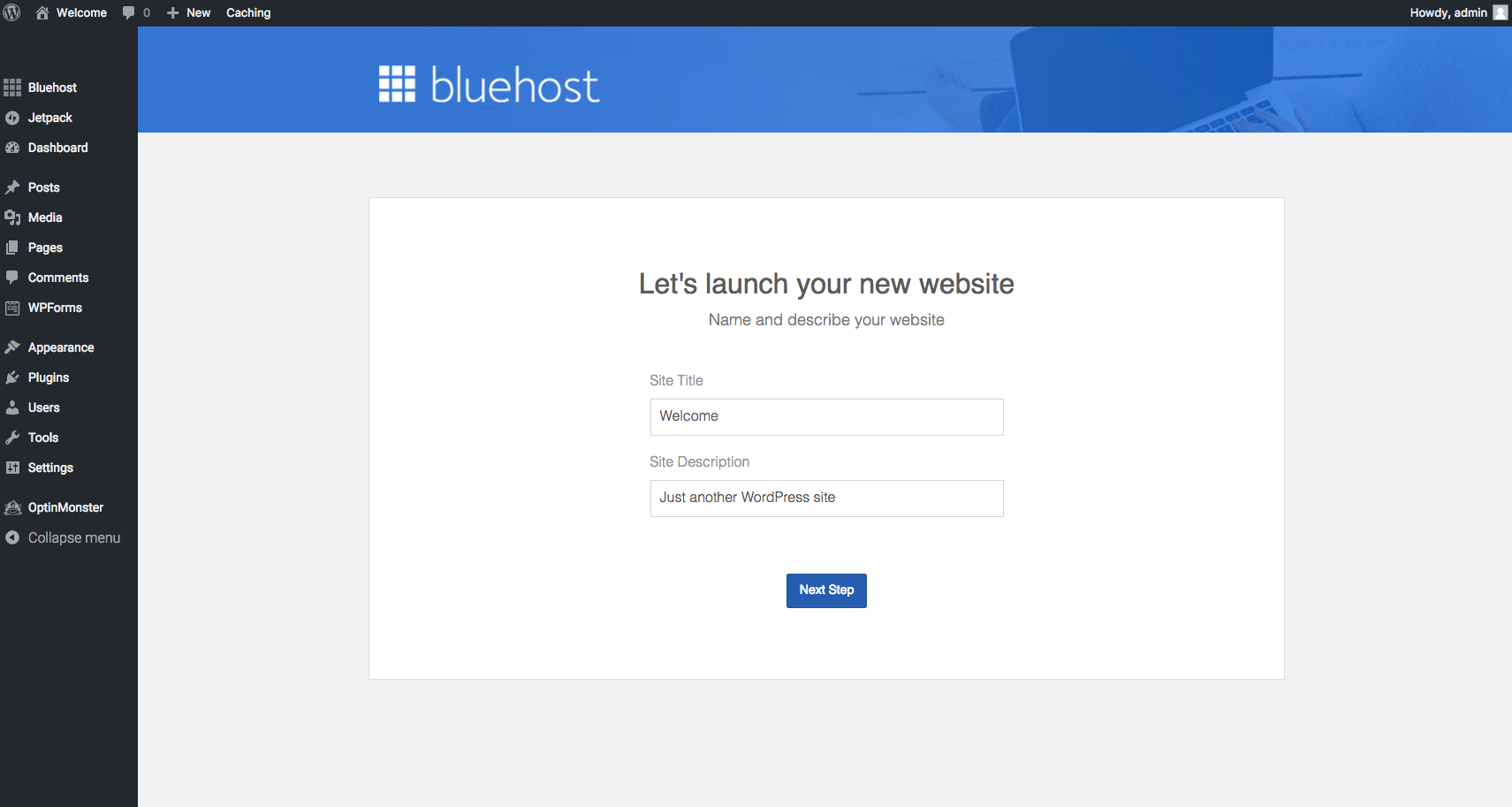 You can access your "Bluehost C-Panel" from here – Bluehost C-Panel.
This new improved C-Panel will help you manage your WordPress website easily with self-explanatory options.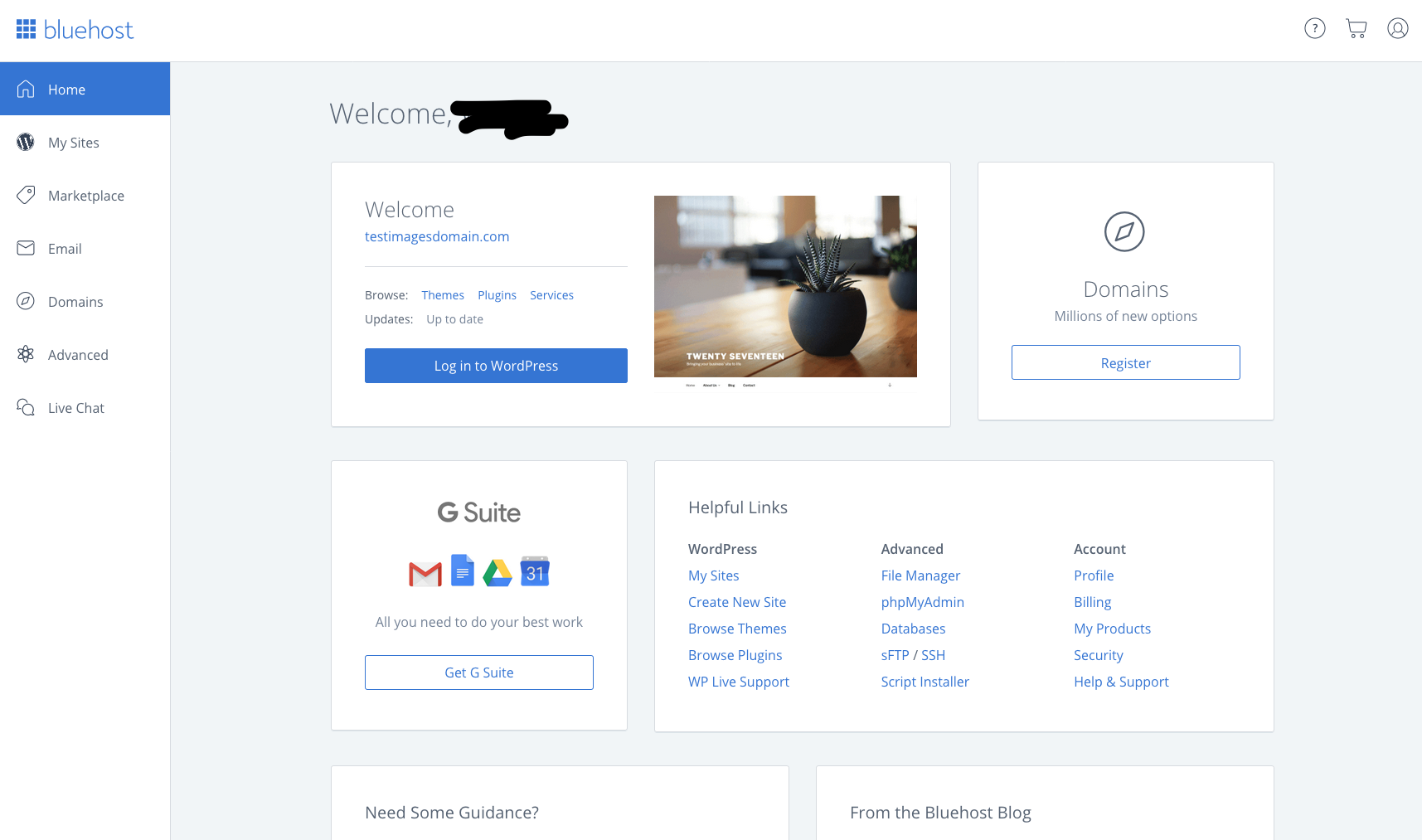 Congratulations!! You finally have your blog up and running on WordPress.
NEED HELP?
---
If at any point in this process you have any problems setting up your blog, you can always contact me for help, it's totally FREE OF CHARGE!!!
Because I earn a small commission from BlueHost whenever you purchase through my links, I can pass on my services to you for free! Simply sign up to BlueHost, pay for your hosting, then head over to my Free WordPress Install page to claim your free installation set up!
CONGRATULATIONS
Congratulations!! Finally, you have your blog up and running on WordPress. At this point, you officially own a blog on WordPress! WOOHOO!
Now you will have to work on the designing and producing high-quality content. You can download my E-book that will help you to configure & design your blog. In this ebook, I have provided a list of tools and resources that are required to run a blog successfully. Moreover, this e-book will also help you to correctly setup all those tools (plugins & themes) like a pro. Please download the ebook from here  –
You can download the ebook from here  –WordPress Blog Setup Guide For Beginners 
WORDPRESS THEMES FOR A NEW BLOG
The first and most important thing after starting a blog is choosing a perfect WordPress theme. WordPress theme in nothing but a pre-designed template which you can customize. So it's very important to choose a theme which provides easy customization options. This is important because you don't want to do lots of coding to customize it. As a blogger, your main focus should be on writing quality content rather than wasting your quality on making code changes right?
To help you to decide the best themes for your blog, here are some options =
1. Amazon Affiliate Store Review Blog – Download 
2. Product Review Blog – Download
3. Envato Market – Get Best WordPress Themes
4. Studio Press Themes – Genesis Theme Framework
Congratulations once again!! You have taken a step closer to being a successful blogger.
Also, check out below "How To" articles  – 
Blogging Crash Courses –