SiteGround Hosting – Introduction
These days there are plenty of web hosts out there in the market and, the vast majority of which meet the WordPress minimum requirements. But the WordPress.Org, Joomla, and Drupal recommended web hosting services (SiteGround, Bluehost & InMotion) are very few in the market today.  And this makes easy for people like you and me to choose right web hosting company for our new ventures, websites or blogs.
Picking the best web host from the crowd can be really frustrating, especially for someone who doesn't really been into this and just buying hosting for the first time. Reading this post would surely help you decide if this is something you are looking for.
SiteGround Claims
The Easiest Start

99.9% Uptime

Support You Will Love

WordPress & Joomla

Friendly UI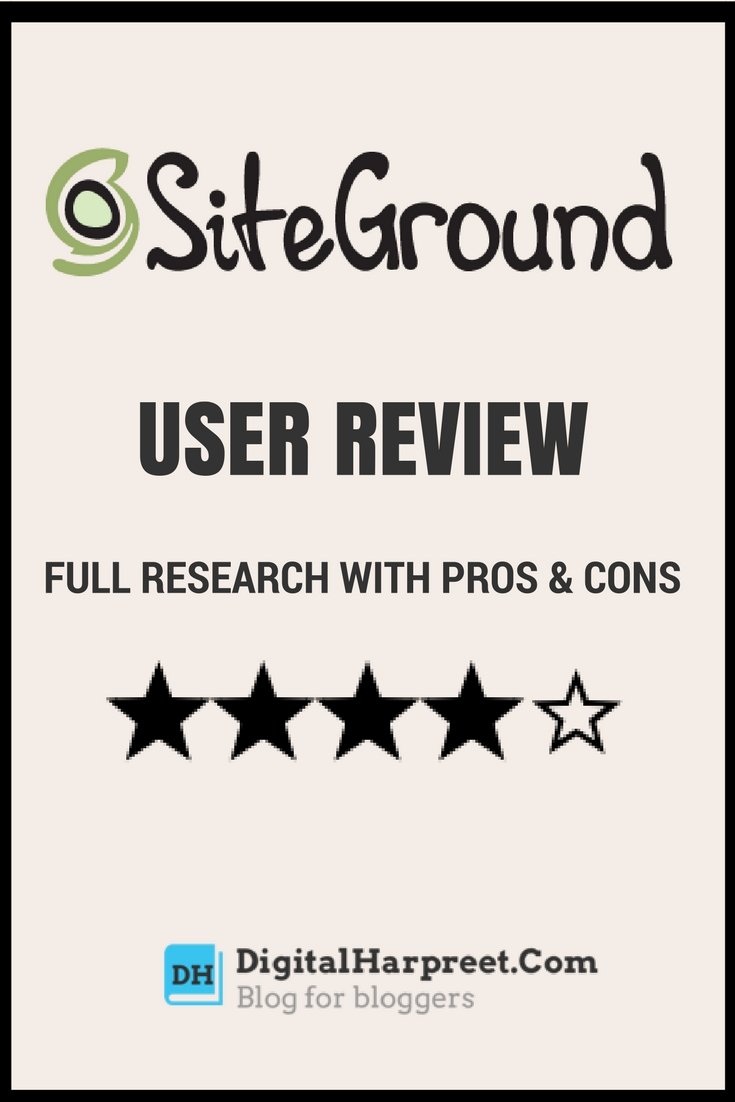 My Review: SiteGround Web Hosting
SiteGround Hosting is an independent web hosting company founded in 2004. They are based in Bulgaria but serves the hosting to all globally. SiteGround positions themselves as a firm offering high-quality, "well-crafted" hosting solutions.
As of today, SiteGround is currently serving approximately 800,000 domain names worldwide, with data centers across the United States, Europe, and even Asia. That's a huge achievement for just a 10-year-old hosting company.
And when you see the list of products, SiteGround offers hosting options for WordPress, Joomla, Magento, Drupal, and PrestaShop. These are available in shared, cloud, dedicated and reseller hosting packages. Email hosting is also available at SiteGround.
Get SiteGround's 60% off discount here.
Here's my SiteGround Hosting review – structured with pros & cons based on my experience as a customer.
SiteGround Review – Is It the Right Host for Your WordPress Site?
There are tons of SiteGround reviews available online based on the personal experience of many SiteGround clients.
Those reviews are great but I would like to take a different approach. Most reviewers focus on "determining the Best Web Hosting" in their review articles. However, for me, there is no such thing as a "best web host".
Choosing a web host is all about the right fit for your project based on your goals, budget, experience & expertise. Now let's review the pros (advantages) for considering SiteGround.
Skip All & Just Read Conclusion 
Pros (Advantages) of SiteGround:
The primary category that I focus on for the web hosting service is the performance. This include uptime, speed, and support. After all, these three categories are the most important for your blog or a website's success. Right?
Now let's go over what things you have to look forward to as a customer of SiteGround.
# 1 – Uptime (100% Guaranteed)
What is Uptime? It's an important factor to consider when picking on a hosting company. Uptime is the amount of time that a server has stayed up and running. This is usually listed as a percentage, like "99.9% uptime."
Uptime is a great measure of how good a Web hosting provider is at keeping their systems up and running.
As per my research – SiteGround server experienced the uptime of 99.98%. The industry standard for the Uptime is 99.79%.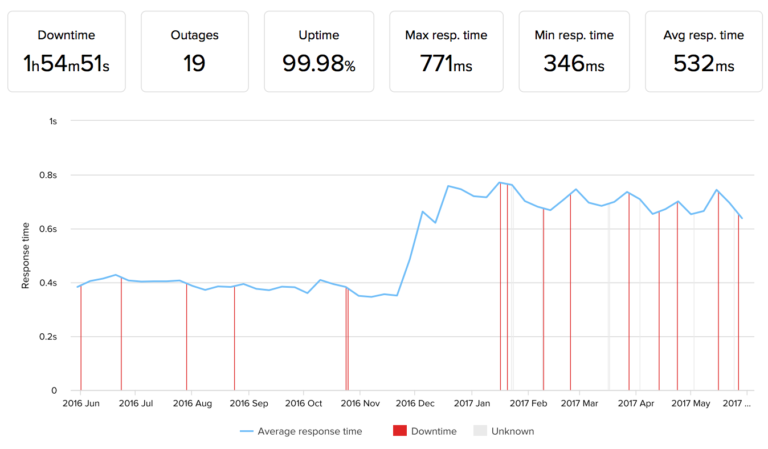 # 2 – High-Performance WordPress Hosting
One of the reasons why most people choose SiteGround is that it provides "Managed WordPress Hosting" on all their plans.
Now you may ask – What does it mean? 
Managed WordPress Hosting is made for high performance, high speed with built-in security for the WordPress websites. The best part is that – it starts at a very cheapest rate i.e. $3.95/Month and comes with award-winning SiteGround Premium support at no cost to you.
For newbies, it means that someone actually manages the service for you in terms of speed, security, support, updates and provides enhancement tools to make your life easier. The SiteGround platform is built on SSD and have an in-house crafted caching tool, the SuperCacher that is essential for the loading speed of your site.
They are also serious about security by constantly monitoring for WordPress related vulnerabilities and proactively protecting users with custom WAF rules.
In Managed WordPress Hosting plans, they also take care of WordPress and plugin updates, make daily backups for free in case a random occurrence might bring down your site. (Which is surprisingly common, like when two plugins don't play well together.
In addition to all of that,
Free CDN with 100+ server locations to make sure heavy multimedia files are delivered quickly (ensuring your page load times don't take a hit either).
For Pro's, they provide WordPress staging environments, pre-installed Git, WP-CLI for easy command line management options, PCI compliance for e-shops, 1-year Wildcard SSL for free, priority customer support, free backup and restore.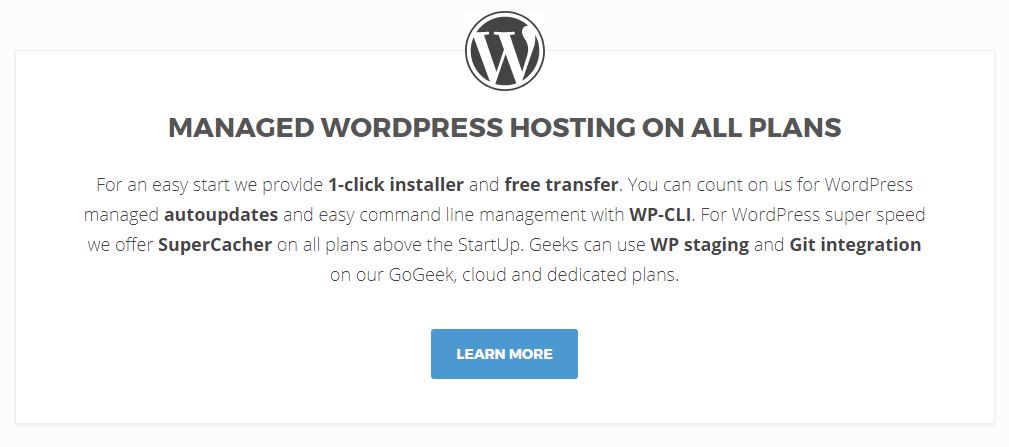 # 3 – Customer Support
There are two things which are very important when you buy a web hosting for your blog – Performance & Support. Out of these two – I emphasize more on customer support because when you are starting from level zero, you need a good support staff to help you out.
Most web hosting providers offer great hosting services to their client but they don't pay much attention to their customer support. The long wait time at customer service portals often results in frustration to the customers and soon they start disliking them.
SiteGround pays special attention to their customer service. Over 230 people at SiteGround are engaged with customer support only to make sure clients are taken good care of and support is provided in three languages – English, Spanish and Italian.
SiteGround provides support for well beyond only hosting related issues – their reps help with CMS questions as well.
The official client survey results released by SiteGround each year show that their client satisfaction rate is constantly scored over 96%. (2014, 2015, 2016).

# 4 – Budget Web Hosting Plans
With SiteGround, you are of course paying for quality with some extra features. Things like "Free Let's Encrypt SSL" and "Free Cloudflare CDN" are usually not offered FREE by other big web hosting companies like Hostgator and Bluehost.
But considering the extra features, the startup plans at SiteGround are price matching some of the cheapest in the web hosting business.  (Use this Link to get 60% OFF at SiteGround Hosting Plans)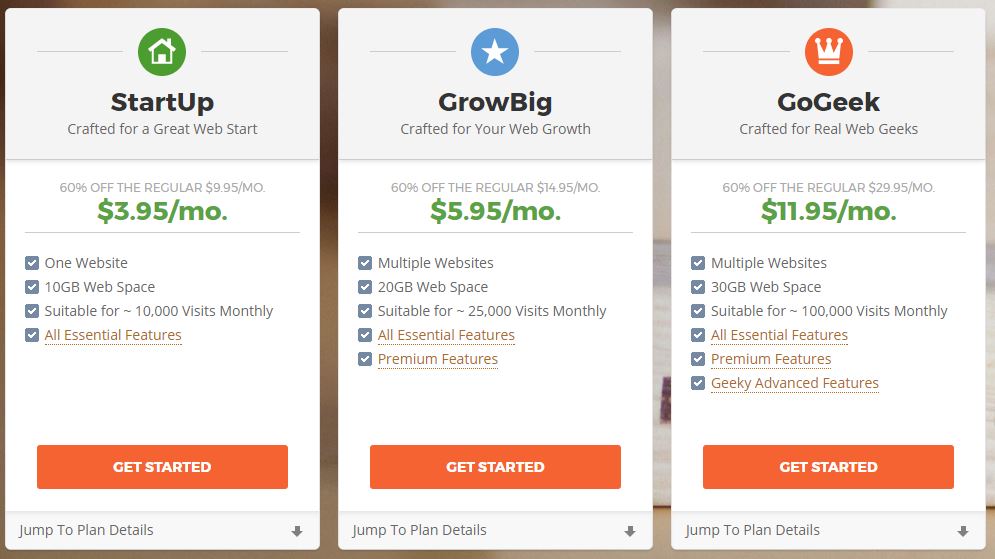 # 5 Advanced Technical Services
There are various advanced technical services that SiteGround Offers to help you configure your website and use the tools that SiteGround has created in the best possible way.
The services include the following –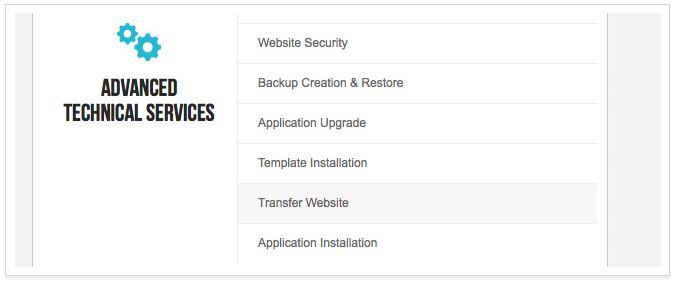 Free Live Setup Assistance & Site Transfer
If you are less technically inclined, you may want to use their Live setup assistance & transfer services. They offer free transfer, a free domain name for a year, and have a site builder as an alternative to WordPress or Joomla – which they also offer.



With every new hosting account in SiteGround, you get one free professional website transfer. They also have a rich collection of FREE web design templates that you can use for your website.
Cons (Disadvantages) of SiteGround:
In this competitive world, you won't find any web host with no disadvantages. You got to make the decision one way or the other.
SiteGround is a leading web hosting space with an attempt to provide quality services to their client along with industry's  best customer support. While doing so, they are few things that SiteGround has limitations compared to other hosting providers –
Billing Cycle: The shortest billing cycle that SiteGround offer is 12 months which sometimes people don't like who just want to try out the web host services.
Extra Credits: Google Adwords credits that are available on other hosts like HostGator are not in SiteGround.
Pricing: The pricing point is relatively high compared to other hosting companies, but there is value in the overall product. The FREE SSLs and FREE CDN is something no one in the market provides you that you will get with SiteGround StartUp plan with $3.95/Month.
Storage: There is limited storage as compared to other hosts for the same price or lower.
E-Commerce Support: For e-commerce hosting both Magento and OpenCart plans are just the basic hosting plans and have no additional features like the WordPress hosting. The PCI compliance issues together with the free SSL certificate are not available for the cheaper hosting plans.
Multiple Sites:  This hosting is not suitable for someone with multiple sites and a small budget since the most affordable hosting plan allows only one domain with a maximum of 10,000 visitors monthly. If you want to run multiple websites in cheap rate – consider Hostgator or Bluehost.
SiteGround Comparisons
As a direct customer of Hostgator, Bluehost, and Siteground, here is my comparison of SiteGroud with other web hosts.
SiteGround Vs Bluehost
While SiteGround web hosting developed some highly innovative approaches and ideas such as their own SuperCacher, free CDN by Cloudfare, NGINX web server technology and SSD Drives (Bluehost uses HDD drives) to beat the competition and provide maximum performance to its users, Bluehost has lacked a bit of everything for the last 2-3 years.
SSD vs. HDD: What's the difference?
The SSD drives are more expensive but are proven to be faster and more reliable than HDD drives. Only a few hosting companies can boast having SSD drives and SiteGround is one of them.
Price  – SiteGround comes with a basic startup plan for beginners, which features a single domain and 10 GB disk space and can be ordered for $3.95 per month even if your initial period is one year. However, the entry plan of Bluehost allows hosting on a single domain and 50 GB disk space and is advertised at $3.95 per month (Get Bluehost basic plan for a single domain in just $2.65/Month for 12 months), but the price applies only if you start on a three-year cycle. If you choose one year as your initial sign-up period, the price will be $5.45 per month.

Customer Support  – I reached out to both SiteGround and Bluehost live chat teams for support one after the other and here are the results. Bluehost took 7.49 minutes to get connected whereas SiteGround managed to reply within 37 seconds of connecting. This easily proves the superiority of SiteGround customer support.
SiteGround Vs Hostgator
SiteGround and HostGator both offer a similar lineup of web hosting plans. I've been a customer of both companies, so I've got first-hand experience using their services. At one time, I would have said HostGator was the favorite here. But as of now, I would give SiteGround as my preference between the two.
Feature set & Integrations – Although both of these hosting company provides host plans that contain useful features, SiteGround provides much better value while including their SuperCacher technology for better speed and premium security backup. I also like that you get free CloudFlare CDN. And, SiteGround is equally good for WordPress, Joomla, or Drupal websites.

Customer Support – While both SiteGround and HostGator offer live chat support (which is always a good thing), SiteGround's response time is far superior to HostGator. In fact, I would definitely rate SiteGround's customer support higher than HostGator's support.
SiteGround Vs InMotion
SiteGround and InMotion both have more than 10 years' experience in the industry, and they are operated by a professional team. However, different focuses and goals have led to many differences between the two companies' hosting offerings, for example, the server resources.
Price – SiteGround shared hosting plans are much more expensive than those offered by InMotion. The StartUp plan is now available from $3.95/mo (60% OFF), which seems quite affordable. However, the special price is valid for the initial term only, and for renewal, the fee increases to $9.95/mo, which attributes to quality hosting service as well as customer services.  However, InMotion Launch plan is priced from $7.99/mo regularly, while you can now get the plan at a much lower price of $5.99/mo by clicking through the following promotional this link.

Customer Service –InMotion and SiteGround have been providing around-the-clock technical support since the very start of their business. Their support representatives are professional, responding to all of our tickets in an accurate and prompt way. During the testing, a chat representative was made available in less than 10 seconds and the support tickets were replied within 30 minutes for both. Also, you can access their support team through phone and live chat for consulting and resolving simple account related problems. A patient manner is guaranteed.
Verdict –
SiteGround is the best example of a star web hosting service that outmatches nearly all other hosts in the industry. The competitive pricing offers the best value for money since other cheaper hosting will not provide features found on SiteGround.


If you are looking for industry's best "Customer Service", as by far, SiteGround is perfect. Secondly, if you like quick page speeds, effective uptime, high-end security – SiteGround should be your ultimate choice.
TRY SITEGROUND WORDPRESS HOSTING NOW



If you are looking for a hosting company with an international inclination, a focus on solid technical features, and a full path of plans for a website that will grow, and really don't care about SiteGround's link schemes, you can get a 60% off discount on SiteGround's plans here.
If you are looking for a hosting company with all the benefits of SiteGround less customer support – but with better pricing and guarantees, I'd go with Bluehost Hosting. Get Bluehost's discount here.
Affiliate Disclosure
*Disclosure for readers: This post has affiliate links, which means I may get a commission if you choose to purchase through my link (at no extra cost to you). All opinions and data are based on my experience as a paying customer or consultant to a paying customer.