In the past couple of years, there have been plenty of web hosting companies appearing, giving website owners more choices for hosting servers. You might have heard of companies such as HostGator, Bluehost, and SiteGround, offering web hosting services that range from beginner-friendly to premium level services.
InMotion Hosting is another web hosting company that's been around since 2001. Scoring A+ rating by BBB, they pride themselves on being a purely independent web hosting company that caters to the more "geeky" website owners out there.
For small businesses and enterprising bloggers looking for a reliable hosting company, InMotion Hosting does a great job of providing hosting solutions for just about everyone. However, before you sign up with them, here are 5 Things To Consider Before Signing with InMotion Hosting
# 1. US-based Tech & Customer Support
When it comes to customer and tech support, InMotion claims to be the leader in the industry. That might seem like a pretty bold claim to make, but it might not seem too far off.
With US-based tech support that's available 24/7 via phone, chat, email, or ticket system, getting help from the customer or tech support team at InMotion is quite speedy and responsive. Of course, ease of contacting support is only one part of the equation. How well are they when it comes to actually help you solve troubleshoots?
Surprisingly well, as InMotion has a ton of resources and on-site experts willing to help and guide you through every single troubleshoots that your website is experiencing.
Taking a step beyond their tech support, you can even look to InMotion's helpful community which has an active user-based support team that will try to help you answer any question that you may have with the hosting company and their services.
Bluehost Product Updates: Free SSL Certificate On All WordPress Downloads
# 2. Outstanding Server Performance
Not only does InMotion Hosting have excellent customer support, but they also boast impressive speed and performance when it comes to web hosting.
According to this InMotion hosting review, their server performance has been excellent from  2013 – 2019. It was able to maintain an average uptime above 99.95%. Which, compared to most web hosting companies, is actually pretty darn good.
We're not sure how they do it, but it definitely helps to have a hosting company that keeps you online at all times. Plus, with TTFB (time-to-first-byte) of under 450ms and an A+ rating at Bitcatcha Speed Checker, your site is definitely in good hands.
Aside from that, InMotion also employs a number of features that help keep their uptime rate, speed, and security constantly stable for its users, which includes:
Using SSD drives on all of their servers
Features and optimizations for WordPress
A full security suite to protect from potential attacks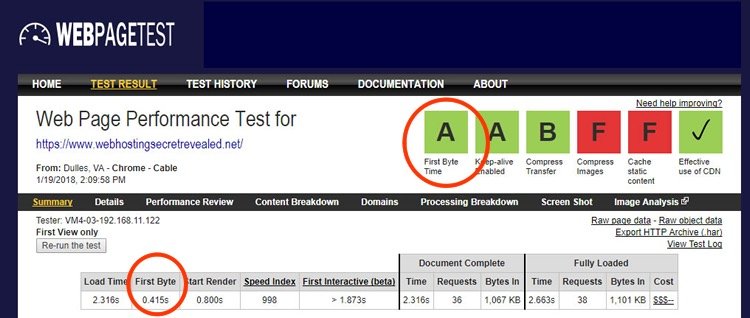 # 3. Low Signup Price Is Only For 24 Months
Back in the day, InMotion was known for being of the most expensive web hosting in the market due to their premium services. Today, they've readjusted their pricing to make it much more competitive and affordable to everyone.
At only $3.99 (for InMotion basic Launch plan), you can have the best web hosting services the industry has to offer for your website. And at that price, it definitely feels like a great deal.
However, it should be noted that the low signup price is only available for 24 months, after which you'll have to pay a slightly pricier renewal fee. You can opt for a shorter plan (like 12 months), but it will be a bit costly.
Raising the price for plan renewals is a method that the majority of web hosts uses, but, you can work around it by opting for a longer plan with the low introductory price.
# 4. They Offer 90-days Money Back Guarantees
Generally, most web hosts offer a 30-day money back guarantee or refund for all of their plans. Basically, you can get a full refund if, within those 30 days, you feel unsatisfied with the hosting company and decided to cancel your subscription.
InMotion Hosting, however, is so confident with their hosting services that offer a staggering 90-days money back guarantee for business, VPS, and reseller hosting plans. That's well beyond the industry standard of 30 days.
It should be noted that dedicated and shared server plans are only offered the standard 30-days money back guarantee instead of the 90-days.
# 5. Free Site Migration Service
If you're an established blogger and have decided to change your web host to InMotion Hosting, then you'll be glad to know that they offer a website migration/transfer service for the low price of zero dollars.
That's right, you can have your site migrated for free with InMotion Hosting. That's great considering that some web hosts will charge you a certain amount for a site migration service.
Another great benefit is that InMotion Hosting promises that your website will experience zero downtime throughout the migration process.
Of course, there are a few caveats you need to be aware of, such as the fact that email accounts migrations are only included with cPanel migrations and that 3 or more website/database transfers and more than 5GB data will incur additional costs.
Conclusion
InMotion Hosting is a great hosting choice for small businesses and enterprising bloggers looking to expand their website's capabilities. But, as with any hosting service, you need to be aware of what their capabilities and limits are when it comes to hosting your website.
Ready to take your blog to the next level? Read up on how you can improve your Google search ranking or trifecta for digital marketing success!