There are tons of WordPress theme frameworks out there, but as a blogger, I always use the Genesis Framework by Studiopress. Often many people ask me why did I choose to go with the Genesis framework? The main reason why I choose Genesis Framework was because it provides a secure and search-engine-optimized foundation for my websites. Moreover, it comes with built-in features like multiple layouts, custom body post classes for each post, breadcrumbs, numeric navigation and tons of other cool features which make Genesis Framework by Studiopress is number #1 among many celebrity bloggers likeMatt Mullenweg (founder of WordPress), Chris Brogan, Darren Rowse, Mark Jaquith etc.
In this Genesis tutorial series, I will show you – How you can get Genesis Framework by Studiopress and download theme files. And if you follow me, I have a free bonus for you. So keep reading.
Genesis Framework My First WordPress Theme
I still remember the day when I started DigitalHarpreet.Com and was looking for a great theme for my blog. Initially, I started out with afree theme but was not able to get most of it due to limited functionality. While using a FREE theme, my blog was not looking professional and I was so disappointed with that so I decided to look out for a premium wordpress theme for my blog. After researching and reading out few blogs online, I come across a great looking SEO friendly, fast loading and highly recommended Genesis Framework themesbyStudiopress.
Studiopress is a company run by Copyblogger media. Genesis theme is the highly WordPress theme framework for website owners as well as developers.
My Experience Using Genesis Framework
I must say that buying Genesis Framework (Pro Package)was the best decision I took ever. It's been a very good experience so far, although I have adopted a genesis child theme and then customized it by myself based on my needs.
Although there is a small learning curve, but once you familiarize yourself with the hooks, it becomes super easy to work with it. This is the reason why I give Genesis Framework by Studiopress a 5 out of 5 stars rating. Now I am able to do all basic genesis customization and changed my current theme further to match my expectation. It was an amazing experience and satisfaction after touching the Genesis theme files.
So, if you are a newbie blogger and spending your time after looking for best SEO friendly free WordPress themes, then just listen to my words and settle down with a premium WordPress theme like Genesis framework as early as possible to save your precious time and concentrate more on blogging.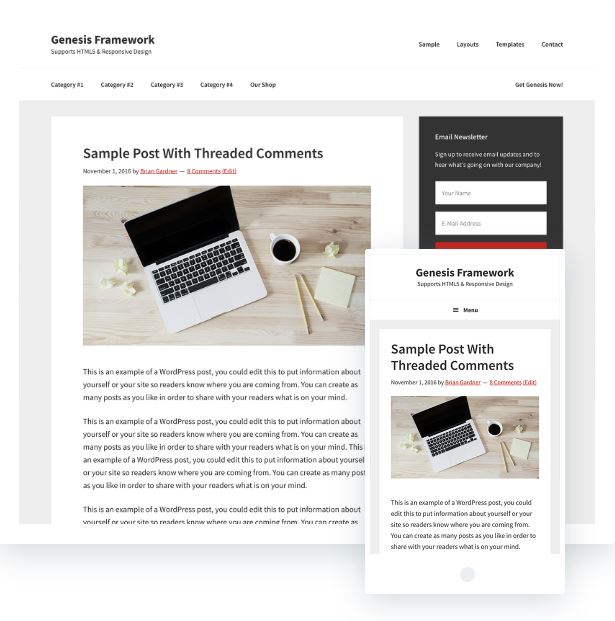 What is Genesis Framework by Studiopress?
In simple terms, Genesis Framework is a Framework rather than a WordPress theme alone. This is one of the best SEO friendly, fast load speed, easily customizable, highly secure and well-coded theme in the market.
Honestly speaking for like 47+ themes with more coming out every day, it was the best decision I ever made. One of the reasons were that if I ever needed a site with any other features like e-commerce store, fashion blog, lifestyle blog, news blog, technology blog etc. then I have a list of themes to choose from.
How to Buy Genesis Framework by Studiopress
You can simply buy the theme from Studiopress website and upload to your website & enjoy. Not only that, Genesis has such a huge fan following. There are many expert developers who are working day & night and sharing their custom codes/tutorials. If you like those customizations, you can add them to your child theme files. You will get a child theme when you buy a theme from Studiopress. Just add this child theme on top of genesis framework and design your own professional-looking website.
Steps To Buy Genesis Framework by Studiopress
Buying a theme is a straight forward process. In case you have any doubt, follow these 5 simple steps to buy the world's best WordPress theme framework, Genesis Framework in less than a minute.
Step 1: Visit official Studiopress website or directly you can check out Genesis Framework page.Below is the StudioPress home page. Click on "Shop for Themes" and move forward.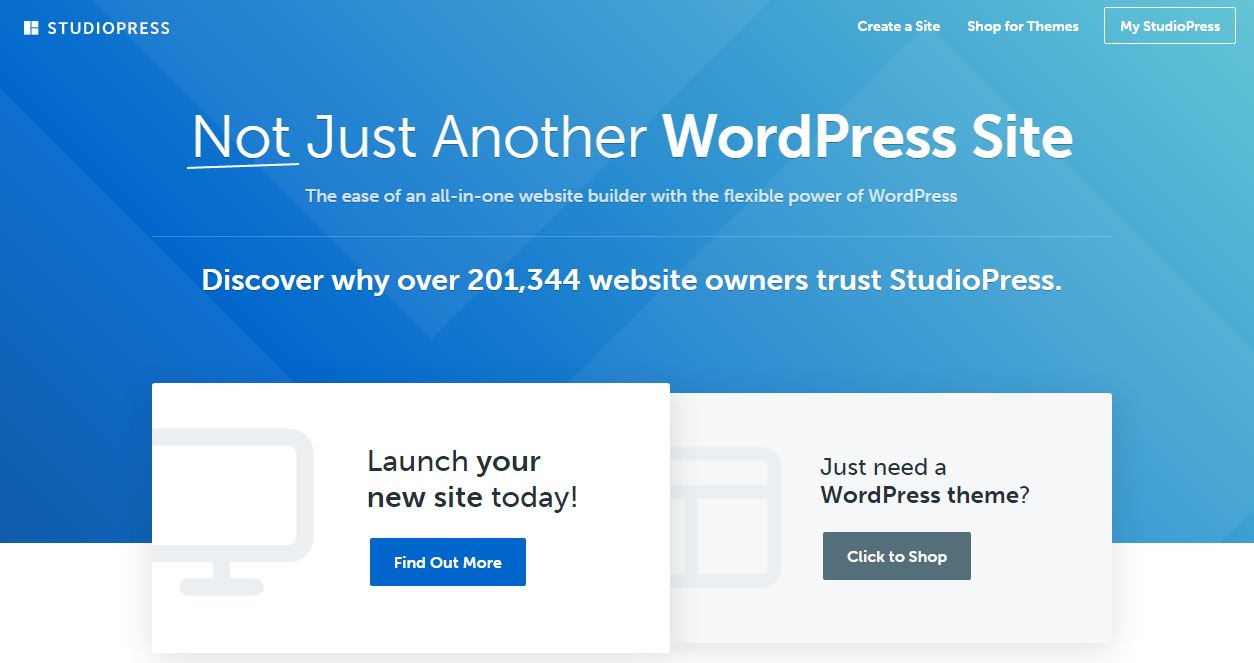 Tip:Unlike other theme companies, StudioPress's Pro-Plus Package is a one-time fee for life-time membership. Most other companies do a monthly or annually recurring option. Anyone can first hand vouch for the quality of their themes and their support. Start using the Genesis Framework by Studiopress now. Take my advice and go with the Pro-Plus package. You will not regret your decision.
Step 2:Once you click "shop for themes", you will see the collection of 47+ premium WordPress theme. Next click on Buy Genesis Framework button and you will be navigated to the next page to provide personal information and payment options.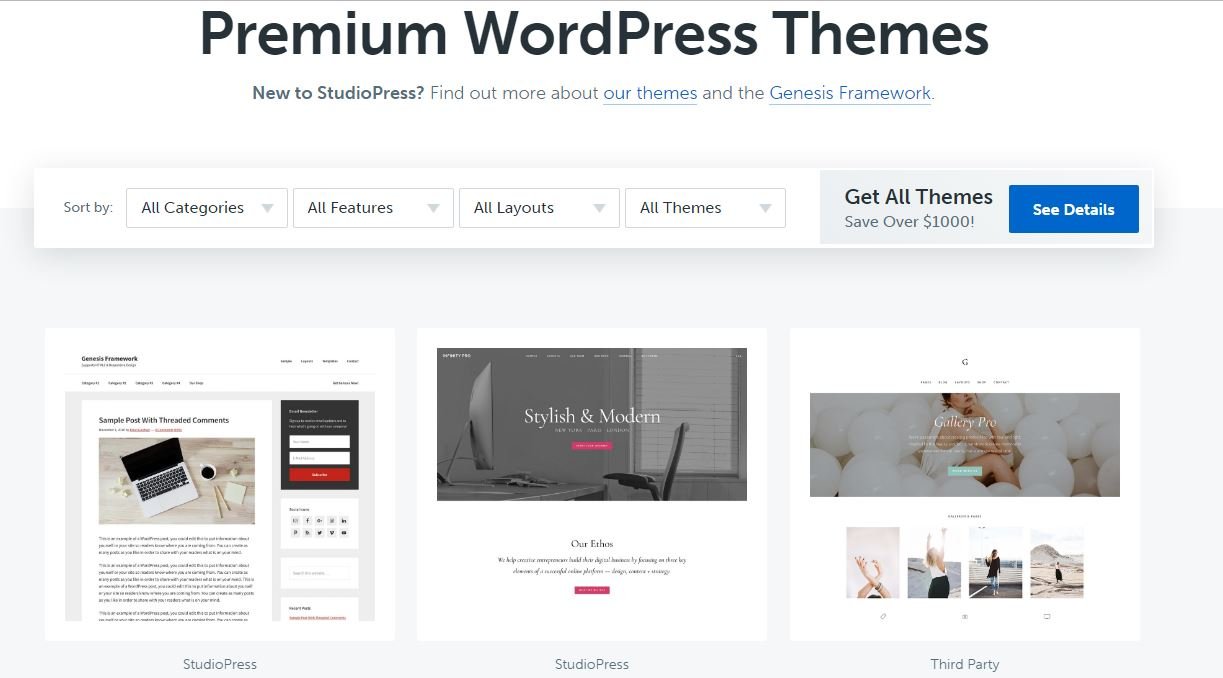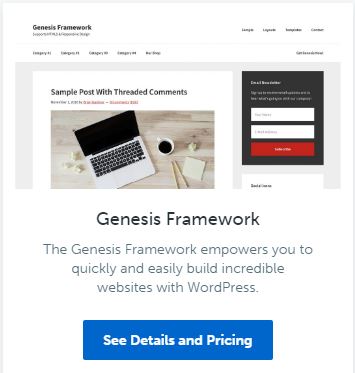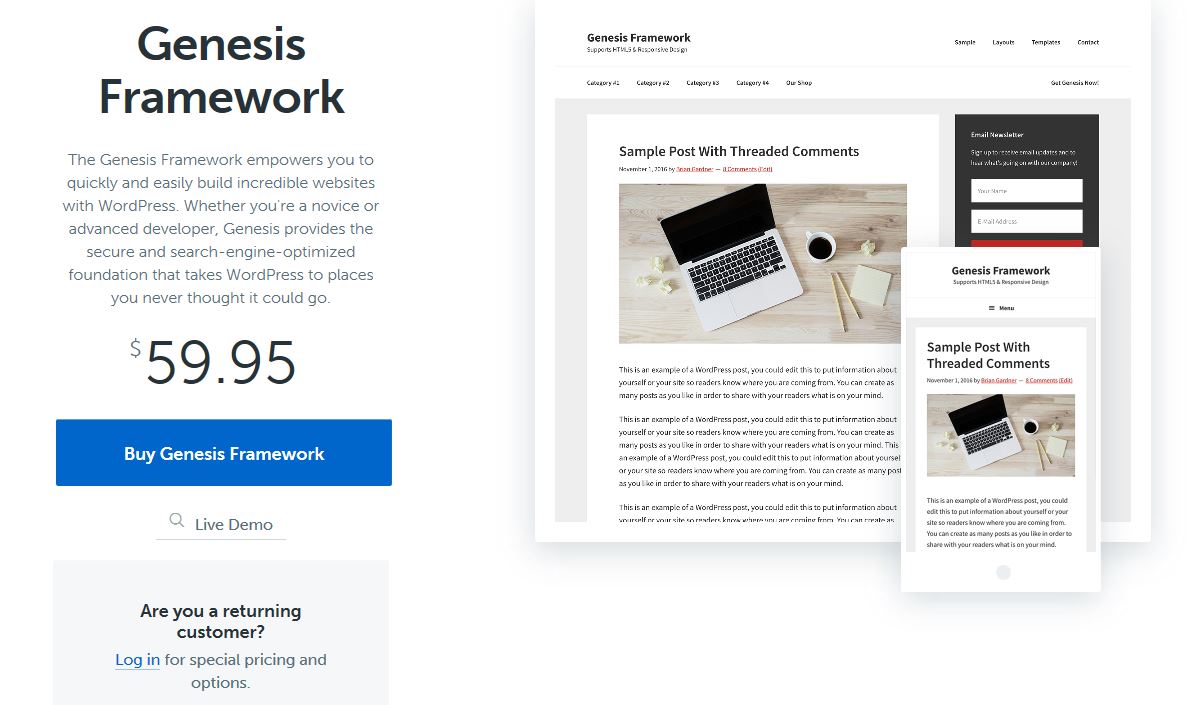 Step 3: You have to pay via credit card or PayPal only to complete the transaction. If you are buying from India, then I don't think you can use Paypal option. I have used my credit card and bought genesis theme. If you don't have a credit card, then I think you have to ask your friend or family to help you out.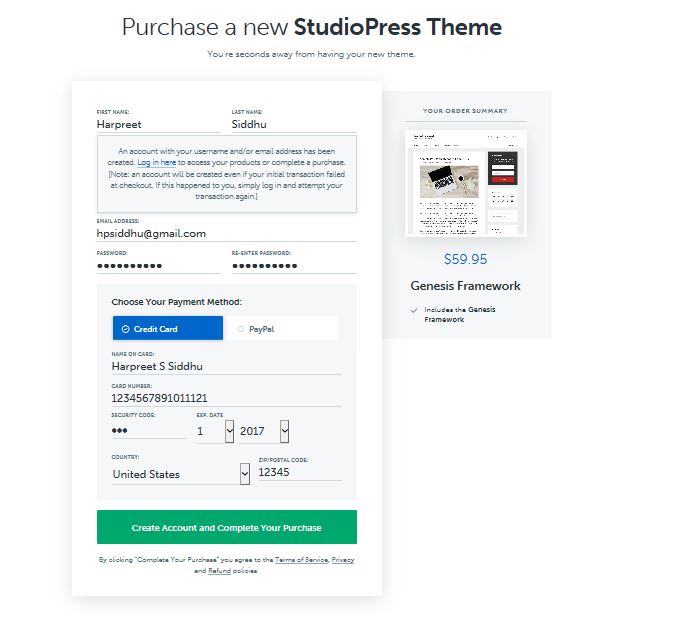 Step 4: After the purchase, check your email address. You will get a mail from studio press with my.studiopress.com login details. Just log in with your credentials provided.
Step 5: Go to download section and there you will find Genesis Framework & Genesis sample theme listed in your download area. Just download both the files on your desktop PC.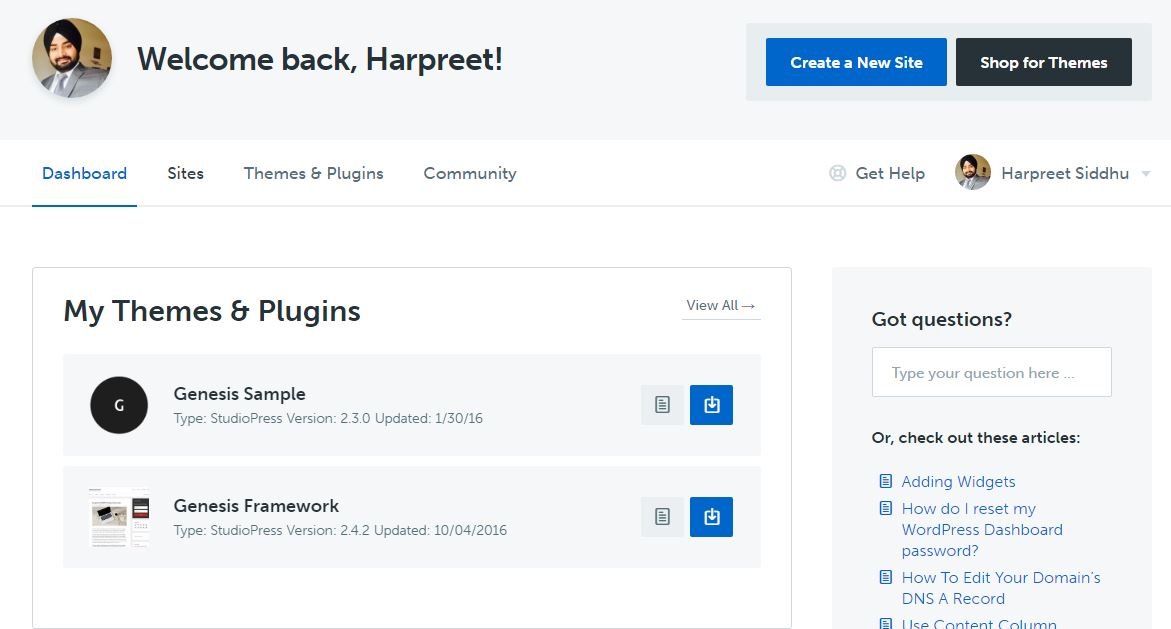 Also Read: How to upload the genesis framework and the free genesis sample child theme in your wordpress blog.
Get Your FREE Bonus Genesis Theme
Genesis Sample Child Theme + Genesis Framework Theme
I'm really happy that you came along with me this far. I have your bonus ready in my email draft and I just have to "SEND" it on your way. But, before I do that, I would like you to buy any other StudioPress theme of your choice using the link below and send me your an email at hpsiddhu@gmail.com to confirm your purchase. As soon as I verify that, you will see an email from me with two zip file: 1. Genesis Sample Type: StudioPress Version: 2.3.0 Updated: 1/30/16 2. Genesis Framework Type: StudioPress Version: 2.4.2 Updated: 10/04/2016 I hope you enjoyed this post. Please stay tuned for more tutorial on Genesis Framework Themes.
Buy Any StudioPress Theme Of Your Choice To Claim FREE Genesis Theme