Are you someone who is working very hard promoting your online business, blog, website or services on social media?
If yes, then I'm sure you must be doing it over multiple social media channels like Facebook, Twitter, Pinterest, Stumbleupon, Reddit, LinkedIn and the list goes on and on.
Now, what if I provide you a solution to manage all your social media channels with a few mouse clicks?
Now it will even better if I provide you a solution that can put all this on auto-pilot?
Does it seem interesting to you?
I'm sure it does because when I heard about this awesome tool very first time, my eyes were wide open and I just shook my head and read it again like "What!!"
Since I have already experienced it and now it's the time for you to take a look at this unbelievable product that has the capability of saving "Hours" of your valuable time.
Introducing a tool called –  BleupagePro is the world's FIRST All-in-1 social media management tool that lets you manage ALL of your social media accounts with just a few clicks of your mouse…
You might want to ask – 
What Is Possible With The Entire BleuPagePro System –
Now there is no need for you to grind all day long posting content on your social media accounts, pages, groups, and blogs anymore.
You know why? 
Because BleuPagePro finds and posts the most engaging content according to your niche and posts it on all the major social media networks that include Facebook, Instagram, Twitter, LinkedIn, Pinterest, G+ and WordPress blog and that too on total automation.
Apart from taking care of all of your content demands, BleuPagePro also helps you in building your email lists, designing your own posts, bulk uploading, YouTube management, posting animated pictures, and discount coupons.
Isn't that crazy? I mean this thing can seriously bring a lot of FREE traffic to your website, pages, profiles right?
Every one of us always tries to post stuff on our social media pages, but the problem that I face most is the consistency. Sometimes, I do it daily but sometimes I don't post anythings for days due to lack of time (just FYI, I do blogging part time).
But if something like this can post on my behalf on all my social channels that too on auto-pilot then what else I need? Now I can focus more on creating a great quality of content to share right?

Why Not Other Social Media Mangement Software? Why Only BleuPagePro?
There is no shortage of social media management software out there… But the problem with most software is that they have …
1. Long Learning Curve – 
I personally like to have clear and straightforward software tools. Most of us don't want to spend lots of time to first learn it and then use it. Right?
With Bleupage, you can start using it right away. Its simple interface is self-explanatory with no complicated functionalities.
2. Cost & Expenses: 
Do you wish to get 6,198,556 Likes on your business page? Who doesn't like it right?
But just imagine, how many dollars you will need to invest to get that result?
BleuPagePro comes in just $47 (one time cost) which has the potential to deliver you similar results in low cost with no future expenses.
What is included in each module of the
BleuPagePro System?
---
Contents Fetcher: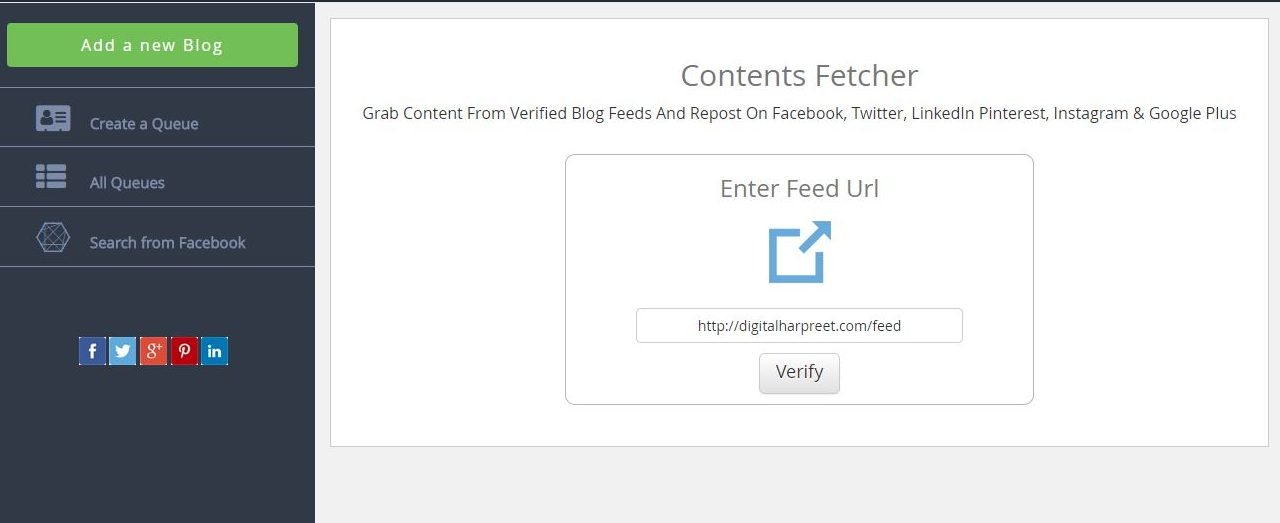 Fetches content from RSS, ATOM, RDF, XML feeds and Facebook pages and posts to your social media pages, profiles, and groups, means now you can share the content of famous websites, like CNN, BBC, MASHABLE or any website of your choice on your social media channels automatically.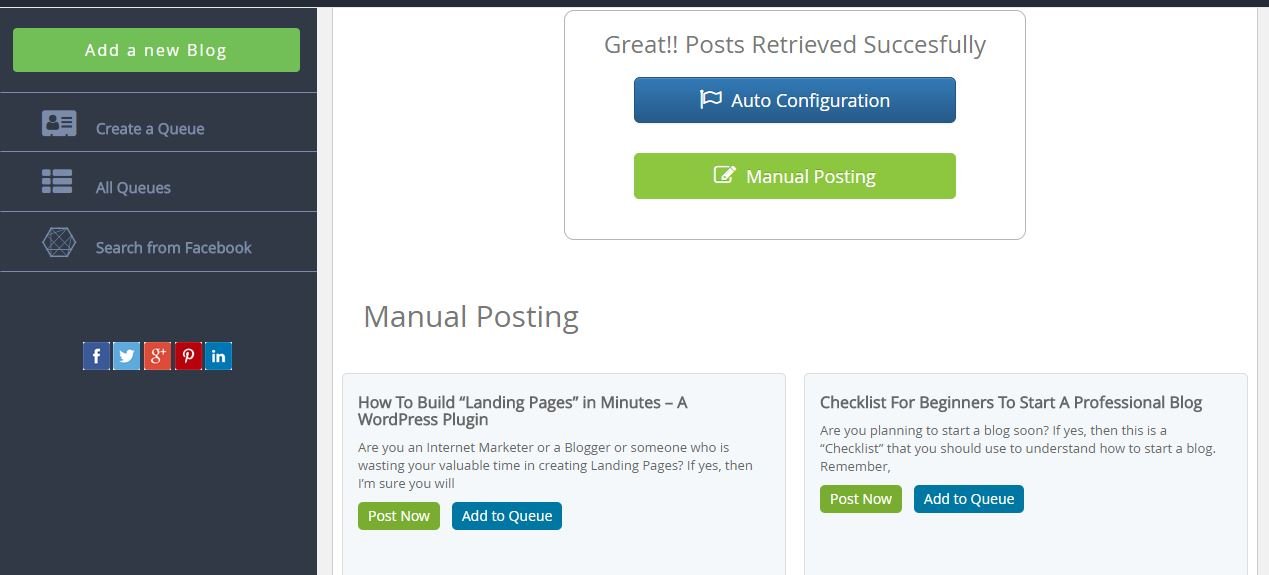 You can even fetch the content from your own URL's and then you have the option to manually post them or configure auto-posting.
The good thing is that the user defined content attracts double the amount of organic traffic that you can ever reach with any other technique or paid advertising.
Content Fetcher makes things easier for you in this department.
Total Automation: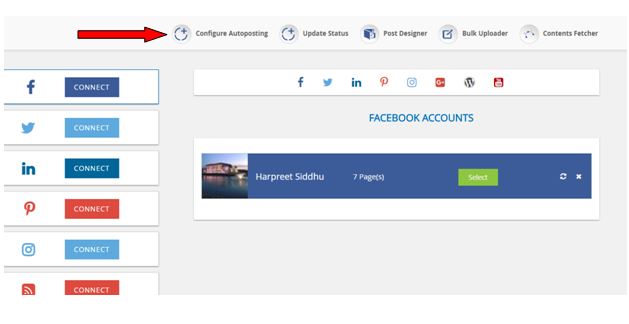 Are you spending a lot of money on hiring a social media manager to select the best possible content and post it your social media platforms?
Well, it's time to say goodbye to your social media manager.
AutoPosting searches the most engaging and viral content and posts it to all of your social channels with just a mere click of a button.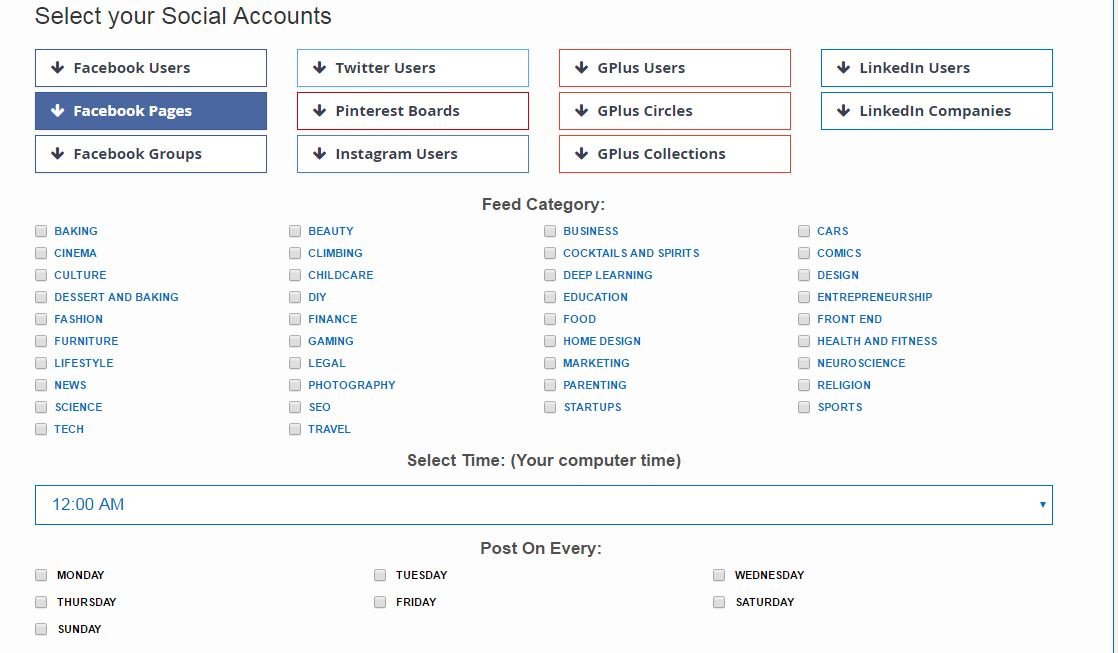 Total WordPress Management:
No matter if it's social media or SEO, every blog/website owner wants to achieve good rankings in the search engines as well as wants to engage visitors on social media.
But what's even more important is updating the blog regularly. Right? A practice where most of us fail, because of low budgets, not having enough time and other such reasons. This feature is for all of those troubled souls.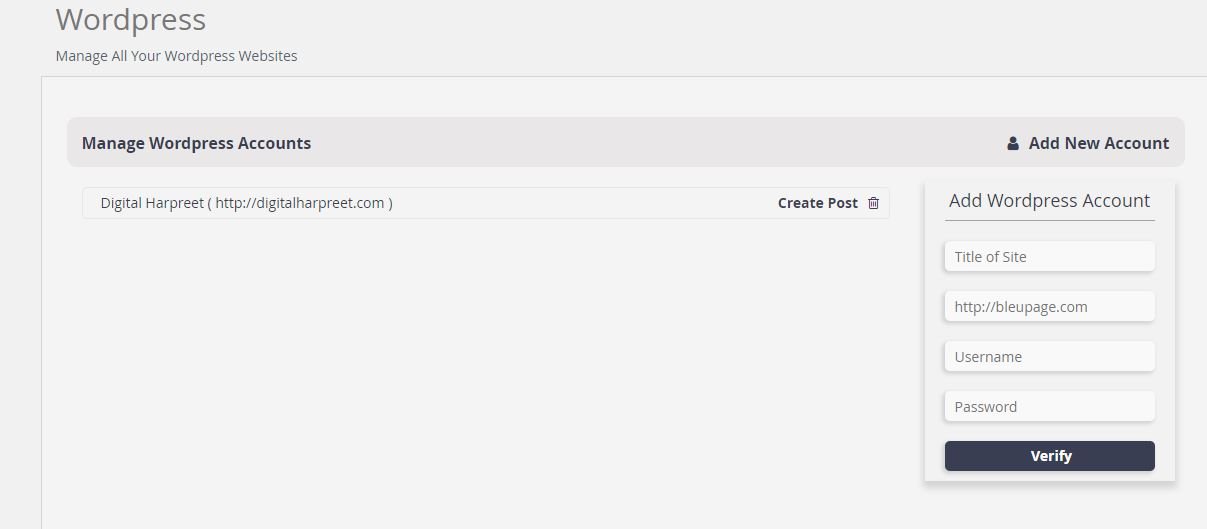 With the Total WordPress Management Addon, you can manage all your WordPress websites from the single place. You can see above, I have added one of my WordPress blogs,  similarly, I can add many other WordPress websites using "Add New Account".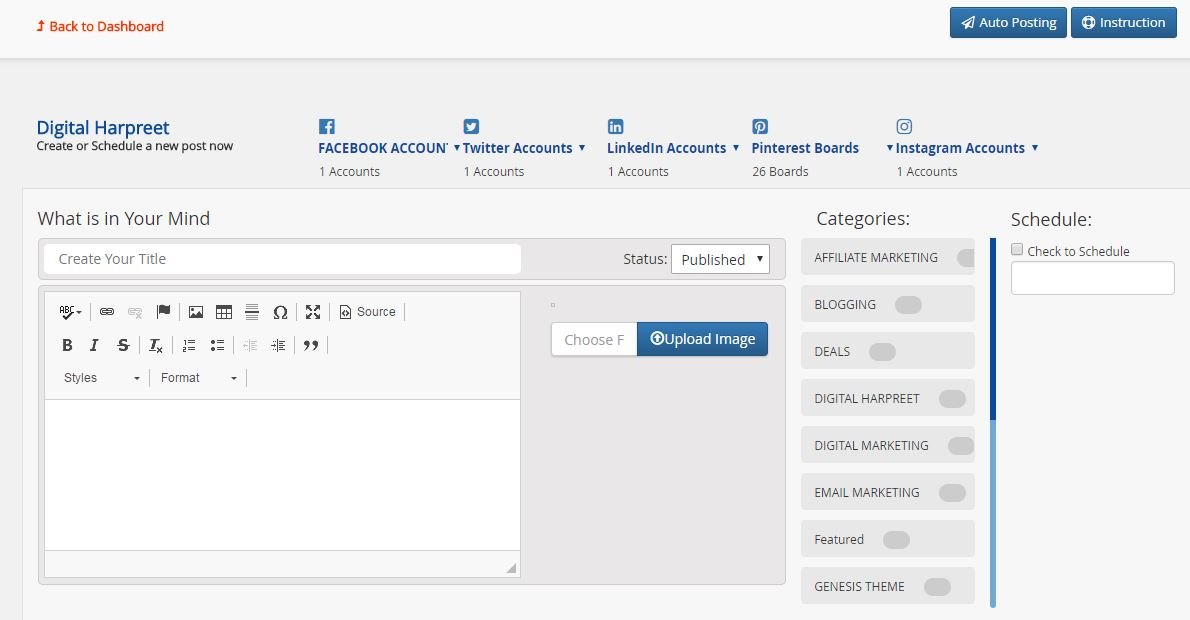 When you will click on "create post", you will the WordPress post editor similar to what you see when you log into your WordPress.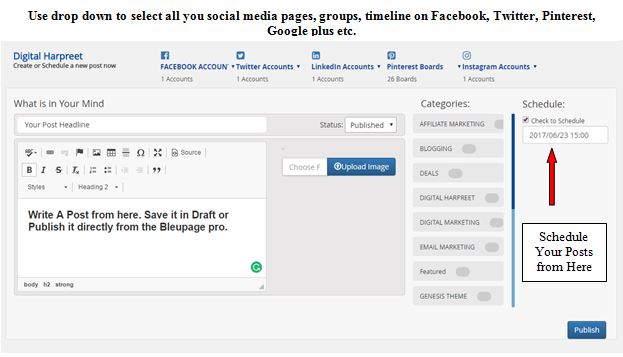 To use Total WordPress Management, you will need to install the BleuPagePro plugin and REST API plugin.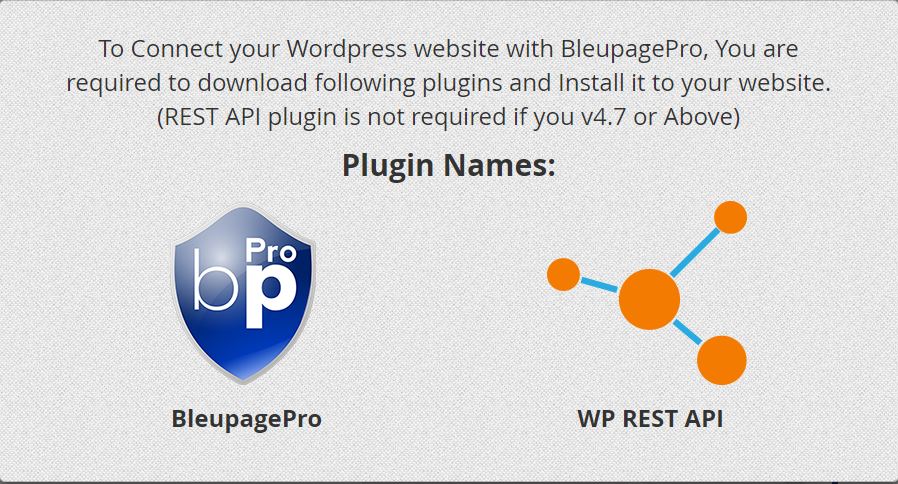 Auto-posting On WordPress:  
Click on Auto Posting on the right-hand top corner and you will see the following options. Under each category of your blog, you will see following categories. Select the one you like and then set the time and check the box "Activate Autoposting".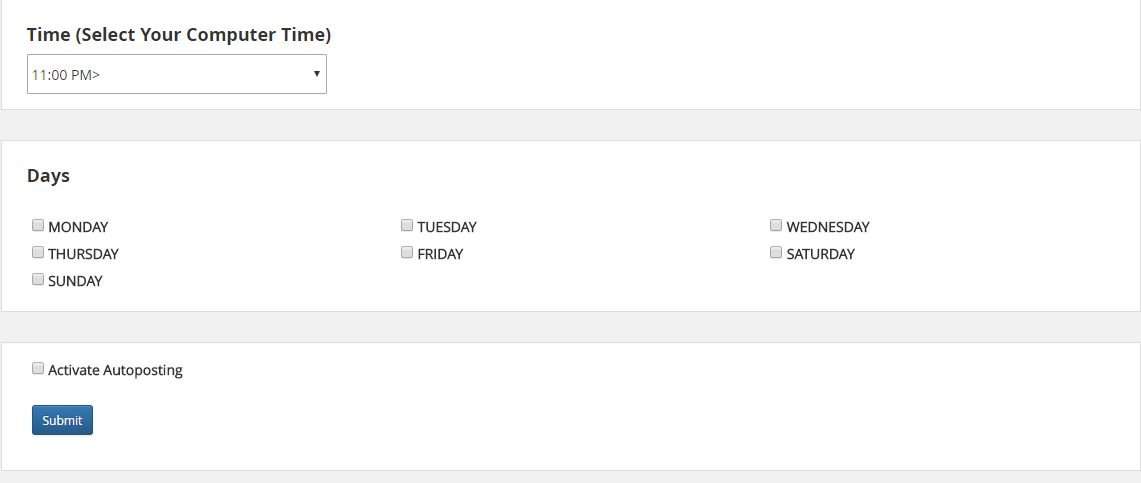 This can find and post the most engaging and viral content in your niche 24/7 on 100 percent autopilot.
Watch this video for better understanding –

Results Before & After Using Total WordPress Integration
Add-On to BleupagePro
---
Before using the WordPress Integration Add-On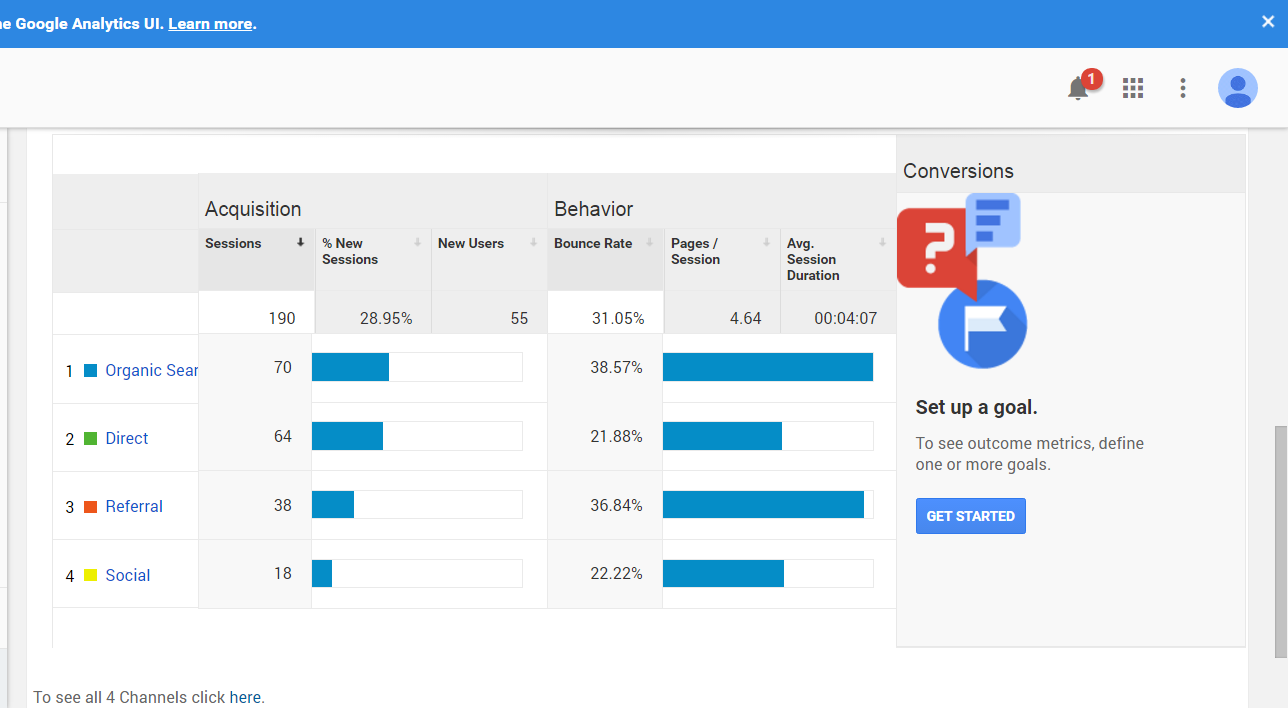 ---
After Using WordPress Integration Addon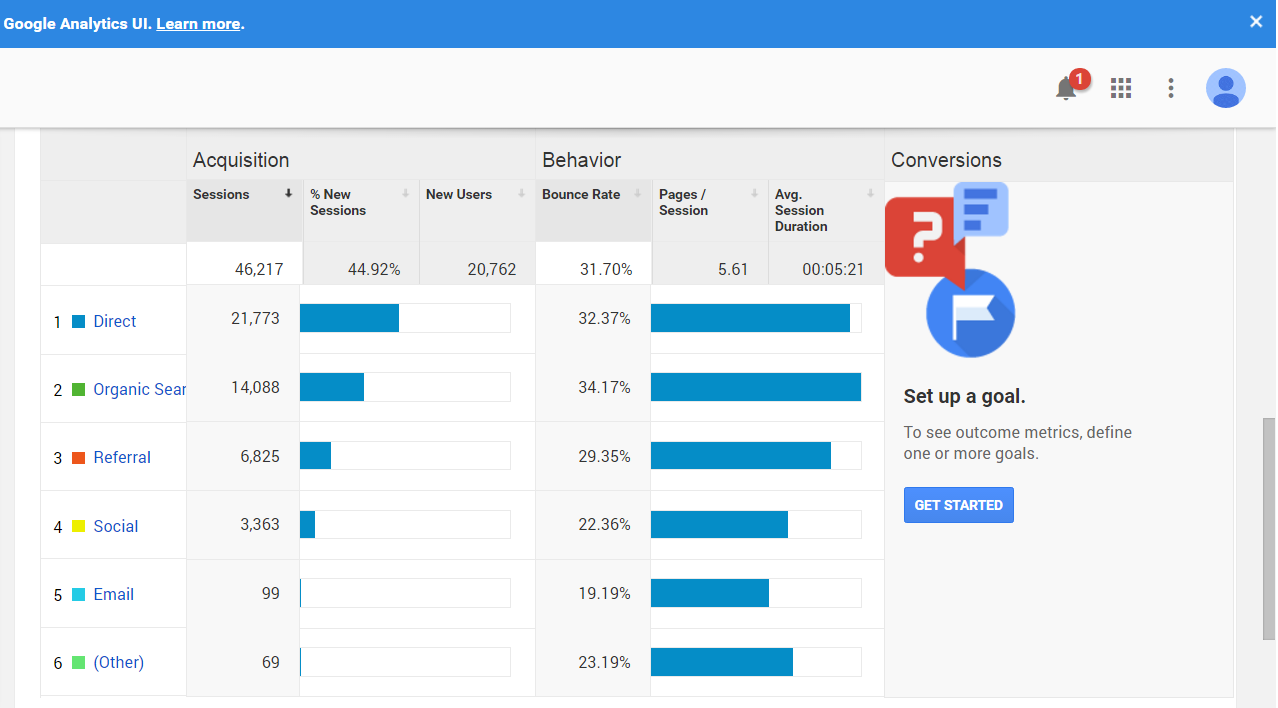 BleuPagePro Bonuses: FREE STUFF
When you buy BleuPagePro social media management tool, you will also get:
1. Over 200 Professionally Designed Templates
These templates are professionally designed and perfect for many situations!
There are coupon templates, engaging post images, images for different events like Christmas, Black Friday, Cyber Monday, Summer Sale, Winter Sale, New Year etc.
You will get over 200 templates added to your account when you purchase today!
2. A Tool called "Target Generator"
Target Generator tool will help you to:
Uncover thousands of hidden Facebook interests you would have never thought existed!
Expand your Facebook ad campaign audience for squeezing more profits from your campaigns!
Use "Power keywords" to get the MOST profitable interest targets for any niche imaginable!
Fully Facebook compliant, Target Generator does NOT violate any terms of service. So you can be confident when using this software!
Extract the number of likes & the number of people talking about each page target.
Instantly know all the targets that have the most engagement using the Affinity data!
Search for multiple keyword phrases, and use the handy "power words" button to append all power words with a single click!
Never lose your data… save all your targets to external files in text, CSV, and project files!


---
So, just want to reiterate again – BleuPagePro is a 100% autopilot software that gets you traffic, leads, and sales from social media platforms like Facebook, Twitter, Instagram, Pinterest, and YouTube.
You can manage all of your social media profiles from one place in just minutes each day. I'm using it and feeling good about this software.
It's extremely easy and straight forward to use. You just have to connect your social accounts and then you are done.
For a blogger like me and you, Social Media is a MASSIVE opportunity for getting tons of targeted traffic, leads, and making sales. And if you want to seize this opportunity, you must have a tool like BleuPagePro.
Considering the features that it would provide to us, the cost of this software is very negligible.
If you want to try it, you can do it right now. Because they also offer 14 days trial period and if you don't like it, you will get 100% refund.
Other Useful Tools: 
How to Build "Landing Pages" In Minutes (Drag & Drop) Method
An E-commerce Bible To Sell Stuff Online
Pay Less Than A Dollar For A Premium Theme – Learn More